Before the weekends start stacking up on us, let me fill you in on what we got up to last Saturday (last Sunday will have to be another post!). A couple weekends ago we texted our mate Drew to see if he was up for a bit of demolition (you may remember that he helped us rip down some of the partition hotel room walls a few years ago), and his answer was something along the lines of "Would I??" so he came round with some old clothes and was reunited with his power drill for a few hours.
We started by taking out the floor and ceiling in the lower-headroom starboard space (which will be our future wardrobe).
Amazingly, there was just a gap underneath the floorboards so we've gained an extra foot of headroom throughout by lowering the floor! Our bedroom is going to have something like 8 foot ceilings! omg! It's tall enough that I can easily walk under the sidedecks…
Here's Drew and I standing on what will be the floor level, so you can see how tall it'll be in the area that still has the wooden floorboards: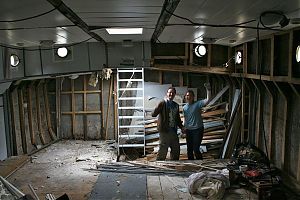 But the big surprise is that the floor we revealed isn't actually the hull of the boat, but a double-skinned "cargo floor"! It's sealed around all the edges, but there's no ribs there and it definitely sounds hollow, so the conclusion seems pretty sound! This is great news, both for insulation purposes and for any potential water damage…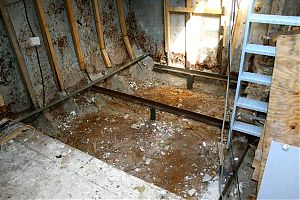 Then Drew and I shifted the entire pile of refuse over into the starboard area, neatening it up and bundling together the longer, unwieldy bits.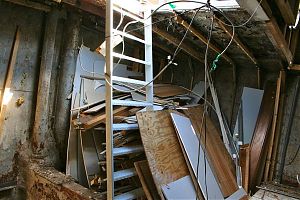 Then James joined us and we dismantled the floor and ceiling in the lower-headroom port space, before carrying on up the port side and stripping back everything to the hull.
This is my future sewing room, at the end of the corridor!
We also found another filled-in porthole to match the one on the other side!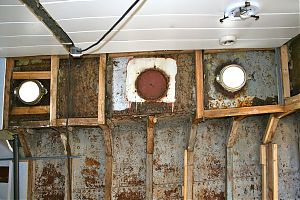 And we think this must be the base of the original crane used for transporting cargo in and out of her hull when she was a working barge, but we're not entirely sure. The two vertical pipes behind it are a true mystery, though – they're cut off at the deck level and come up between the entrance to the forecastle and the moveable pile. Any ideas?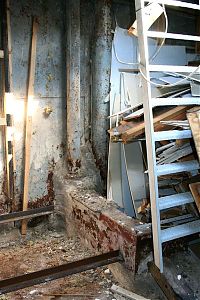 Now we can at least start with the hand wire brushing of what's exposed, and hopefully we'll have the skip by the time we reach the refuse pile. The only parts we still have to demolish are:



Pull down the ceiling in the higher-headroom area


Pull up the remaining floor boards


Break the ballast water tanks down for removal


Angle grind the floor supports down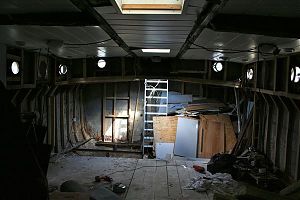 The last two weekends have been non-stop destruction down in the front of the hold. Since my camera's still full of this weekend's activities, here's what we got up to last Saturday…
James's friend (and best man at the wedding) Simon came over and while he used a power screwdriver to take apart the metal frames and plasterboard walls, I suited up in long sleeves and thick rubber gloves and bundled the usable rockwool into bags and the ratty old stuff was marked for the bins.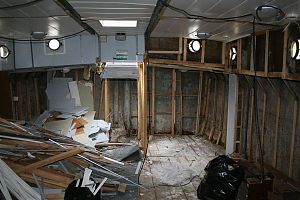 This is the view of the same bit of wall, taken from the lower height area (destined to be our new wardrobe).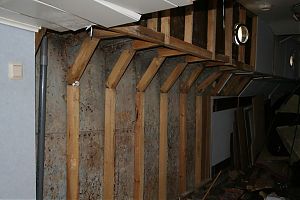 Luckily the battens attached to the ribs are still in very good shape so we're keeping those in place while we wire brush and repaint the steel around them.
In peeling back sections of wall, we uncovered evidence of a larger porthole that had been covered up!
We're just going to leave the portholes as-is, though, since our bedroom will already have 3, plus a skylight, and eventually a hatch/skylight, too, which is more than enough!
But the really exciting stuff came when we peeled back the floors, ceilings, and the remainder of the port side this past weekend…
The weather is warm enough now that we can't really use the line "oh, but we're going to start building our new bedroom as soon as it warms up" anymore.
The time had come to "shit or get off the pot", as my Dad would say.
The first step was to empty the ballast water tanks which are under the floor of our future bedroom. So we lifted up two floorboards, and James cut a hole in one of the interconnected rectangular tanks (the same design as those which store our fresh water and have given us so much trouble).
The water looked worse than it actually was due to the shavings from cutting the hole. But I still wouldn't want to drink it, or find it in the hull 5 years after we'd built our lovely room on top of it…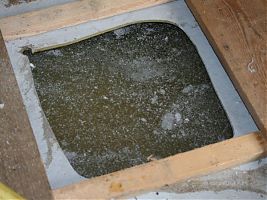 Then we dropped the submersible pump into the tank and let it pump the water overboard, which surprisingly only took a few minutes to empty.
Like most things on Hendrik, we've found that whenever we remove something, we find hidden surprises left there by the Kanotel's former patrons. This time, we found empty weed packets when we lifted the floor boards! I can just imagine some teenager hiding the evidence under the floor…
So after draining the tanks, we had a wonderful 11 days driving all around France, and when we got back, we used our newfound vigour to demolish the port bunkbed room (so our friend Josh was officially the last to sleep in a Hendrik bunkbed!).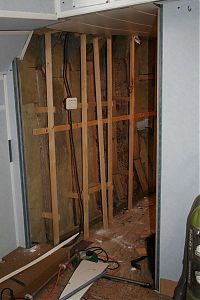 Happily, we discovered there was an arm's length air gap between the hull and the wall back there, so my future sewing room is going to be a tad bigger than I'd imagined!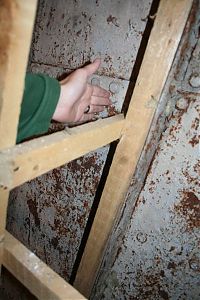 It actually only took us a morning to take down the whole room, plus bag up 4 bingbags full of Rockwool to reuse in the interior walls (we're putting Celotex against the hull), and stack up the refuse neatly in preparation for the skip.
You can see the "before" state on the right!
The next step is to similarly demolish the starboard room, the central linen cupboard, and a metre or so up the hull on both sides. And the celiings over all that space.
We had a few neighbours round to get their opinion on the state of the hull (and to show off. Ok, mostly to show off!) and we heaved a sigh of relief that it's looking better than we had expected: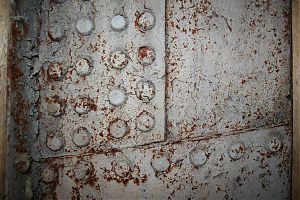 The general consensus is that it just needs some wire brushing to get the loose paint off, then a good dose of hammerite before we can put some nice, new Celotex against the hull.
Though Bosco did have to have some sulking "alone time" when he's discovered we destroyed Treat Lady's room, which was one of his favourite cat caves, snuggled under a duvet on the top bunkbed…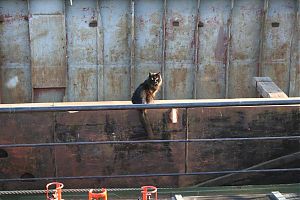 Ahh the joys of gardening aboard… I may be confined to containers, but we've got full sun and it's amazing what you can grow in tubs, pots, old kitty litter containers (the bright green ones), and some custom-built square boxes!
It's a bit out of character for me, but I asked for garden stuff for my birthday presents this year!
From my inlaws, I got two fantastic blueberry bushes and using some birthday money from my parents, I bought the two bright blue containers, ericaceous compost, and a dwarf peach tree!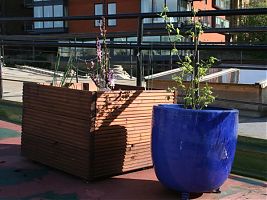 The peach tree has since dropped its flowers in favour of dark red leaves…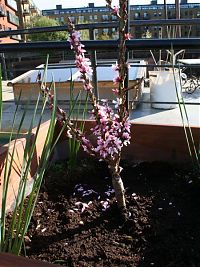 Here's the Blueberry bushes (we got Legacy and Spartan varieties) from the Dorset blueberry company, whom I highly recommend as they were shipped very carefully, arrived in a very healthy state, and the accompanying book is wonderful for blueberry newbs like me!
We also grabbed a Lupin plant (that's the red cone flowers in the picture just behind it) for one of the containres on the main deck: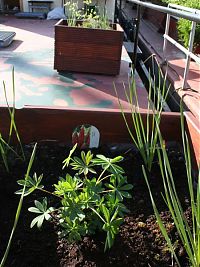 And here's a newly planted geranium and the beginnings of this year's garden (most are still sproutlings in the wheelhouse, though).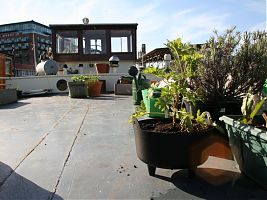 This year I'm growing:



Blueberries


Peaches (though I've been advised to discard any peaches it attempts to grow to encourage it to put the effort into growing big and strong instead!)


Strawberries (I've already got at least 30 berries, just starting to blush pink)


Carrots


Radishes (eaten a bunch already!)


Spinach


Mixed lettuce


Spring onions


Peas


Marrow


Courgettes


Spaghetti squash


Butternut squash


Aubergines (pretty speckled purple and white ones!)


Tomatoes


Tomatillos


And the usual motley crew of herbs: Lavender, rosemary, lemon thyme, sorrel, mint, and basil


Oh, and a fresh crop of cat grass for the most spoiled cat ever!
Since my birthday has passed (in err, late March!), that means we've officially been on Hendrik for four years now! We've got more boat DIY/renovation stuff to report on, too, as the preparations to build the bedroom are coming along swiftly now.
Sometimes we turn up in the most surprising places.
A few weeks ago, a friend of mine was visiting from LA, and she bought this pack of psychological thinking games from the nearby Design Museum. As she was going through it, she pulled out one card from the "The Garden Relationship Test" and held it up to me saying, "Umm, recognize this?"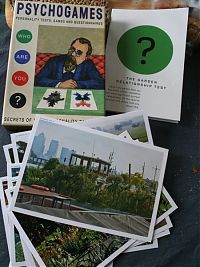 Apparently we're the "Houseboat Garden"!
Houseboat Garden
This is a complex relationship. You know there's a lot to it: it brings pleasure and fun, and it's unusual. That makes it very interesting, with plenty going on, like a work in progress towards a clearer definition of things. That's the central issue, in fact. You both have different requirements in this relationship: one seeking some sort of stability, even permanence, the other looking for some sort of direction to take. It's a serious matter, this divergence! It leads to an unsettled state of affairs, however much you are both enjoying it for the time being. Perhaps you should be prepared to talk more openly about these things; it needn't in any way lead to quick decisions: there's a lot to keep this affair afloat, so take your time.
This describes our relationship with Hendrik rather well, but somehow I don't think that was what the author intended!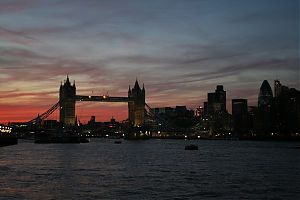 I'm very excited because this is the first opportunity I've had to crosspost anything between my sewing site, and this one!
We've got a total of six skylights on Hendrik – four flat metal ones in the front of the boat where we live, and two peaked, wooden framed ones in the back captains cabin which we rent out to our lovely lodgers. We've largely been able to keep our front skylights from leaking too badly, but the age and design of the ones in the back meant that they really needed some covers both to limit the drips and to protect the woodwork and the original 1930s patterned glass.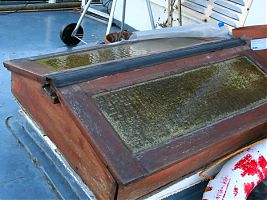 (this is the larger, saloon skylight)
So a few months ago I got some swatches from Pennine Outdoor to have a look at their tent fabrics, and decided that the "UV Treated Window Material" (P49) and "PVC Coated Polyester" (P9) would work best. Importantly, since I had the swatches I also tested to make sure I could sew through these on my regular domestic machine! I bought two metres of the green and one metre of the clear, which came to £23 including shipping (and this gave me plenty enough for these two skylights, and probably enough for at least one of our flat skylights).
I went and had a look at one of the neighbours' skylight covers and saw that theirs didn't have any special stitching or seam tape to prevent drips (and they didn't have any leakage problems), so I made my measurements.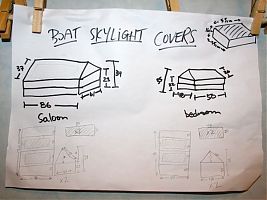 Then I thought about how the pieces would unfold to 2D, and drew out what I'd need to cut (without seam allowances, as that's how my brain works!).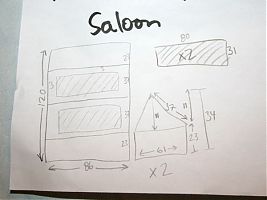 The shaded sections are the clear vinyl "windows". Once the windows were inserted into the rectangular green frame, it was really just a matter of sewing that big rectangle around the triangular ends. And luckily, both skylights have the same overall shape, with the bedroom skylight on a smaller scale.
Since it was the smaller of the two, I decided to sew this one first in case I needed to make any changes for the big saloon one. I probably should've done a muslin for these first, but rectangles and triangles are so boring to sew that I just couldn't bring myself to do it. (Seriously, does anyone actually enjoy home dec sewing??)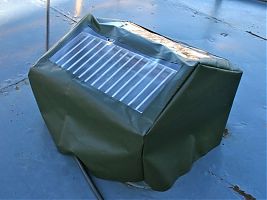 Because the materials themselves are waterproof, I didn't really want to use pins apart from in the seam allowances, so I held the clear vinyl in place with some cellotape (scotch tape) to keep it in place as I sewed. For the windows, I sewed from the back, overlapping the seams. You also absolutely NEED a walking foot attachment for this! The sewing machine needle wasn't really as important, but I used a denim needle here so it'd be a bit stronger, but I'm sure you could use a hefty universal needle and probably be okay, too. But seriously, do not attempt this without a walking foot, or you'll be tearing your hair out.
Anyway, on this smaller scale, the cover fits great! It was (dare I say it) almost enjoyable to sew.
So then I cut out all the larger pieces and sewed together the larger saloon skylight cover.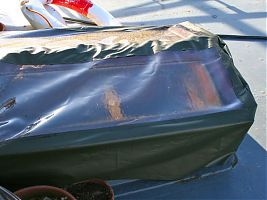 Oh dear. This was an utter nightmare to sew.
First of all, the pieces were bigger than the size of my sewing room (I'm not kidding – my sewing room floorspace is exactly the size of a double bed)! To make matters worse, the clear vinyl sticks to EVERYTHING (including the body of the machine and itself), and is so stiff that it just won't cooperate or fold or roll up the way you need it to in order to get it under the machine's arm, and then once you're sewing a seam, the length of it kept hitting the back wall and physically moving my super heavy, metal body sewing machine all over my desk! At times I was at full stretch of my arms and leg, holding a roll of vinyl in one arm and just letting the machine do the best it could without my hands anywhere near it.
So I'm not really that surprised that this cover isn't quite as accurate as the smaller one. In fact, this cover turned out to be a bit too small (arrrgh) so I had to split one of the corner seams to get it on, but it's Good Enough and doing anything further on this would've had me in tears.
But at least they're finally done, and keeping our tenants dry and our woodwork protected!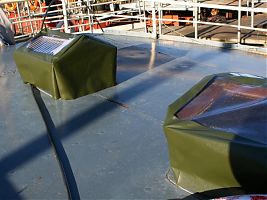 With this project comes a new distinction – velvet has finally been surpassed and I have a new Least Favourite Fabric. Congratulations, clear vinyl!
PS: If you haven't read about the struggles of one of the last operating historic boatyards and their struggles to keep out the developers, you really should.
On Hendrik we have a grey tank that only takes the outflow from the galley sink and stores it until we remember to flip a switch, which starts up the macerator and pump to lift it above the waterline and outside. It usually only takes a few minutes to empty it out, and you can watch the flow shooting out the side of the boat (though not nearly as impressive as Serenity's, which soars in a graceful arc, high into the air!). But for the past few weeks we've hardly been getting a trickle out of the pump, and it didn't seem to matter which state of tide or battery draw we were experiencing. Frankly, we were starting to get worried anyway, but then last night it started seeping onto the galley floor.
We had a hunch that maybe the problem was fat from the sink (inevitable over time with washing up) had congealed in the cold weather and was clogging the narrow pipe leading to the macerator, but there was really no way to be sure. So we decided to get out the hairdryer and heat the pipe between the tank and macerator for a few minutes, and then ran the pump again.
Eureka! What was once a trickle was a mighty torrent yet again!
So if you've got similar grey tank troubles in the winter, you know what to try before the messy (and smelly!) job of dismantling your grey tank… Even though it's never cold enough on the boat to freeze water in pipes, fat in pipes is another matter altogether.
We woke up this morning to find frost on the inside of some of the saloon windows. Granted, it was -10 C overnight last night (though the "feels like" was closer to -15!), but we keep our thermostat up there set to 5C overnight to try and prevent this sort of thing…
So it's good that we'd planned ahead during the first cold snap at the end of November and installed some "ghetto double glazing" to those massive saloon windows. For anyone not familiar with Hendrik – she was operating as a summer-only hotel for canoeing holidays up until we bought her three years ago, so there's scant insulation throughout and only single glazing on all the windows. The saloon is currently the last phase of our (approx 10 year) renovation plans, so the cost of any small improvements made now to the saloon will be divided over a fair number of winters.
The small improvements on heat retention here came in the form of 3mm plexiglass sheets with foam weather stripping stuck around the edges, which were then screwed to the walls around the large saloon windows. We're not stupid – we know there's no seal there so it's not as if this is double-glazing, but at £50 a window (they're 1m by 1.2m each!), there is a noticeable difference of several degrees in the saloon with them installed, and it means we still get the light through and with no distortion to our view outside. There are tons of better window insulators out there, but none that would retain our light and view like this. And this also means we can just unscrew these in summer to regain the opening of those big windows (which give a beautiful breeze throughout when it's hot outside!) with only a few tell-tale screw holes remaining.
Over the course of two nights, James got them up and screwed into the walls (our neighbour Sujith was looking pretty grateful for a few extra degrees!)…
So now the big radiator in the saloon is struggling to keep the temperature at around 15-16C in there rather than 12-13C before the plexiglass was installed. That doesn't sound like much, but it is the difference between being able to sit comfortably with a sweater in there, vs having to wear a coat and gloves and see your breath eating dinner. At least our bedroom, bathroom, and my sewing room are plenty cosy right now!
TV alert!
Remember back in August when Nigel Slater came round for tea? Well,
our episode is finally airing this week
, as the last of the season! So if you're in the UK (or Ireland, or some parts of France and The Netherlands), please tune in to BBC1 on Wednesday 22 December at 20:30 to watch us (In Scotland it's slightly earlier, 19:05 on BBC2)! We'll be a 10 minute segment in the middle of the 30min show, so you can see our beautiful moorings and boat in the summertime sunshine. Which is a bit nicer than our deck looks right now!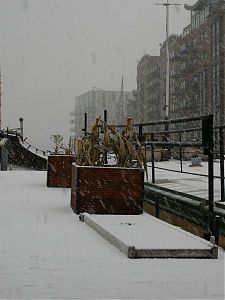 Hoo, and there goes another 3.5 months without an update, bad us!
But I am happy to report that we've had a wedding and honeymoon in the intervening period (remember way back when James proposed right before Hendrik's 75th birthday party?), so we've not been completely sitting on our hands or anything. We had a beautiful, amazing, and wonderful day at Bletchley Park, full of friends and fun and lots of DIY (I did a huge series of posts on my sewing site, FehrTrade.com about my sewing my gown and all the other DIY stuff!). We even had about 30 people from the moorings at our wedding which just goes to show what a fantastic, close-knit community we've been surrounded by in the past three years of boat life!

(Click the image to see more wedding photos!)
We came back from our honeymoon to discover that one of the baby corn plants had grown out of control, too! Seriously, it's taller than I am, with full tassels and everything! The baby ears it gave up were very tasty.
In other gardening news, the episode of Nigel Slater's Simple Suppers with us in it will be the last of the season, airing 22 December at 20:30 on BBC1, so set your recorders!
We are also ridiculously happy to report that our wedding registry was rather, err, unconventional. We didn't need the normal "couply" kitchen supplies after three years on board Hendrik together (please, no more kitchen supplies!!) and we certainly don't need any linens or furniture, but what we really, really needed was suplies to build our new bedroom in the front of the boat. So we set up a free (and no fees!) Honeyfund registry and listed all the bits we'll need, everything from hull grease to battens to celotex to paint to 24v cabling to ethernet faceplates. Plus a dishwasher.
We're starting the building work when it gets warm in Spring (we're not wasting time – we've got friends working on the CAD drawings and electrical layout already), but we wanted to buy the dishwasher ASAP as the washing up duties were seriously cramping our evenings.
Who knew that Hoover makes a boat-friendly dishwasher? It's got an A energy rating and only uses 16 litres of water(!!) for a full sized, 12-place setting. Perfect.
So the first step was to remove the old hotel dishwasher that never worked in order to make room for our new one to be delivered. Since this was a "load bearing" dishwasher and half the kitchen rested on it, in our demolition, we discovered an ENTIRE TRAY OF CUTLERY we never knew existed. It was just sat behind the enormous tray of cutlery we'd been using for the past three years. We also discovered that the old dishwasher drained uphill. Seriously.
After the initial shock, this setup actually made sense – we're below the waterline in the galley, so we'd assumed the old dishwasher drained into the grey tank, to be pumped overboard. But the dishwasher already has a built-in pump, so making the machine do the work and pump the waste water up to the waterline level (about head height in the galley) where it meets the outflow pipe for the upstairs sink and flow overboard by gravity actually makes a lot of sense.
Here's James installing the new dishwasher. We haven't put the cutlery tray, cabinet, and microwave back into place above the dishwasher yet so you can see the gravity outflow pipe:
And it works beautifully. We only have to run it once or twice a week, but it really does use a minimal amount of water – way less than the washing machine or even our average half-pressure shower. It's a good thing it's tucked away in the galley, though, because she is rather LOUD!
I don't think I posted about it initially (perhaps I was waiting until the job was completed?) but sometime last Spring I took it upon myself to repaint the badly chipped and ugly blue railings on the front deck to a nice, shiny black. But I got as far as prepping and painting the first coat on the starboard side when I got ill and was under strict orders not to be around volatile chemicals, so the railings had been left half done (as my mom painted the second coat on that side) since then.
But the chipped, blue railings on the port side were really bothering me, so during our brief non-quiet hours on a Saturday morning, I got fully suited up in a boilersuit, old shoes, thick rubber gloves, face mask, and goggles, and wire brushed all the surface rust and paint chips off the railings. Then I wiped them down, and got 1 1/2 coats through with black satin finish Hammerite before running out. After a brief break to restock, the port railing now looks as good as its twin!
It feels SO good to finally finish a project I started before I got sick! Triumph!
And you can see how nice it looks next to some of my salad (and baby corn, thanks to Rachael) in the planters James built for me: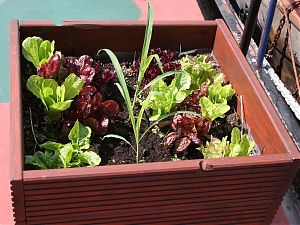 I don't like to admit it, but there was a bit of a deadline I was working towards (I like to think I can get on with things because WE want them done!), because a BBC film crew came out on Wednesday to film Nigel Slater and myself and James picking various herbs and vegetables around the moorings!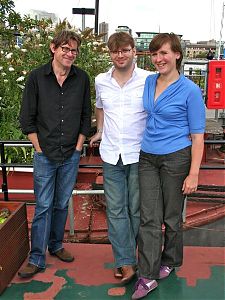 He and the crew were just so lovely and friendly and we had such a brilliant day! It'll be on BBC1 sometime in October or November. I'll of course post the date and links when I know more!