About
About Hendrik
Hendrik is a 103 feet long and 16 foot wide Dutch luxemotor barge built in 1933. Her original use was hauling cargo, but her previous owners had used her as a "canoe hotel" since 1978, taking groups out on canoeing holidays by day while they stayed in the floating hotel by night. As such, there are 26 berths plus a self-contained aft captain's cabin!


(New photo courtesy of Steve Brown)
About Us
Melissa Fehr and James O'Brien are both web developers in London. They first stepped onto a living barge for a party in 2004 and wanted to live aboard ever since. They first met Hendrik in October 2006 in Steenwijk, The Netherlands, had their offer accepted on Thanksgiving Day 2006, and completed the purchase in January 2007. Hendrik, James, and a crew of two travelled across the North Sea to London in time for Melissa's birthday on 25 March 2007. Melissa and James have been working on Hendrik ever since.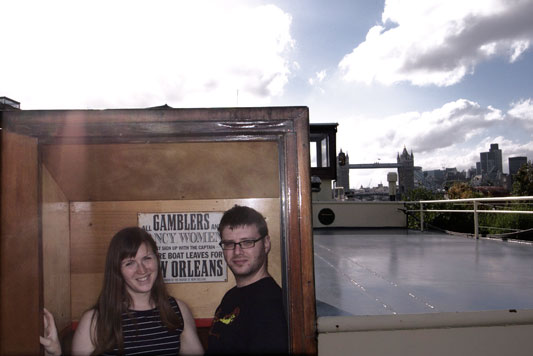 FAQ
We hope to answer your burning questions. Below are the ones we're asked most often. If we don't cover anything, add it to the comments of an article and we'll add the answer here.

Why live on a boat?
Lots of reasons. It gives us a lot more space than any flat we could afford in London, it gives us a chance to live right by Tower Bridge, it lets us live in something that's beautiful and has a history and character, and we feel intimately connected to the Thames. We also believe can make a sustainable lifestyle work better on a boat than on land. There are lots more reasons, and when we've written a proper explanation we'll link it from here.

Why live on Hendrik?
We saw a lot of candidates but Hendrik combined all the best bits into one boat. During the day the huge salon windows make for a wonderful living area, then at night the long hold gives us room for a cosy living room and a couple of generous bedrooms with en suites. The captain's cabin still has a lot of the original '30s features, the tall wheel house gives us panoramic views, and the ex-hotel galley has a professional oven in it. There's a long way to go but Hendrik had all the potential we wanted to make our perfect home. And just look at the line of her. How could we resist that?

When happens when you come to sell? Will you make a profit?
We don't intend ever to sell. One way or another Hendrik is ours for life.

What about the housing ladder? What if you want to get on in a few years? Won't you be too far behind the curve?
Not that we do intend to, but there will always be ways to get on the housing ladder, or the market would collapse as the first-time buyers dried up. And building up equity isn't the only way to make enough to trade up. Meanwhile the major loans underpinning our purchase will be paid off in 2013 and 2014, which should leave us some relative youth to enjoy being debt-free.

How do you borrow to buy a boat?
You can get a marine mortgage but in 2006 when we were arranging the finance the interest rates were far cheaper on personal loans, so we did it that way instead.

How do you get electricity and stuff?
The mooring supplies most of our amenities. Electricity comes through an armoured cable from the collar barge we're moored to, and the phone/broadband comes in the same way. Water is a hosepipe that we fill our 6,000 litre tanks with. Gas comes in bottles from a fuel barge that drops them off, although ultimately we may replace all the gas systems with (bio)diesel for safety reasons. Diesel comes in tanks the same way.

As for things we get rid of, we have a 2,000 litre black water tank that gets pumped out as and when it fills up (our toilets flush with river water, incidentally). We pump out to a storage tank on one of the collar barges and the black water goes from there to the sewers. No sewage is released to the Thames. Grey water from the kitchen gets stored in a 100 litre tank and pumped out straight to the Thames. Other grey water from the showers and sinks flows straight into the Thames. We're ensuring that we only use environmentally friendly cleaners and cosmetics on the systems that flow straight out.

Can you get the internet?
Yes, we have a BT line with ADSL from the mooring.

Does your boat rock?
We're a canal barge on tidal water, you work it out.

Does your boat rust?
Hendrik has a steel hull, so there is a risk of rust. When we had her surveyed in January 2007 the hull was jet washed and single-component coated to prevent rust, which will last about five years. To prevent galvanic corrosion she also has sacrificial anodes applied. The superstructure has a few scuffs and scars, so we're planning to repaint eventually to tidy those up.

How did you get Hendrik from the Netherlands to London?
James and a crew of two sailed over from March 23-25 2007 under Hendrik's own power, which incidentally is a circa 1962 6-cylinder Scania diesel.

What's with the canoes?
From 1978-2003 Hendrik operated as a canoeing hotel in Steenwijk, and when we bought her all the trappings came along. We also have postcards, drinks order forms and more crockery than we can ever possibly use.

Would you like some cheap vi46r4 ci4lis?
Not particularly.