As we're catching up on our post backlog in reverse order, this post also includes a sneak preview of the work we did in the saloon last summer. One of the things we did was gratefully accept a cast-off sofa from our friends Jane and Ralph (driving it up from Richmond strapped to the top of the car was an experience all of its own) and install it in the back corner of the saloon, replacing a ratty built-in banquette that was there before.
Only problem is, when we took the banquette out we realised there was a raised area in the floor a foot deep – or, if you like, the galley ceiling. There was no way we'd be able to push the sofa flush to the wall. Also, removing the back board of the banquette had revealed a nasty unvarnished bit of wall which was a completely different colour to the wood above. You can see the effect in the photo below, in which Bosco demonstrates that he doesn't care if he's being ignored, when he wants a hug he will damn well go and get a hug.

Obviously it was clear something needed to be done to tidy that corner up, but we were undecided as to how. That is, until I was idly browsing around Whitten Timber down in Peckham and discovered some beautiful striped offcuts in roughly 2m lengths.

Combined with a few aluminium effect shelf supports from B&Q, and with a lot of varnishing, sanding and revarnishing, I got the smooth glassy finish I was after and placed the shelf right across the join to hide it.

In this photo you can also see the two kitty perches I added for Bosco from the same piece of wood, positioned so he can sit up high and peer out of the window down the moorings. Unfortunately he's still deciding whether or not he likes them.

Underneath, I took the opportunity to tidy up some of the accoutrements that come along with cat ownership and give him a little hiding space for when he's not feeling social.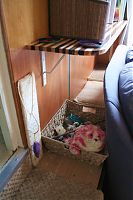 Spoiled? I don't know what you're talking about. In that picture you can also see the rounded corner I put on to save our clumsy thighs as we walk past. And if these shelves look a bit familiar, it might be because there was an even sneakier preview in yesterday's post – the third of the kitty perches became the little shelf above my desk.
I'm really pleased with the way these shelves turned out. It was my first time really going for a fine finish with wood and they look far more expensive than the £100 all told it cost for materials. It also feels like the first thing I've made that we'd be proud to keep using even after we finish redecorating!