Sometimes we turn up in the most surprising places.
A few weeks ago, a friend of mine was visiting from LA, and she bought this pack of psychological thinking games from the nearby Design Museum. As she was going through it, she pulled out one card from the "The Garden Relationship Test" and held it up to me saying, "Umm, recognize this?"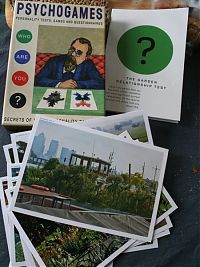 Apparently we're the "Houseboat Garden"!
Houseboat Garden
This is a complex relationship. You know there's a lot to it: it brings pleasure and fun, and it's unusual. That makes it very interesting, with plenty going on, like a work in progress towards a clearer definition of things. That's the central issue, in fact. You both have different requirements in this relationship: one seeking some sort of stability, even permanence, the other looking for some sort of direction to take. It's a serious matter, this divergence! It leads to an unsettled state of affairs, however much you are both enjoying it for the time being. Perhaps you should be prepared to talk more openly about these things; it needn't in any way lead to quick decisions: there's a lot to keep this affair afloat, so take your time.
This describes our relationship with Hendrik rather well, but somehow I don't think that was what the author intended!