Ahh the joys of gardening aboard… I may be confined to containers, but we've got full sun and it's amazing what you can grow in tubs, pots, old kitty litter containers (the bright green ones), and some custom-built square boxes!
It's a bit out of character for me, but I asked for garden stuff for my birthday presents this year!
From my inlaws, I got two fantastic blueberry bushes and using some birthday money from my parents, I bought the two bright blue containers, ericaceous compost, and a dwarf peach tree!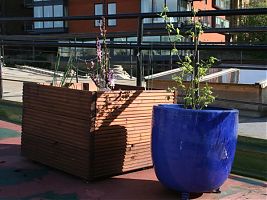 The peach tree has since dropped its flowers in favour of dark red leaves…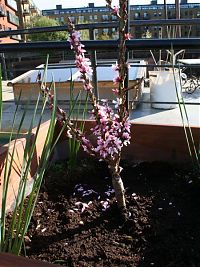 Here's the Blueberry bushes (we got Legacy and Spartan varieties) from the Dorset blueberry company, whom I highly recommend as they were shipped very carefully, arrived in a very healthy state, and the accompanying book is wonderful for blueberry newbs like me!
We also grabbed a Lupin plant (that's the red cone flowers in the picture just behind it) for one of the containres on the main deck: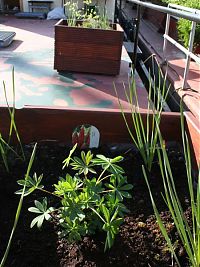 And here's a newly planted geranium and the beginnings of this year's garden (most are still sproutlings in the wheelhouse, though).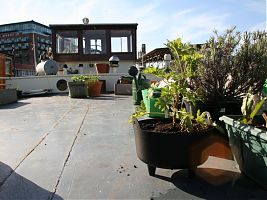 This year I'm growing:



Blueberries


Peaches (though I've been advised to discard any peaches it attempts to grow to encourage it to put the effort into growing big and strong instead!)


Strawberries (I've already got at least 30 berries, just starting to blush pink)


Carrots


Radishes (eaten a bunch already!)


Spinach


Mixed lettuce


Spring onions


Peas


Marrow


Courgettes


Spaghetti squash


Butternut squash


Aubergines (pretty speckled purple and white ones!)


Tomatoes


Tomatillos


And the usual motley crew of herbs: Lavender, rosemary, lemon thyme, sorrel, mint, and basil


Oh, and a fresh crop of cat grass for the most spoiled cat ever!
Since my birthday has passed (in err, late March!), that means we've officially been on Hendrik for four years now! We've got more boat DIY/renovation stuff to report on, too, as the preparations to build the bedroom are coming along swiftly now.