The last two weekends have been non-stop destruction down in the front of the hold. Since my camera's still full of this weekend's activities, here's what we got up to last Saturday…
James's friend (and best man at the wedding) Simon came over and while he used a power screwdriver to take apart the metal frames and plasterboard walls, I suited up in long sleeves and thick rubber gloves and bundled the usable rockwool into bags and the ratty old stuff was marked for the bins.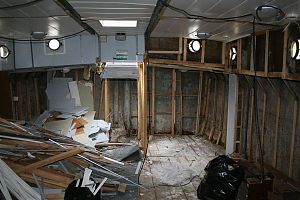 This is the view of the same bit of wall, taken from the lower height area (destined to be our new wardrobe).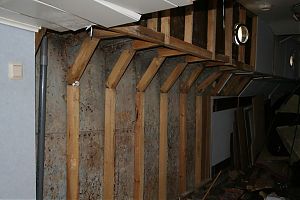 Luckily the battens attached to the ribs are still in very good shape so we're keeping those in place while we wire brush and repaint the steel around them.
In peeling back sections of wall, we uncovered evidence of a larger porthole that had been covered up!
We're just going to leave the portholes as-is, though, since our bedroom will already have 3, plus a skylight, and eventually a hatch/skylight, too, which is more than enough!
But the really exciting stuff came when we peeled back the floors, ceilings, and the remainder of the port side this past weekend…