Before the weekends start stacking up on us, let me fill you in on what we got up to last Saturday (last Sunday will have to be another post!). A couple weekends ago we texted our mate Drew to see if he was up for a bit of demolition (you may remember that he helped us rip down some of the partition hotel room walls a few years ago), and his answer was something along the lines of "Would I??" so he came round with some old clothes and was reunited with his power drill for a few hours.
We started by taking out the floor and ceiling in the lower-headroom starboard space (which will be our future wardrobe).
Amazingly, there was just a gap underneath the floorboards so we've gained an extra foot of headroom throughout by lowering the floor! Our bedroom is going to have something like 8 foot ceilings! omg! It's tall enough that I can easily walk under the sidedecks…
Here's Drew and I standing on what will be the floor level, so you can see how tall it'll be in the area that still has the wooden floorboards: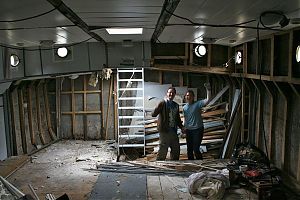 But the big surprise is that the floor we revealed isn't actually the hull of the boat, but a double-skinned "cargo floor"! It's sealed around all the edges, but there's no ribs there and it definitely sounds hollow, so the conclusion seems pretty sound! This is great news, both for insulation purposes and for any potential water damage…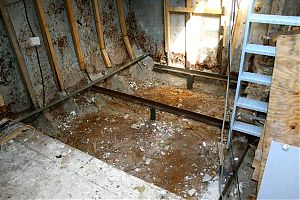 Then Drew and I shifted the entire pile of refuse over into the starboard area, neatening it up and bundling together the longer, unwieldy bits.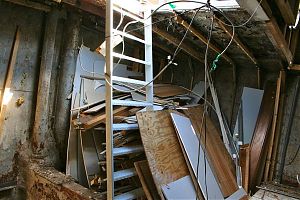 Then James joined us and we dismantled the floor and ceiling in the lower-headroom port space, before carrying on up the port side and stripping back everything to the hull.
This is my future sewing room, at the end of the corridor!
We also found another filled-in porthole to match the one on the other side!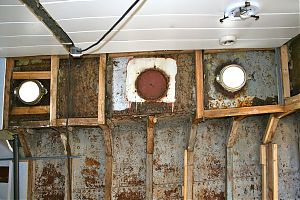 And we think this must be the base of the original crane used for transporting cargo in and out of her hull when she was a working barge, but we're not entirely sure. The two vertical pipes behind it are a true mystery, though – they're cut off at the deck level and come up between the entrance to the forecastle and the moveable pile. Any ideas?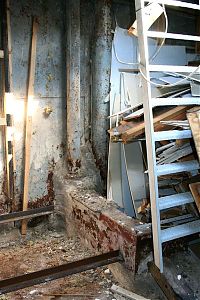 Now we can at least start with the hand wire brushing of what's exposed, and hopefully we'll have the skip by the time we reach the refuse pile. The only parts we still have to demolish are:



Pull down the ceiling in the higher-headroom area


Pull up the remaining floor boards


Break the ballast water tanks down for removal


Angle grind the floor supports down