The problem with destruction is that eventually you need to get rid of all that stuff, and the downside to clearing such a large space is that you also end up with a large amount of rubble.
So last Saturday we booked a truck from Any Junk for the afternoon, meaning we had to get the entire pile from inside Hendrik up to the road in a matter of hours so as to not uglify the moorings. We did what anyone would, faced with such a task – we begged, pleaded, tricked, and bribed our friends into helping.
We started at 10am with just our neighbours Alan and Liz plus James and I. The four of us moved the pile from inside Hendrik, up through the hatch, and up on deck. We had two of us below deck passing pieces up to the two above deck, and we moved the whole pile pretty quickly.
This also meant we needed a cuppa while we awaited more troops!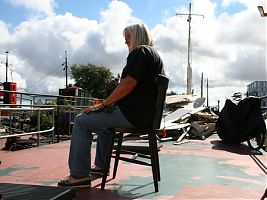 And more troops did arrive, and about ten of us formed a "bucket brigade" of handing off pieces to the next person in the line, until we'd moved the whole pile the several hundred metres up to the road.
Astonishingly, we'd moved the entire pile up to the road by 1pm, and Any Junk came and cleared it all away by 2pm!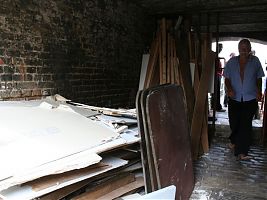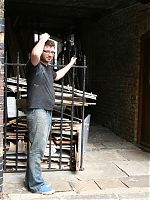 This was our first time using Any Junk, and we will definitely use them again. Our other two choices were to a) use Tidy Thames to lower a skip onto our deck again (putting it mildly, I'd rather get a full body root canal than ever deal with Tidy Thames again. Awful, awful, horrific company!! And that's the nicest way I could possibly put it.) or b) Hire a skip up by the road (but we're on a double-yellow so need special permission, and of course, this means getting everyone's rubbish added to it when your back is turned!).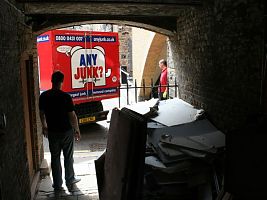 Any Junk worked out rather cheaper than a traditional skip hire, and a fraction of what Tidy Thames surprised us with last time. Plus, the Any Junk guys were super friendly and were happy to load our pile into the truck themselves, and even came around to see the boat afterwards!
Since their entire truck is a giant scale (so they know how much to charge you), we were able to get an accurate reading on exactly how much we'd moved that day – 1.2 tons! OMG! And this was the third time I'd moved it!
One the pile was gone, we rewarded the troops with pizza, beer, and pulled pork to say thank you to our friends and neighbours. We're rewarded by an empty hull, ready to complete wirebrushing then priming…
And a rainbow to remind us to stop and look up every now and then: