About two weeks ago, we were very happy to trade in our wirebrushing tools…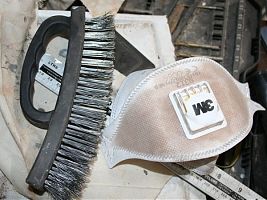 …for a bit tin of Jotun Vinyguard primer, rollers, a touch-up brush, and face masks!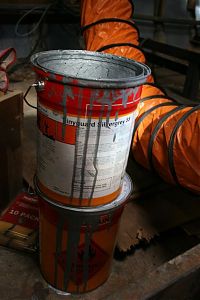 The wirebrushing was a physically tough, dirty job so we were glad to see the back of it, but painting comes with its own challenges – namely the unholy fumes! I swear, after a while I started to taste wintergreen in my mouth from the fumes, even through our filter masks.
Luckily, we borrowed an industrial exhaust fan from our awesome welder neighbour Charles, and because it has a concertina which is the perfect size for a porthole, it meant we could leave it on overnight without fear of a certain cat climbing out the hatch. With that running overnight, we could really clear the smell from the boat in a day or two.
The nice thing about painting, though, is that it's satisfying work! We got to watch the hull go from a speckled-rust colour to a stately silver-grey, and the rivets really popped once painted, too!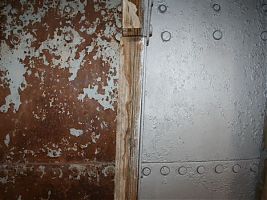 We used mini rollers for the bulk of the painting, plus one small paint brush between us to get the tricky corners and particularly long rivets and bolts. And believe me – there were a lot of rivets to paint around, not to mention the ribs every 14 inches or so…
The thing is, had we been painting a similarly-sized box room, we could have had it finished in a day, but going around all the strange corners, rivets, overhangs, and portals really made it take significantly longer! We reckon it took us four sessions of about 2 hours each with both of us painting to complete it. We stopped for fresh air breaks every paint tray, too…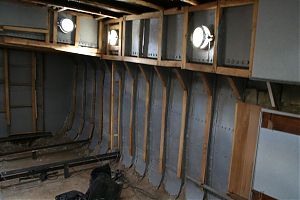 But of course, as soon as you finish one milestone, another portion of the project jumps forward to take its place, and the insulation is something we need to get in place fast before the weather turns much colder…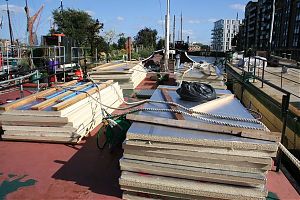 Yes, that's our next project, after a well-deserved week's rest in the thermal spas of Hungary, celebrating our first anniversary!