We've got several months of posts to backfill now, so much in the way of ripping off a plaster/band-aid quickly, I'm going to attempt to fill you all in quickly, rather than take the time to write an epic, detailed post and further add to the delays in showing off what we're doing!
But on the plus side, we're only too busy to blog because our spare time is being spent getting on with boat work!
The previous update on the bedroom building was that we'd finished insulation before winter (always a good thing!). Just before Christmas, James and his dad then got to work building in a new subfloor.
If you recall, Hendrik has a sealed, steel cargo floor throughout the hold, and for about 3/4 of the space occupied by the hotel bedrooms, there's a ballast of sand with a 4" thick layer of concrete on top of this cargo floor, for a total height of about 9 inches, I'd guesstimate. The bedroom, wardrobe, and sewing room will occupy this ballast-free space, meaning they will be dropped in relation to the bathroom, guest bedroom, and snug, which will sit on top of the concrete. We get very tall ceilings in there, but it means a floor needs to be built first!
The subfloor (above the cargofloor) needed to provide several things:

An air gap between the steel and the floor, in case of the inevitable damp from breath/condensation


A space for insulation


An anchor for easier wall building


First they laid a framework with the main boards running along the line of the boat, with braces in between…
Then a layer of plywood…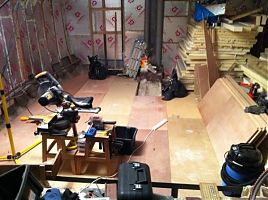 Then another framework with the main boards running across the boat, which were filled in with sheets of thick celotex insulation, and a final layer of plywood on top!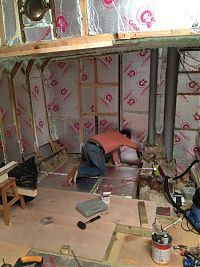 And best of all – there's no bounce when we jump up and down! Nice and sturdy, unlike a lot of the floors we inherited.
With a solid base in place, it was then time to build the first walls. James started with the easiest (and shortest!), the wall between the new sewing room and the wardrobe.
The first step was to build the outer frame: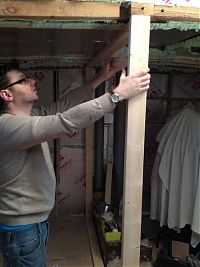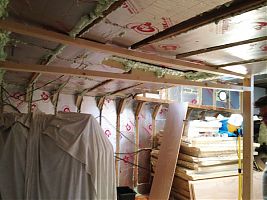 Then fill in the uprights and cross-bars to match the width of the 12mm plywood from Wickes: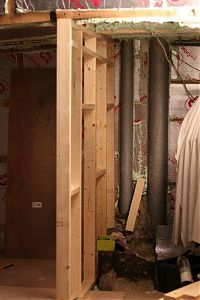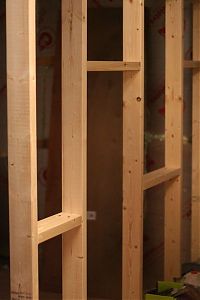 Then clad one side with said plywood, ready for electrical cables to be run: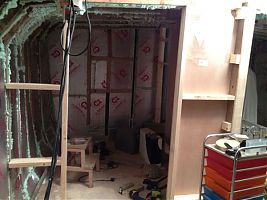 You can see the shape of my sewing room at the end of the corridor right there! Exciting!
James has once again been won over by the Kreg jig and how easy, fast, and strong the frames were to build. It's easily been our best buy, and James's most-used tool! We can climb all over our wall frames like a climbing frame, with no movement or creaking at all.
More walls were built more recently, plus we've got a drydock report for you, coming up soon…