Now that both of the old freshwater pumps have finally left the engine room, it seems a good time to relate the whole sorry tale, starting from why we had such a doozy of a time with it in the first place.
Here's the problem: Hendrik was designed to be a canal barge, always afloat and always pretty level. So down in the bilge under the salon, Hendrik has four 1000 litre water tanks laid out like this: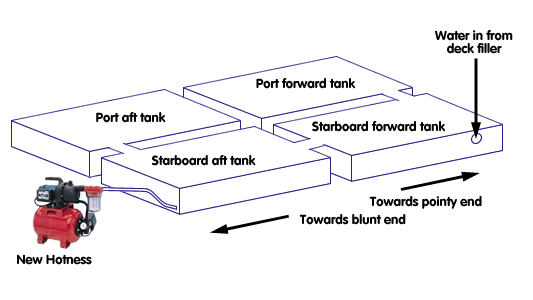 As you can see, they're connected in a "U" shape, but more importantly, the outflow to the pump is on the starboard side. At low tide, Hendrik settles on his port side and this happens:


The trouble is that most water pumps use the water to cool and lubricate their seals while they're running, so if they run dry, the seals tend to melt. Or in the more spectacular kind of failure, the impeller on centrifugal pumps can explode if they run unloaded, because they spin too fast.
Of course, we only know all of this through the wonders of hindsight, so when we were first here we never bothered to switch off the sweet water pump at low tide. After a couple of weeks the seal looked like this: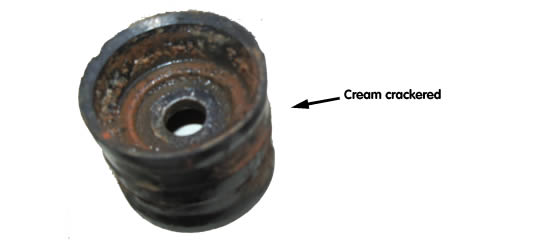 and we had no water pressure.
We know now, after much searching, that the makers of the original pump, Speck, have a distributor in the UK, but when we first started trying to find out anything about it, we only found German pages – not surprising as Speck is a German company. But neither of us speak German, and as far as Google Translate knows, "Speck" means "delicious bacon." It took us six weeks to get the part to fix our baconpump, which then promptly failed again, as I've related elsewhere.
Meantime, Nikolaj and I formulated a plan to patch up the leaky bits on the tank filler so we could fill the tanks without having to faff about with a torch and a tupperware box. I feel sorry for the guy at C.A. Baldwin who had to deal with me turning up with a few measurements and lots of half-baked ideas, but we're absolutely indebted to him because what he sold us worked perfectly. Nikolaj and I sawed off the old filler wholesale and bolted on a couple of chunky rubber fittings with a flexible hose between them. Of course the angles make it impossible to get a decent picture but here's our best attempt.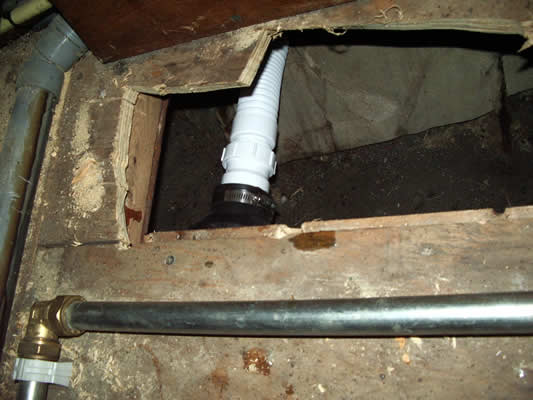 As for the old pipe that caused us so much trouble, we have plans for him. Oh boy do we have plans. Yeah, you should look scared, boy.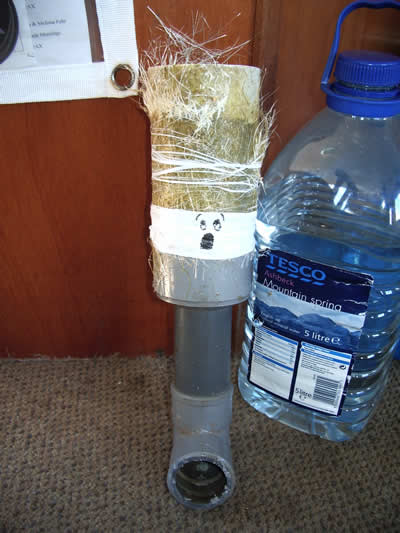 So with the new filler in place we set about filling the tanks. Beautiful. Not a drop. We were busy high-fiving until I was just about to go to bed and I found the forward port tank had developed a tiny crack and water was pouring into the bilge. There was no sinking risk, but a lot of our stuff is stored low in the hold down there and it could have got pretty badly waterlogged. So a tense night followed while I tried to calculate whether the water was flowing fast enough to wreck our stuff. Fortunately, it turned out that it wasn't, and I spent a sweaty day sawing up the hold floor trying to find the leak and patch it – it's got a bit of chemical metal on it right now but we need something a bit more permanent, which we'll investigate in the course of the next couple of weeks. Once again Nikolaj saved our bacon (figurative, not -pump) by lending us a little submersible pump to clear the water that had leaked.
So to bring you up to date, the new hotness is working well (and we managed to place the switch for it conveniently in the galley, so no more traipsing up to the wheelhouse four times a day) but of course it's never that easy. Within a couple of days of fitting it, the extra half a bar of pressure it runs at had made the crappy old copper piping start to split. Then on the Friday a couple of days after that I went to wash up, filled the sink with water and found the cold tap no longer wanted to turn off. And there was no stopcock. And I might have said some bad words.
So the Saturday was spent sourcing and fitting a new kitchen tap, which had always been part of the plan but not quite so soon. I scored bigtime though, finding a lever-action tap with extendy hosey thing for a whole £27 at B&Q. The next cheapest was £139, who's da man?
And with that, the States called and we were off for two weeks, leaving Nikolaj with a key and headfull of plans to fit the hot water, replace the old and crappy copper piping with flexible Hep2O, fit some new toilets that use less water, and most important, fix our water-at-low-tide problems.
Here's the plan, from yet another perspective just to really confuse you: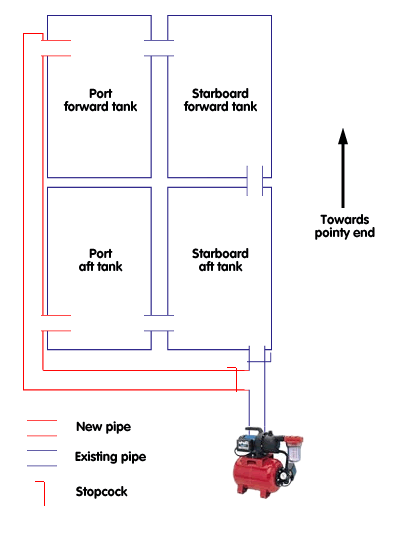 The idea is that with the new pipe on the other side, and two stopcocks to choose which side we draw from, we'll always be able to draw from the lowest side of the tanks, the pipe will never run dry, and we can close off the high side of the tanks to maintain a vacuum in the pipes so the water can't run back. This is all ready to happen just as soon as we can drain the tanks. Our fingers are tightly crossed.
Meanwhile, remember those pictures we showed you before of the lovely tidy salon and deck? All things must pass.