Whilst dismantling the bunkbeds, we discovered lots of fun stuff under the bottom bunks – lots of pfennigs and guilders, some stencils used to mark the canoes, four glass light covers, and several plastic menu holders like the kind you see in cafes. In one such holder there was a price list for souvenirs, including Hendrik teeshirts! Alas, we kept hoping we'd come across a secret stash of old shirts but none ever surfaced.
So through the magic of the internet and a bit of Photoshop, I recreated a suitably retro Kanotel Hendrik design using some photos of her when she was slipped, some wording from other Hendrik brochures, and the lovely, lovely people at Bountee.com.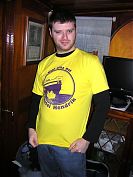 James's birthday is tomorrow, but I gave him his shirt early so he could wear it out to the pub celebrations. The nice thing about Bountee is that there's no minimum print run and you don't need to win a popularity contest like Threadless. And the print quality is sooooooo much better than CafePress – they print directly on the shirts instead of on some transfer that yellows the first time you wash it, ugh.
Anyway, before I gush on too much, I wanted to let you know that you too can have your own Kanotel Hendrik shirt if you so desire. They're available in a regular, guy's fit teeshirt or a girly shirt, and I've set them at the lowest possible price so I'm not making any commission on the deal or anything.
In other news – I'd update you on the heating situation but that'd just be depressing so I'll leave it until we've got some progress to report.