Or "What we've been up to since we last posted but not including anything diesel stove related because James is preparing to write a novel on that". Anyway, sorry to be terribly quiet but we've been out doing things and have been awful about actually documenting them.
First up was our Christmas activities. Our mooring has an advent tradition where each boat takes a different night in December to have a party and officially turn on their outdoor lights. So for nearly every night, we had a party to go to with hardly a stumble home! For ours we served Pimm's Winterand homemade christmas cookies and everyone helped to make popcorn garlands and snowflakes cut from the thousands of white circular coffee filters leftover from the hotel.
Then after a delightful Christmas Day itself spent gorging ourselves on duck and playing our new Wii, we buckled down and resolved to clear the deck before New Year's. So we rented a van and carted away the 5 diesel barrels and 7 LPG bottles off to the council's recycling site.

Then we realised we had an empty van so we used the opportunity to go round B&Q to get a new radiator for the saloon (as the 30 year old current one exploded into geysers once hooked up to our bitchin' new boiler), various bits from Ikea, and beer replenishing at Costco.
The Ikea purchases included a beautiful tin bathroom cabinet that must've been designed precisely for boats (strong magnetic catches and tall lips on every shelf!):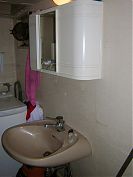 ...a big shaggy black wool rug (which Bosco loves to lie on to become The Incredible Invisible Cat!) and a small bucket armchair more in keeping with the scale of the captain's cabin:

Whilst visiting with our neighbour, we obtained a big plank of thick pine which was exactly the kind we were looking for to replace the galley steps, some of which had rotted away, making things very treacherous. So James went ahead and chiselled and unbolted the old stairs to reveal the metal framework underneath, and we cut the board to the right widths.
That's as far as we got, though, but even just having the bare metal has made it much easier to use the stairs that having a few missing ones as before. The other project in mid-completion is a passageway between the captain's cabin and the wheelhouse. We were able to punch through the bottom of a cabinet, but we'll need some steps welded on before we can actually use it. It'll be so nice to be able to use the wheelhouse without having to put on a coat or shoes and go out into the cold or rain!