After living on Hendrik for over a year now, I had a "first" yesterday – I fell getting onto the boat. I was carrying a huge and heavy box (a big shipment of whole foods from Goodness Direct as part of our Apocalypse-proofing) which meant both arms were occupied and I couldn't see my feet, and on top of this it was drizzling and we were tilted because it was low tide. I'm not sure whether my foot slipped off the gunnel or just missed it entirely, but I twisted and fell into Hendrik's sidedeck, falling hard on the outside of my left thigh in the process. Luckily a passing workman rushed to my aid (as I was pinned down by the big box and still in a bit of shock that it had actually happened) and I'm absolutely fine, but just left with a very sore and patchily bruised vastus lateralis. Luckily it was after the race and not before, and I seemed to have gotten off a lot easier than James did when he had his fall.
In brighter news, we've got two big events coming up that we're busy prepping for – this weekend is Open Garden Squares Weekend so we're busy baking and making bunting to get everything ready for the public party atmosphere! If you're interested in attending, please leave a comment and I'll email you details of how you can get in to see our mooring.
And then on the 21st we'll be celebrating Hendrik's 75th birthday (on the day itself – we've got the bill of sale that shows the date!) and so are readying the BBQ and put together a photo scrapbook for our friends to look through on the day…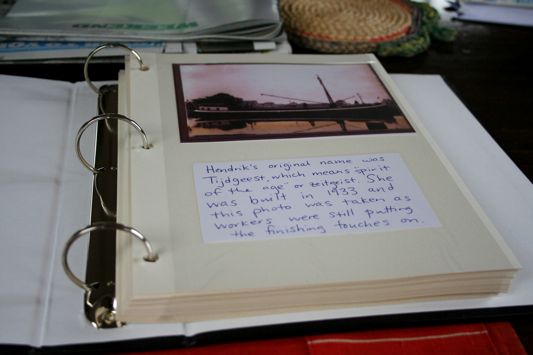 And while we may not be any closer to actually climbing up to the wheelhouse from the Captain's Cabin without going outside (ladder sourcing problems!), I'm happy to report that Bosco is!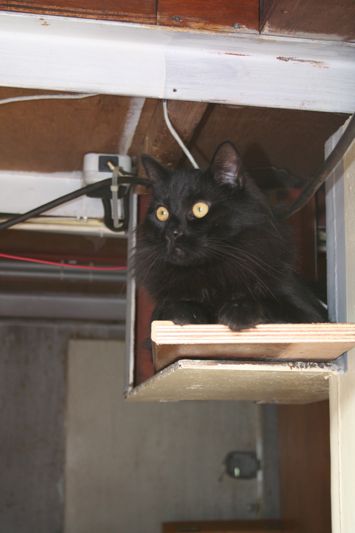 There's always been a random steel shelf just inside the Captain's Cabin door and underneath the wheelhouse floor (which he's happily perched on in the above photo). James extended this with a bit of wood and now our little scaredycat is happy to jump from it up into the wheelhouse through the cabinet door. He's even ventured out onto the back deck when we're up there and open the door for him! Considering that he wouldn't even go near an open door a few months ago, we're very happy with his progress.