Open Garden Squares Weekend was a grand success! James and I were up baking until midnight on both Friday and Saturday nights, but our little bake sale raised nearly £350 for the RNLI! Not too shabby considering that all the cupcakes, cakes, cookies, and teas and coffees were going for 50p or a pound each… The visitors really seemed to take more notice of the boats this year, too, thanks to the laminated info sheets we each hung up on the walkways near our barges. It was almost like a little self-guided tour for the garden revellers!
Otherwise, we've been doing lots of grinding – James took over the prettification of our saloon window frames. The big windows had to be boarded up for the crossing, and so had four steel tabs welded onto each frame to keep the plywood in. In our haste to get daylight into the saloon when we finally arrived in London, they were grinded off in a less-than-expert way and resulted in some ugly, rusty tabs: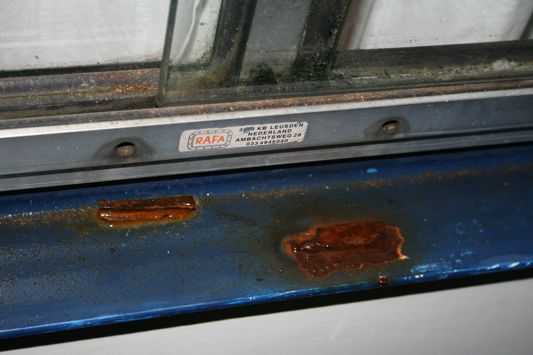 With his new-found grinding skills, James took these off entirely and repainted the frames (and a little bit of the wall, oops!) with some blue Hammerite. Much better!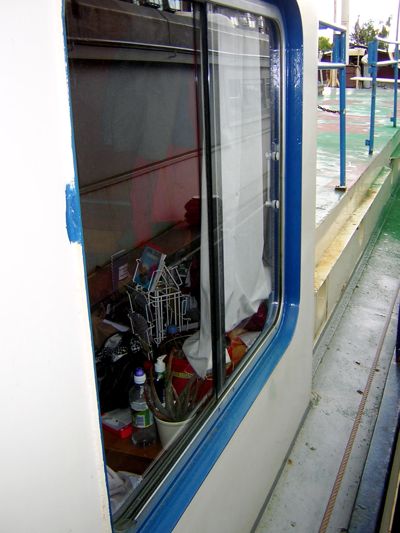 And then Saturday morning we attacked the deck yet again. This time I was wearing our neighbour's gas-mask-type full face mask and air filter, plus earplugs and gloves. Much more enjoyable, especially if you consider the amount of paint dust we're kicking up: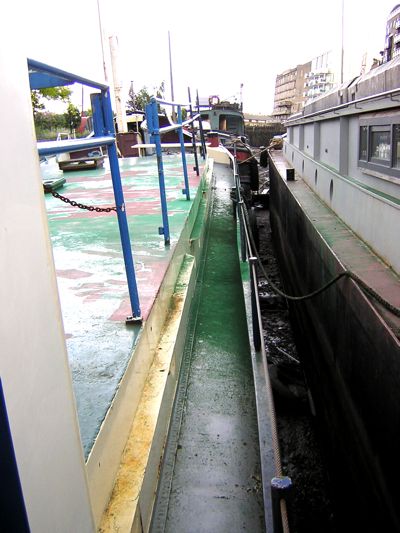 We were hoping to have the deck nicely painted in time for Hendrik's 75th birthday on Saturday*, but with a bunch of wet Saturdays in late May, it just hasn't been realistic to finish in time. Still, we managed to do just the bright red portion (in the upper right-ish) in 3 hours on Saturday…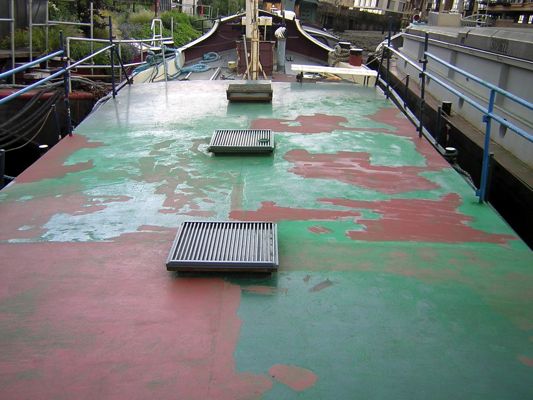 So I reckon one more good Saturday and we'll have finished with the top deck grinding and we can finally roll on the new, green topcoat! (and then start on the side decks, boo!)
*If we know you and you haven't had an invite, don't fret. We've been too busy to send out proper invites and have just been using word-of-mouth. So just swing by around 3pm with some booze and something for the BBQ. And we do have a wet weather plan!