On Saturday we celebrated Hendrik's 75th birthday. She rolled out of the yard on 21 June 1933 (as "Tijdgeest" then!) and we wanted to mark the occasion with a big party.
So out came the balloons, crisps & dip, beers, and barbecues and we invited some friends round to celebrate. Hendrik's "This Is Your Life!"-style photobook was a big hit, too, and James and I opted to dress 1930s-style to mark the occasion.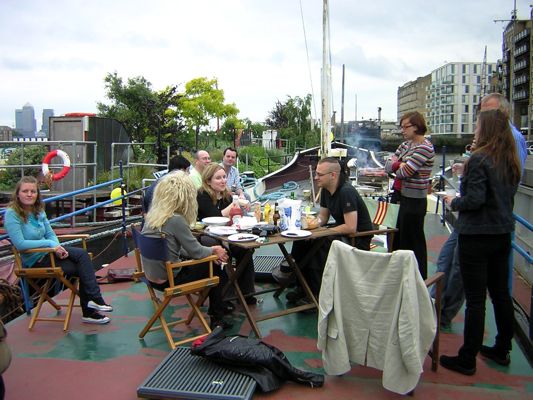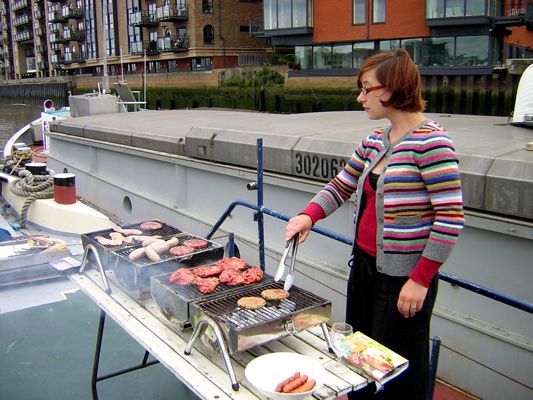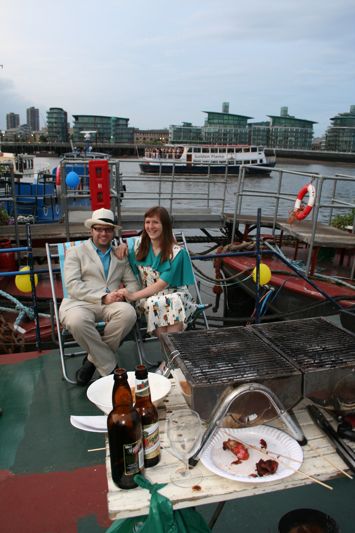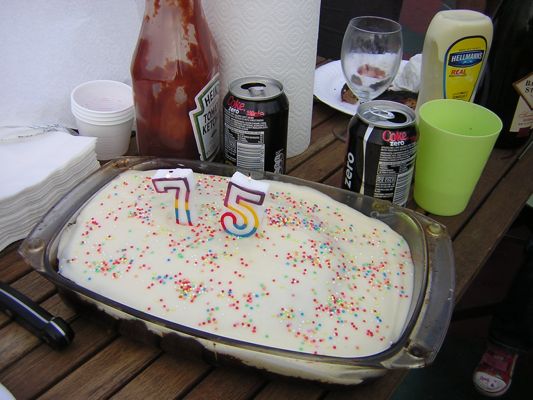 It was really sweet when it was time to bring out the retro birthday cake (chocolate cake with vanilla icing and hundreds & thousands on top!) and sing Happy Birthday – it was quite windy so we had a hard time lighting the candles, but they stayed lit throughout the entire song right up until the part where we started clapping at the end… And then suddenly, with a big gust both candles blew out at once! It was like Hendrik was blowing them out himself. Awww!
As it turned out, Saturday was cause for more celebration than just the birthday… For one, we were celebrating having running water again after our new old hotness water pump died on Tuesday night. I left work for a few hours on Wednesday to run to Machine Mart, load up my credit card with a similar new pump, drag it home on a luggage dolly, and hoof it back to the office. Only to discover that the pumps were not so similar that we could just use the old fitting as-is. Cue a frantic call to Nikolaj, who saved our bacon (pump) yet again by creating a new flexible hookup that will work with either pump. The old one is still under warranty, so we'll get the replacement impeller for it and then have that in reserve for when this new pump fails, and just cycle them out.
But it was touch and go on Saturday morning, knowing we had people coming at 3 and we needed water to flush the toilets for them and we really needed showers before everyone arrived… And voila, the pump started making pressure at 2:30!! And in retrospect, this new model is actually MUCH quieter and quicker to make pressure than the old one, so it's not really such a bad thing.
And finally, our other cause for celebration is that James proposed on Thursday night!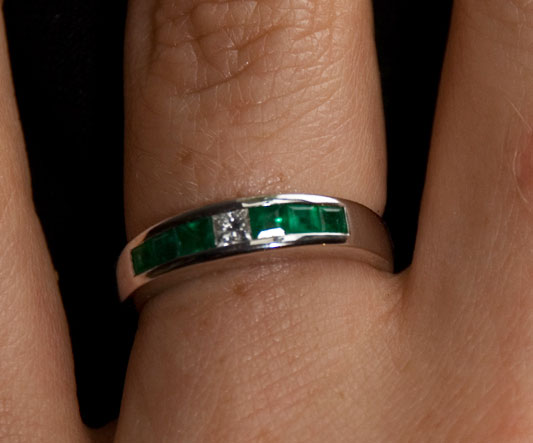 We'd picked out the ring in February when we were in Dublin, but Thursday night was definitely a surprise after all that waiting! We're looking to get married next fall at Bletchley Park, with a smaller reception in Pennsylvania shortly afterwards.