We've got a combination fridge/freezer in the Captain's Cabin kitchenette. It's our only freezer, but the form factor is awkward as the top of it is too high to use as a worktop, so when the neighbours were complaining about wanting a bigger fridge for the five of them, we jumped on the chance for a trade. We're getting their little under-counter fridge for the the kitchenette, and they're getting our fridge-freezer. Everyone wins!
We bought a big upright freezer for the galley, and we're only just now getting used to having ice on the same side of the boat as the bar. Oh, the luxury! Then we went to move the fridge-freezer over to theirs on Sunday, and realised that we've added a lot more crap to the entryway walls since it was last brought in (a gift from our other neighbours a year ago!) and there was now no physical way it would fit up the stairs and out either the door or the half-height hatch without somehow turning into Gumby. So we wiped the sweat from our brows and went about lifting it out through the skylight…
And it was easy. Really, really easy. Honestly, that's the way we're moving everything in from here on out – we'd never attempted it before because we thought the frame was way more complicated to remove from that.
So on Sunday we were left with a fridge-sized hole in the kitchenette: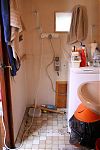 (We did clean up eventually) The fridge will go on the left, the washer will come over to the other side with us once our bedroom is built over there, to be replaced with shelving, and a nice worktop will go over both. Add some small appliances and it's an instant kitchenette!
While we had the skylight off, we realised we should plug the gaps with rockwool, seal up the drafts, and reattach boards that were coming off in preparation for winter…
And in beginning to clear the hotel part of the boat in preparation for building the bedrooms and lounge, we moved the spare bed mattress to the best place we know for keeping mattresses safe, clean and out of the way…

It's a pretty sweet throne-bed now, with triple the bounce!