Ok this is getting to be slightly out of date news, but James has been swamped with work so it looks like if I don't post about it, it'll get shoved by the wayside… And it's way too exciting for that!
Last Friday James had Nikolaj over to show him how to drain the existing radiator system (which only consisted of 1.5 radiators anyway and exploded upon connection to the new boiler), run an all-new loop of Hep20 piping, and (most excitingly of all!) connect up the big radiator we bought at B&Q last winter!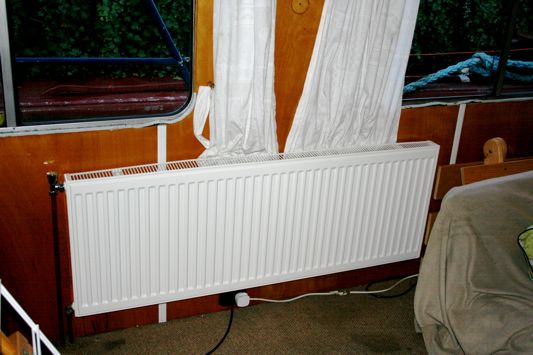 And there she is – the first working radiator to be connected to our fantastically efficient Somy boiler. The saloon is now beautifully warm with it turned on, and thanks to a diesel delivery the same day (600l at 72p/l), we should be all set for fuel through Christmas and beyond… And now James knows exactly what needs to be done to connect more radiators to the system and expand our loop to encompass new rooms – like our bedroom which should be getting underway shortly now that our CAD drawings are very nearly complete (there will be a show & tell here when they are, don't worry!).
But we've got our big moorings Bonfire Night party tomorrow, first of all, and I know a certain friend who is very much looking forward to sleeping in a warm saloon post-party…