It doesn't sound like much, but one of the bigger tasks we had to do before moving fully over to the main (saloon-side) of the boat was moving the washing machine, which has been sat happily in the Captain's Cabin kitchenette since 2007.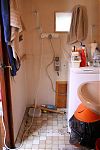 Though now, the above photo is reversed, with the washer gone and the under-counter fridge occupying the space on the left…
First it involved James disconnecting the hoses and turning off the stopcock above the washer, then smiling sweetly to our moorings manager to come help heft it along the side decks and into its new home (is it a pre-requisite of all moorings managers to have the strength of an ox and the agility of a mountain goat, or is it just the ones we get?), in the disused sea toilet: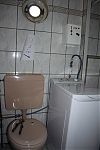 Luckily, having bought a very narrow top-loader in order to get it through the Captain's Cabin's narrow sliding doors meant it fits nicely here into the space between the sea toilet and the (similarly) disused shower! So, having it in place, James then needed to feed it some water, and did this by taking a line off the water that feeds the toilet:

And for the washer's outflow? Well, there's a perfectly good shower drain sitting right there, and it'd be a shame not to use it…

All of this is temporary, of course, as both shower/toilet rooms plus the urinal plus the sink area will get ripped out and replaced with one big luxurious master bathroom, but that's a few years down the road in Phase II (Phase I being the bedrooms and lounge where the hotel rooms once stood, and Phase III being turning the saloon into a new kitchen and dining area).
But for now, having a little laundry room where all the washing can get hung out of the way, by means of a drying rack in the shower tray and hangers on the curtain rail, means we can carry on with a somewhat comfortable life without tripping over airing racks all week long!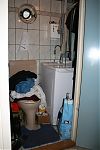 The next task is to lay the new carpet in the wheelhouse and our temporary bedroom (and move the furniture into the latter), and build the shelving unit and countertop in the Captain's Cabin kitchenette. Then we really will be days away from showing potential renters around, with any luck!