For the past four or five weekends straight we've been undertaking a huge DIY push to finally get everything ready in order for us to fully move out of the Captain's Cabin and into the main part of the boat, and also to get the lovely Captain's Cabin itself ready to rent. There's only a few bits that are left to do, but we're having our first viewings this week even though not everything's done…
So, here's a photographic roundup of what we've been up to (click to enlarge any of the thumbnails) –
First up was turning one-and-a-half of the bunkbed rooms on the main side into a small, temporary bedroom for James and myself to move into until our proper bedroom can be built at the very front of the boat. There aren't many bunkbed rooms left, but they're conveniently just wide enough to take the length of a bed, so our heads are uphill when we settle at low tide. (The wall bracket and wide shelf are for the LCD and Freeview Tivo box, fyi)
It's also conveniently located next to my sewing room (one former bunkbed room), and just at the bottom of the stairs to the saloon. Oh, and Bosco has learned that if he stands like a meerkat on the bed, he can jump up and out through the porthole and back in again so he doesn't have to wait for us to open the front door anymore!
Next up was my massive clean, tidy, and rearrange of the wheelhouse and aft deck!
(the last one is my favourite view – feet up on the couch facing Tower Bridge on a sunny afternoon!)
We also ripped out the old (and frankly, disgusting) carpet in the wheelhouse and I laid new, plush underlay and new carpet down on top.

The difference in having thick underlay there is just amazing – it really feels like walking on luxury after all this time… And I discovered I now have a second superpower – carpeting as well as tiling extraordinaire! Who would've thought that my sewing skill of being able to cut a straight line just by eyeballing it would come in so handy!
Then I cleaned and tidied the aft deck, which will come with the Captain's Cabin for whomever rents it –
We moved all my plants over on top of the saloon roof where we keep the last remaining canoes, but that huge broccoli planter is just too heavy to heft without help right now, so on the aft deck it stays!

Here's the door to the Captain's Cabin (its own entrance), catching some sun…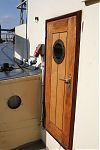 And James's big project has been building the kitchenette in the Captain's Cabin! We kept the fridge on the left, and then James built a set of shelving on the right (where the washer was until recently) for pantry space, and topped it all off with a thick, oak laminate countertop. He was really very ingenious in finding that, as it looks great, was nearly the perfect size, and wipes clean! The combi-grill-microwave got mounted on the wall to increase counter space, a shelf went up, and then finally, as the finishing touch, I sewed new curtains for the porthole, undercounter area, and also for the storage in the toilet!
So now, the only things remaining are:



Fix/replace the shower seal on the main side of the boat (it was accidentally overtightened and leaks into the bilge if switched on!)


Cement down the few remaining loose kitchenette tiles (5min job)


Lay the new underlay and carpet in Captain's Cabin (after Bosco goes there no more!)


Hook the plinth heaters up to the boiler (half day job for the uber-busy Nikolaj)


…and relax.