Once again I'm a bit late in documentation, but over the long Easter weekend, we ripped out the old carpet in the Captain's Cabin and installed the new underlay and carpeting.
Here you can see the old carpeting gone, revealing the original painted floorboards beneath:
The boards themselves are in really good condition, but, as we realised over the past two winters, they're also really very drafty. So to minimise heat loss, we splurged and bought super thick, super insulating eco underlay: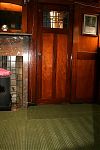 And then added a border of that carpet gripper board stuff with the teeth facing the walls (only now we just need one of those knee-kicker tools to get it really taut on top…):

And the finished product! This new underlay and carpet makes such a difference in here – it's really squishy underfoot and feels wonderful…
It's a shame we have to rent it, really. It's much nicer than our temporary, ex-hotel, building site digs we're living in on the main side of the boat!