This is a very sad and difficult post to write. Yesterday afternoon Bosco went to sleep and never woke up. He had always had a weak heart and it seems like yesterday it gave up on him. I don't think he felt anything.
We will miss him forever but we will also remember that we took a scared, scrawny, half-feral kitten and let him blossom into the happiest, friendliest and most personality-filled cat in the world. And although right now that thought makes us smile and cry, hopefully soon it will only make us smile.

Rest in peace, kittenpuss.
The roof, the roof, the roof is on fire not made of asbestos.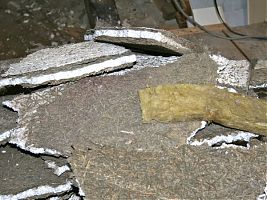 We know this for certain because we've got a certificate with the English language's most wonderful acronym on it: NADIS, for No Asbestos Detected In Sample. But how exactly did we get here?
Once the walls had come down, the next step was to pull the old ceiling panels down. These were compressed wood fibre tongue and groove panels which were just clipped to the battens so they came down easily, revealing a layer of rockwool and above that the curious shredded fibre insulation boards you see in the pictures. Any attempt to move these boards rained dust down into the boat, and given the age, budget and fireproofing requirements of the original conversion I thought it prudent to call a halt until we could confirm we weren't working with asbestos.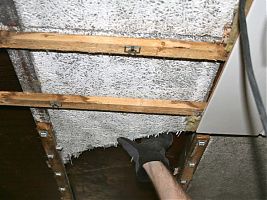 Google turned up a company called All About Asbestos who were fabulous. I sent a query through their website on Sunday, and on Monday a very reassuring chap called me to talk through the options. He took great care to inform me that there's "good" asbestos which is cheap to remove and "bad" asbestos which requires the whole ET-house plastic wrap deal. And of course, it was possible we had the "not" asbestos kind.
Their labs turned our sample round in 24 hours for a cost of £50 plus VAT and I have to say that's some of the cheapest peace of mind I've ever had. By the next weekend we were ready for me to pull the boards out, which took about 90 minutes with the help of a crowbar and some sturdy gloves. Above the boards the back side of the deck looks pristine which means we can go straight to celotex there. And we will need to soon, because without the insulation in place the sun turns the hold into a sauna very quickly.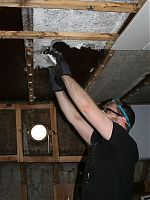 By coincidence skipper Stefan was around the moorings during the week and we took the opportunity to show off our progress (happily Stefan now talks to us like proper boat owners!). Of course when we showed off our NADIS certificate he looked at the sample and told us… "Oh yeah, the Dutch use that shredded stuff all the time. I could've told you it's not asbestos."
Oh well.
It's been a while since we wrote about the water problems that plagued us in the first year of living aboard Hendrik, and that was because we had been mostly getting on OK. A careful diet of treating the water tanks with kid gloves and listening to the pump like a hawk had us ticking over pretty well. Sure, there was the odd missed shower when our timing was out, and the occasional 6am wakeup call to fill the tanks while the boat was still afloat on weeks when the tide was disadvantageous to a 9-5 lifestyle. But in general, we had a rhythm going and those awful waterless days of 2007 were far behind us.
First, some context. Remember The New Hotness? Well, after about a year it went lukewarm. The pump body isn't the most robust in the world on that model and it stopped making pressure, so we decided to upgrade and replace, swapping it out for The New New Hotness. One thing I love about these Clarke pumps is they're completely user-serviceable and every part is available as a spare. I should have taken advantage of that, diagnosed the problem with the New Hotness and repaired it to keep in as a spare.
Ah, entropy, my old friend. On Tuesday the New New Hotness broke. We're not certain what happened – it looks like it certainly ran dry, but we can't quite tell the exact cause. It may have jammed outright from limescale buildup, but the non-return valve on the intake pipe was jammed too, so it would have been running completely dry and died very quickly. Whatever happened, £27 worth of parts fused themselves together and we were left without running water again.
When we first brought Hendrik into the moorings here, Stefan the skipper left me with one sentence of advice. As I dropped him home and turned to leave, he put his hand on my shoulder and said, "James," and I thought, here it comes. He's going to tell me, you did all right out there. "James," said Stefan, "you really need to work on your technical skills." I rather wish Stefan could have seen me, out on the deck with our tenant Euan, stripping the New New Hotness down and trying various ideas to get it back in shape. All right, none of them worked but at least I looked like I knew what I was doing this time. And that's the point, after all.
Anyway, we formulated a three-pointed plan:
1. Order spare parts (actually, 2 sets for obvious reasons) for the New New Hotness
2. Get a cheap spare pump to tide us over until the parts arrive
3. Fix the New New Hotness, then disassemble and diagnose the Old New Hotness and order parts for that, too, thus leaving us doubly redundant should this happen again.
That was Tuesday night. It's now Thursday night, 48 hours later. Let's review our progress:
1. Parts are on order, but the bit we really need is out of stock and due in "soon." The New New Hotness languishes in my work area.
2. Rather than get another Clarke pump from Machine Mart, I discovered I could get a Silverline pump from Amazon for half the price, including overnight shipping. It arrived today and I spent this evening with Euan plumbing it in. If you'd like to know how that went, you can read my review of it on Amazon. The short version is "not at all wel." I have learned my lesson and will be buying another Clarke pump from Machine Mart tomorrow. Fortunately I had some money earmarked for buying a wedding suit this weekend so I can afford to be a two-pumps-in-two-days kind of guy. I may end up getting married in jeans and a t-shirt, but hey, at least I'll have showered beforehand.
3. Held up for obvious reasons.
Would you like to see the class reunion photo? Of course you would. Sorry it's a crappy phone shot, but I'm too tired and frustrated to go through the hassle of using the proper camera right now.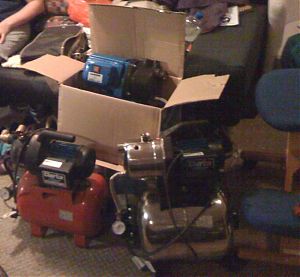 Front row, left to right: Old New Hotness, New New Hotness.
Back row, nestling in its packaging: New And Busted.
There is one bright moment in this story. I didn't post about it at the time, but when we originally installed the New New Hotness Nikolaj and I set up a clever flexible arrangement for the intake and outflow pipes so any size of pump can be swapped in there quite quickly – getting the broken pump prepped and hooked up only took us about an hour tonight. If we can cross the surprisingly large hurdle of exchanging money for a working pump any time soon, we should be back in business quite quickly.
So the moral of the story is, don't leave your backup pump sitting unrepaired for eighteen months just because your primary pump runs like a watch most of the time. That, and you can never be too paranoid about your water supply.
A couple of years ago when we started crafty club on the moorings, I found myself without any boy craft one night while we were hosting on Hendrik. The ladies in attendance decreed that treats and snacks were only available to people actually doing craft, so I needed a quick knock-up project using the materials to hand, which were hundreds of 4×30" bed slats and a load of reclaimed screws from tearing down the drywall.
So began my first ever woodworking project: the crappiest tool shelves known to man. I was in an hour and a half and I got my snacks, but even from the first moment they were built, they were wobbly, dodgy and ugly. On Monday I walked past them and noticed they were on the verge of collapse.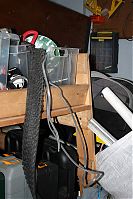 This was really part of a wider problem: we never reorganised the tool storage even as we bought more and bigger tools. Now there's a drill press, chopsaw and workbenches down there and nowhere for any of it to live. Project builds now happen in the old corridor and finding tools is as hit-and-miss as before we had the shelves. Clearly, something had to change.
And then a wonderful thing happened. On Tuesday, the amazing multi-talented Ana White over at Knock Off Wood posted about her new toy, a Kreg Jig. If you've never heard of a pocket-hole jig before (and nor had I 48 hours ago), it drills collared holes at the perfect angle and depth to join two pieces of wood at almost any angle. You use a self-tapping screw with a wide collar to join the two pieces and it clamps it up as you screw. The joint is supposed to be as strong as a mortise joint but without nearly as much work. In the picture below you can see the screw head all clamped up in its pocket hole.

We have an awful lot of wood working coming up this summer, as we need to rebuild one of the side steps in hardwood, replace the leaking skylight frames, build a replacement barbecue table before the old one rots away and build a sink unit in the back cabin. So to my ears a tool like a kreg jig sounded like it was too good to be true.
Well, there was only one way to find out.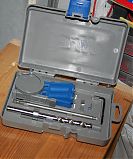 That's my Kreg Jig Jr. which was delivered yesterday. In preparation after ordering it on Tuesday, I'd already cleared the mess in front of the pegboard organiser and dismantled my crappy shelves.

I have big plans for this area. We're bidding on a bit of cheap solid wood Ikea furniture on eBay (though we're not about to pay more than a fiver for it) and if we win that, I'll reclaim the wood it's made from and build a nice storage workbench to sit beneath that pegboard. But meanwhile I was itching to try out the pocket-hole jig and I had a big pile of wood hanging around that used to be some crappy shelves. This morning I woke up with a plan forming.
First I built three squarish frames from four bed slats each, jointing the corners at right angles.

Then I joined those three frames together across their flat edges to make a frame 12" deep. What really impresses me about pocket hole joints is they're just as good at joining planks into panels as building angled joints. Finally I put another three bed slats together to make a shelf, jointed that in, and added some slats across the back to brace the whole unit and stop things falling backwards out of the shelf when we roll.
And so in less than two hours, a pile of wood became this:

The finish is crappy (you can see it particularly in the closeups) and not every joint was perfect – it took a lot of experimenting with drill torque until I managed to find a setting that clamped up the screws but didn't over drive them, but as an learning experience and something that's not on show, it was invaluable. I am absolutely sold on the pocket hole joint now and I feel like building a kitchen from scratch would be entirely within my capabilities.
I also have to say, I know consumer electronics companies that could learn a thing or two from the Kreg out-of-box experience. They have a tool-owners' section of their site with plans, video walkthroughs of different techniques and really helpful FAQs that got me up to speed on using the jig amazingly fast. Between the plans on their site and a couple of Ana's plans at Knock Off Wood, we're now planning to build an outdoor coffee table and a couple of benches to go with it. And the big brother of my Kreg Jr. is definitely on the wedding list.
Disclaimer: Neither Kreg Tool nor Knock Off Wood sponsored this post. But if anyone at Kreg feels like throwing a K4 my way, I promise to post about every single bit of furniture I make with it. And that's going to be a lot.
As we're catching up on our post backlog in reverse order, this post also includes a sneak preview of the work we did in the saloon last summer. One of the things we did was gratefully accept a cast-off sofa from our friends Jane and Ralph (driving it up from Richmond strapped to the top of the car was an experience all of its own) and install it in the back corner of the saloon, replacing a ratty built-in banquette that was there before.
Only problem is, when we took the banquette out we realised there was a raised area in the floor a foot deep – or, if you like, the galley ceiling. There was no way we'd be able to push the sofa flush to the wall. Also, removing the back board of the banquette had revealed a nasty unvarnished bit of wall which was a completely different colour to the wood above. You can see the effect in the photo below, in which Bosco demonstrates that he doesn't care if he's being ignored, when he wants a hug he will damn well go and get a hug.

Obviously it was clear something needed to be done to tidy that corner up, but we were undecided as to how. That is, until I was idly browsing around Whitten Timber down in Peckham and discovered some beautiful striped offcuts in roughly 2m lengths.

Combined with a few aluminium effect shelf supports from B&Q, and with a lot of varnishing, sanding and revarnishing, I got the smooth glassy finish I was after and placed the shelf right across the join to hide it.

In this photo you can also see the two kitty perches I added for Bosco from the same piece of wood, positioned so he can sit up high and peer out of the window down the moorings. Unfortunately he's still deciding whether or not he likes them.

Underneath, I took the opportunity to tidy up some of the accoutrements that come along with cat ownership and give him a little hiding space for when he's not feeling social.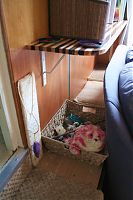 Spoiled? I don't know what you're talking about. In that picture you can also see the rounded corner I put on to save our clumsy thighs as we walk past. And if these shelves look a bit familiar, it might be because there was an even sneakier preview in yesterday's post – the third of the kitty perches became the little shelf above my desk.
I'm really pleased with the way these shelves turned out. It was my first time really going for a fine finish with wood and they look far more expensive than the £100 all told it cost for materials. It also feels like the first thing I've made that we'd be proud to keep using even after we finish redecorating!

I love my desk. It's an Ikea Motiv desk, full of secret compartments and handy storage spaces. I bought it about a year before we moved aboard Hendrik, but when we moved aboard it got stowed away down in the old cargo hold. The plan was to build an office down there for working from home, but like most of our early plans we never followed through on it, so instead it became a dumping ground for all of my business post and anything else I didn't want to throw out but couldn't think of a good place for.
Meanwhile up in the saloon we had the good table and three cheap tables. We donated two of the cheap tables to the Arts Ark and kept the third around as a craft table. Of course with the lack of storage in the saloon that rapidly became a dumping ground too.
Last week we decided to take up arms and do something about the situation. First step was to add a small shelf in the corner to take some of the detritus off the table (we have a PowerMac G5 hiding under there so the keyboard and mouse now have a place to live when it's not in use). At the same time I wall-mounted my beloved Harman-Kardon Soundsticks using – and I'm particularly proud of this moment of lateral thinking – four 22mm Hep20 pipe clips.

Then, on the principle of in for a penny, in for a pound, I went down and spent two hours clearing off my desk ready to bring it up into the light again. Cleaning it off wasn't pleasant. The old cargo hold has been unheated for the last three years and everything in it is now damp, mouldy and covered in sawdust from the chopsaw living down there. But after lots of lots of Flash wipes the desk emerged unscathed and after a bit of lifting – it's very heavy and I might have said some bad words in the process – it was swapped with the craft table. It really makes a difference to the look of this corner of the room, especially because now everything can be cleared away quickly when I finish working.
Meanwhile things weren't over for the craft table. First, I sheared the head off one of the bolts while I was reattaching its leg and ended up having to drill right through the centre of the bolt to crush it down and pull it out of the thread. Fortunately I had some assorted bolts hanging around from an earlier project and one of them fit the thread.
Melissa was delighted to get complete custody of the table and started building a fabric cutting centre around it (this after getting an entire room to turn into her Sewing Cave… I ask you) only to find that now the table was too short to cut comfortably on. Beforehand she'd been able to stand on the stairs down from the saloon, but now she needed the table raised to about elbow height.
Luckily I was in the mood for a quick woodworking project and within a couple of hours I had a couple of simple braced benches knocked up to raise it by about a foot. They're built out of scrap wood and look a bit rough and ready, but they do the job. I have been doing some other, rather better looking woodwork projects recently which I'll post soon. Sorry we've been quiet for so long!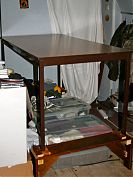 He doesn't have many responsibilities, but those he has he performs diligently.

For a closer look at this year's pumpkin…

Wait, we were always cooking with gas. Of course, it used to mean going outside, clambering down the side of the boat in all weathers (and at some funky/terrifying angles at low tide) and rummaging around in a dark cabinet. Not so much any more.

That baby right there is a gas alarm and remote trigger that lets us turn the gas on and off from the comfort of our own galley. Hidden behind is it metres upon metres of cable for power, sensors and a solenoid in the gas line, which we could never have hooked up if Dad hadn't dedicated a couple of days to come out and help. And when I say help I mean "take charge and make it work while I held a torch."
It may seem like a tiny thing but it makes a huge difference to our quality of life, especially in the winter. Eggs for breakfast on cold mornings!
And I must give a shout out to the guys at Technisol who made the alarm. I emailed about a lost instruction sheet and they had a PDF in my inbox less than 20 minutes later. Top service!
We've developed a mornng routine over the last few weeks. When the sun comes up, Bosco comes thumping down the stairs, hops over our heads, settles on the boxes on the shelf behind the bed and purrs loudly, filled with pride at his night full of exploits.
Recent exploits have included "scaring away a fox," "jumping sylph-like from boat to boat" and "scaring off the other cats to become King of the Moorings," so he always has something to tell us.
Which is why it was a surprise when he was a no-show this morning. So at about 4:30 I poked my head up into the wheelhouse, expecting to see him snoozing on the sofa up there. Oh well, I tried to convince myself, he's still out `splorin' and he'll be back when he's hungry. I'd already been out twice the night before tracking him down when I had a bad feeling, and Melissa is starting to call me paranoid. So I went back to bed and dozed for a while, keeping one ear open for the sound of a relatively graceless cat thudding back in through the open wheelhouse window.
By 6 I was getting really worried – and was that a meow I just heard? So I threw on my dressing gown, fully expecting to see him catching sun on the roof, and trundled off to look for him. First positive sign: pawprints in the dew on deck, obviously he'd been around since sunup. First negative sign: The unholy wailing coming from under the collar barge next to us. I managed to squeeze into a position where I could look down and sure enough, a very bedraggled Bosco was literally hanging on for dear life. Only the top half of him was out of the water and we know how cold that river is. He was panicking and yelling and even when I called him I don't think he knew what was going on any more.
The next few minutes is a bit of a blur. Fortunately he'd given us some warning that he was Captain Clumsy of the Klutz Corps by nearly taking a dip last week, which prompted me to go to Decathlon and buy the biggest, sturdiest fishing net they sell. I ran for it – barefoot, nearly slipping in the river myself – and ran back, extending it to full stretch as I went.
If you've ever tried to net a panicking cat with a seven foot pole out of fast-flowing water, you'll know exactly what happened next. At full extension, the pole wasn't strong enough to hold his weight, so it bent, leaving him back at square one. I decided I couldn't do it myself so I ran back to give Melissa a rude awakening. I definitely used some bad words in describing the situation. She came flying out, grabbing a barge hook on the way.
When we got back to the end of the collar barge, Bosco's howling had woken up the new neighbour's kids, who were watching the situation with concern. I managed to get under the walkway between two collar barges (this is suicidally dangerous, never do it) and use the now five-foot pole to try and net him again. Fortunately this time it held and with Melissa's help I was able to get him safely out of the water. From the noises he was making, being in the net was not a significantly better option.
We got him back inside and started towelling him down: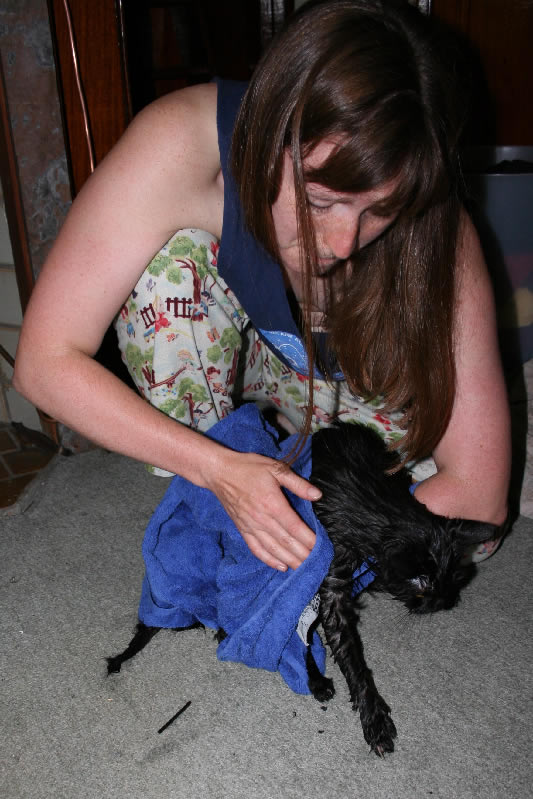 He was so exhausted and traumatised at this point that he wasn't even Bosco. I've never seen a cat so tired that his tail is literally limp, but his was so lifeless I was worried he'd broken a vertebra on the way down. Every so often as we had to move him he'd howl five or six times and start trembling again. I don't know how long he was in the water, but he was cold. It took us a good two hours to get him even close to properly warmed up again.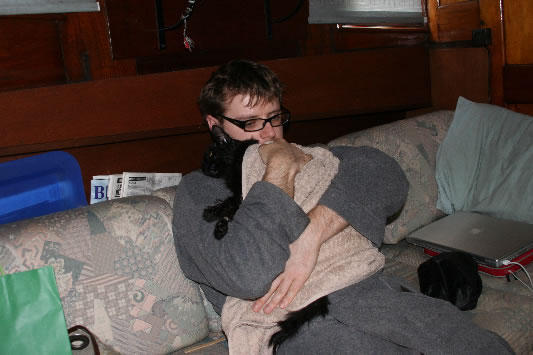 It took plenty of grooming (to make the fur dry faster) and liberal application of the hairdryer and electric blanket, but finally about 8am he had the strength to crawl into his Safe Place under the bed and stay there for a couple of hours licking his (luckily metaphorical) wounds. He must have been starving because he was so busy snapping cat treats out of my fingers that he chomped into my thumb and drew blood. Never mind biting the hand that feeds you, trust Bosco to bite the hand that drags you out of a freezing river and then feeds you.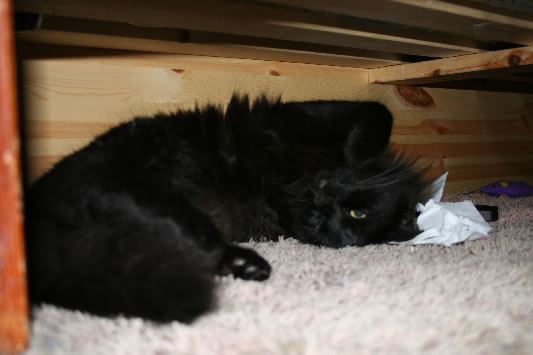 A visit to our friends Pip and Rob at the weekend brought home something about Bosco: at a year old he's twice the size of their fully-grown cat. And he will probably grow for another year yet, at least if his appetite is anything to go by. Yet he's still young enough to be kittenish in nature. Which is a euphemism for "a bit stupid still."


In the last six weeks his confidence has grown enormously and his favourite new sunning spot is the deck in front of the wheelhouse. We leave the windows open so the plants don't make it too humid and he's happy to hop in and out for the purposes of adventure, food or attention. Unfortunately with his new-found love of the wheelhouse we've discovered that Hendrik's previous owners left us more than just duvets, thermoses and tiny frying pans.
One of the crew in Hendrik's former life was a dog who was by all accounts very friendly and happy. But on recent evidence I think it's fair to say he was a bit of a fleabag. The astonishing thing is that it's been at least four years since Hendrik did summer duty and yet this whole time there's been a ticking timebomb of itchy death waiting to spring out at us. The combination of a few warm days and a lazy cat brought them to fecund, irritating life again.
So yesterday I had to seal up all the windows, put powder down in the wheelhouse and set off nerve gas in the captain's cabin. Bosco took being locked out surprisingly well. After an initial ten minutes of unease and a comedy leap into a closed window, he relaxed and came to investigate the salon a bit more. But the real surprise came when I saw how he gets back onto the salon roof: A flying leap at head height from the top of the collar barge next door. That's at least 4 feet across and a foot up, into a gap between railings only about 9 inches high. Close inspection of the streaky pawprints up the side of the superstructure there reveal he's been doing this daredevil act for a while now. All this from a cat who, a scant six weeks ago, wouldn't even poke his nose out of the wheelhouse window.
Once the cabin was aired out, he retook his rightful position on the bed, although when the clean sheets arrived fresh from the tumble dryer (thanks Padoue!) we couldn't resist giving him a quick blanket toss.
He wasn't amused.