The roof, the roof, the roof is on fire not made of asbestos.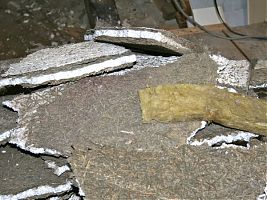 We know this for certain because we've got a certificate with the English language's most wonderful acronym on it: NADIS, for No Asbestos Detected In Sample. But how exactly did we get here?
Once the walls had come down, the next step was to pull the old ceiling panels down. These were compressed wood fibre tongue and groove panels which were just clipped to the battens so they came down easily, revealing a layer of rockwool and above that the curious shredded fibre insulation boards you see in the pictures. Any attempt to move these boards rained dust down into the boat, and given the age, budget and fireproofing requirements of the original conversion I thought it prudent to call a halt until we could confirm we weren't working with asbestos.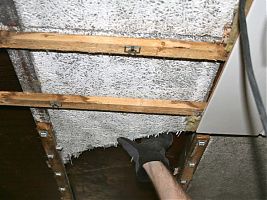 Google turned up a company called All About Asbestos who were fabulous. I sent a query through their website on Sunday, and on Monday a very reassuring chap called me to talk through the options. He took great care to inform me that there's "good" asbestos which is cheap to remove and "bad" asbestos which requires the whole ET-house plastic wrap deal. And of course, it was possible we had the "not" asbestos kind.
Their labs turned our sample round in 24 hours for a cost of £50 plus VAT and I have to say that's some of the cheapest peace of mind I've ever had. By the next weekend we were ready for me to pull the boards out, which took about 90 minutes with the help of a crowbar and some sturdy gloves. Above the boards the back side of the deck looks pristine which means we can go straight to celotex there. And we will need to soon, because without the insulation in place the sun turns the hold into a sauna very quickly.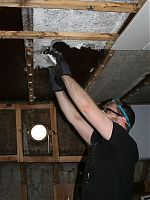 By coincidence skipper Stefan was around the moorings during the week and we took the opportunity to show off our progress (happily Stefan now talks to us like proper boat owners!). Of course when we showed off our NADIS certificate he looked at the sample and told us… "Oh yeah, the Dutch use that shredded stuff all the time. I could've told you it's not asbestos."
Oh well.
Before the weekends start stacking up on us, let me fill you in on what we got up to last Saturday (last Sunday will have to be another post!). A couple weekends ago we texted our mate Drew to see if he was up for a bit of demolition (you may remember that he helped us rip down some of the partition hotel room walls a few years ago), and his answer was something along the lines of "Would I??" so he came round with some old clothes and was reunited with his power drill for a few hours.
We started by taking out the floor and ceiling in the lower-headroom starboard space (which will be our future wardrobe).
Amazingly, there was just a gap underneath the floorboards so we've gained an extra foot of headroom throughout by lowering the floor! Our bedroom is going to have something like 8 foot ceilings! omg! It's tall enough that I can easily walk under the sidedecks…
Here's Drew and I standing on what will be the floor level, so you can see how tall it'll be in the area that still has the wooden floorboards: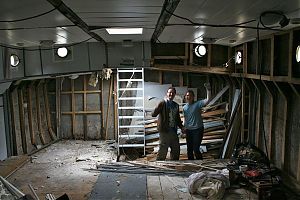 But the big surprise is that the floor we revealed isn't actually the hull of the boat, but a double-skinned "cargo floor"! It's sealed around all the edges, but there's no ribs there and it definitely sounds hollow, so the conclusion seems pretty sound! This is great news, both for insulation purposes and for any potential water damage…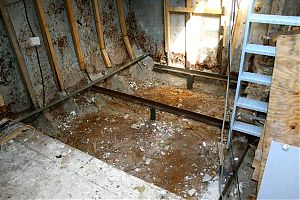 Then Drew and I shifted the entire pile of refuse over into the starboard area, neatening it up and bundling together the longer, unwieldy bits.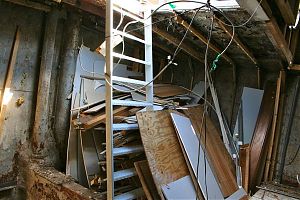 Then James joined us and we dismantled the floor and ceiling in the lower-headroom port space, before carrying on up the port side and stripping back everything to the hull.
This is my future sewing room, at the end of the corridor!
We also found another filled-in porthole to match the one on the other side!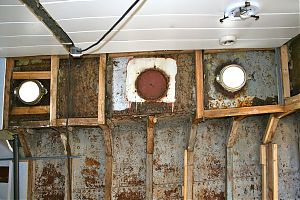 And we think this must be the base of the original crane used for transporting cargo in and out of her hull when she was a working barge, but we're not entirely sure. The two vertical pipes behind it are a true mystery, though – they're cut off at the deck level and come up between the entrance to the forecastle and the moveable pile. Any ideas?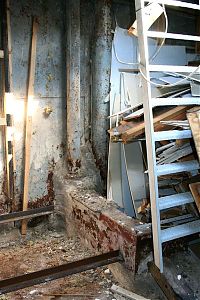 Now we can at least start with the hand wire brushing of what's exposed, and hopefully we'll have the skip by the time we reach the refuse pile. The only parts we still have to demolish are:



Pull down the ceiling in the higher-headroom area


Pull up the remaining floor boards


Break the ballast water tanks down for removal


Angle grind the floor supports down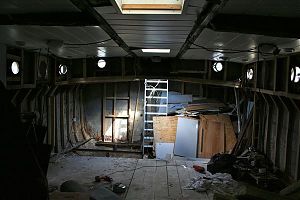 The last two weekends have been non-stop destruction down in the front of the hold. Since my camera's still full of this weekend's activities, here's what we got up to last Saturday…
James's friend (and best man at the wedding) Simon came over and while he used a power screwdriver to take apart the metal frames and plasterboard walls, I suited up in long sleeves and thick rubber gloves and bundled the usable rockwool into bags and the ratty old stuff was marked for the bins.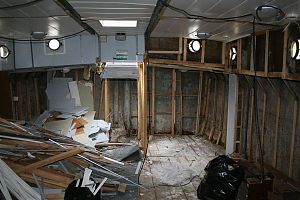 This is the view of the same bit of wall, taken from the lower height area (destined to be our new wardrobe).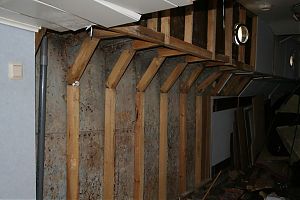 Luckily the battens attached to the ribs are still in very good shape so we're keeping those in place while we wire brush and repaint the steel around them.
In peeling back sections of wall, we uncovered evidence of a larger porthole that had been covered up!
We're just going to leave the portholes as-is, though, since our bedroom will already have 3, plus a skylight, and eventually a hatch/skylight, too, which is more than enough!
But the really exciting stuff came when we peeled back the floors, ceilings, and the remainder of the port side this past weekend…
The weather is warm enough now that we can't really use the line "oh, but we're going to start building our new bedroom as soon as it warms up" anymore.
The time had come to "shit or get off the pot", as my Dad would say.
The first step was to empty the ballast water tanks which are under the floor of our future bedroom. So we lifted up two floorboards, and James cut a hole in one of the interconnected rectangular tanks (the same design as those which store our fresh water and have given us so much trouble).
The water looked worse than it actually was due to the shavings from cutting the hole. But I still wouldn't want to drink it, or find it in the hull 5 years after we'd built our lovely room on top of it…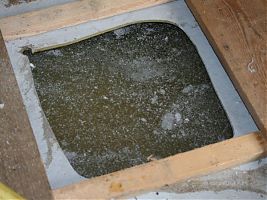 Then we dropped the submersible pump into the tank and let it pump the water overboard, which surprisingly only took a few minutes to empty.
Like most things on Hendrik, we've found that whenever we remove something, we find hidden surprises left there by the Kanotel's former patrons. This time, we found empty weed packets when we lifted the floor boards! I can just imagine some teenager hiding the evidence under the floor…
So after draining the tanks, we had a wonderful 11 days driving all around France, and when we got back, we used our newfound vigour to demolish the port bunkbed room (so our friend Josh was officially the last to sleep in a Hendrik bunkbed!).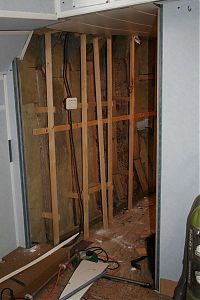 Happily, we discovered there was an arm's length air gap between the hull and the wall back there, so my future sewing room is going to be a tad bigger than I'd imagined!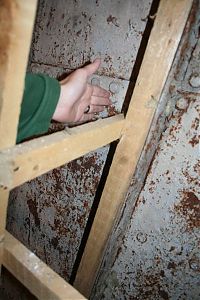 It actually only took us a morning to take down the whole room, plus bag up 4 bingbags full of Rockwool to reuse in the interior walls (we're putting Celotex against the hull), and stack up the refuse neatly in preparation for the skip.
You can see the "before" state on the right!
The next step is to similarly demolish the starboard room, the central linen cupboard, and a metre or so up the hull on both sides. And the celiings over all that space.
We had a few neighbours round to get their opinion on the state of the hull (and to show off. Ok, mostly to show off!) and we heaved a sigh of relief that it's looking better than we had expected: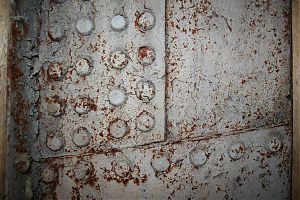 The general consensus is that it just needs some wire brushing to get the loose paint off, then a good dose of hammerite before we can put some nice, new Celotex against the hull.
Though Bosco did have to have some sulking "alone time" when he's discovered we destroyed Treat Lady's room, which was one of his favourite cat caves, snuggled under a duvet on the top bunkbed…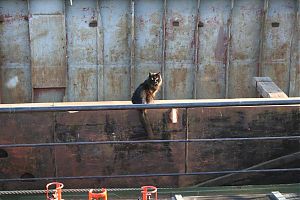 A couple of years ago when we started crafty club on the moorings, I found myself without any boy craft one night while we were hosting on Hendrik. The ladies in attendance decreed that treats and snacks were only available to people actually doing craft, so I needed a quick knock-up project using the materials to hand, which were hundreds of 4×30" bed slats and a load of reclaimed screws from tearing down the drywall.
So began my first ever woodworking project: the crappiest tool shelves known to man. I was in an hour and a half and I got my snacks, but even from the first moment they were built, they were wobbly, dodgy and ugly. On Monday I walked past them and noticed they were on the verge of collapse.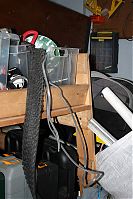 This was really part of a wider problem: we never reorganised the tool storage even as we bought more and bigger tools. Now there's a drill press, chopsaw and workbenches down there and nowhere for any of it to live. Project builds now happen in the old corridor and finding tools is as hit-and-miss as before we had the shelves. Clearly, something had to change.
And then a wonderful thing happened. On Tuesday, the amazing multi-talented Ana White over at Knock Off Wood posted about her new toy, a Kreg Jig. If you've never heard of a pocket-hole jig before (and nor had I 48 hours ago), it drills collared holes at the perfect angle and depth to join two pieces of wood at almost any angle. You use a self-tapping screw with a wide collar to join the two pieces and it clamps it up as you screw. The joint is supposed to be as strong as a mortise joint but without nearly as much work. In the picture below you can see the screw head all clamped up in its pocket hole.

We have an awful lot of wood working coming up this summer, as we need to rebuild one of the side steps in hardwood, replace the leaking skylight frames, build a replacement barbecue table before the old one rots away and build a sink unit in the back cabin. So to my ears a tool like a kreg jig sounded like it was too good to be true.
Well, there was only one way to find out.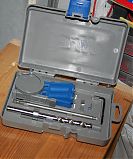 That's my Kreg Jig Jr. which was delivered yesterday. In preparation after ordering it on Tuesday, I'd already cleared the mess in front of the pegboard organiser and dismantled my crappy shelves.

I have big plans for this area. We're bidding on a bit of cheap solid wood Ikea furniture on eBay (though we're not about to pay more than a fiver for it) and if we win that, I'll reclaim the wood it's made from and build a nice storage workbench to sit beneath that pegboard. But meanwhile I was itching to try out the pocket-hole jig and I had a big pile of wood hanging around that used to be some crappy shelves. This morning I woke up with a plan forming.
First I built three squarish frames from four bed slats each, jointing the corners at right angles.

Then I joined those three frames together across their flat edges to make a frame 12" deep. What really impresses me about pocket hole joints is they're just as good at joining planks into panels as building angled joints. Finally I put another three bed slats together to make a shelf, jointed that in, and added some slats across the back to brace the whole unit and stop things falling backwards out of the shelf when we roll.
And so in less than two hours, a pile of wood became this:

The finish is crappy (you can see it particularly in the closeups) and not every joint was perfect – it took a lot of experimenting with drill torque until I managed to find a setting that clamped up the screws but didn't over drive them, but as an learning experience and something that's not on show, it was invaluable. I am absolutely sold on the pocket hole joint now and I feel like building a kitchen from scratch would be entirely within my capabilities.
I also have to say, I know consumer electronics companies that could learn a thing or two from the Kreg out-of-box experience. They have a tool-owners' section of their site with plans, video walkthroughs of different techniques and really helpful FAQs that got me up to speed on using the jig amazingly fast. Between the plans on their site and a couple of Ana's plans at Knock Off Wood, we're now planning to build an outdoor coffee table and a couple of benches to go with it. And the big brother of my Kreg Jr. is definitely on the wedding list.
Disclaimer: Neither Kreg Tool nor Knock Off Wood sponsored this post. But if anyone at Kreg feels like throwing a K4 my way, I promise to post about every single bit of furniture I make with it. And that's going to be a lot.
As we're catching up on our post backlog in reverse order, this post also includes a sneak preview of the work we did in the saloon last summer. One of the things we did was gratefully accept a cast-off sofa from our friends Jane and Ralph (driving it up from Richmond strapped to the top of the car was an experience all of its own) and install it in the back corner of the saloon, replacing a ratty built-in banquette that was there before.
Only problem is, when we took the banquette out we realised there was a raised area in the floor a foot deep – or, if you like, the galley ceiling. There was no way we'd be able to push the sofa flush to the wall. Also, removing the back board of the banquette had revealed a nasty unvarnished bit of wall which was a completely different colour to the wood above. You can see the effect in the photo below, in which Bosco demonstrates that he doesn't care if he's being ignored, when he wants a hug he will damn well go and get a hug.

Obviously it was clear something needed to be done to tidy that corner up, but we were undecided as to how. That is, until I was idly browsing around Whitten Timber down in Peckham and discovered some beautiful striped offcuts in roughly 2m lengths.

Combined with a few aluminium effect shelf supports from B&Q, and with a lot of varnishing, sanding and revarnishing, I got the smooth glassy finish I was after and placed the shelf right across the join to hide it.

In this photo you can also see the two kitty perches I added for Bosco from the same piece of wood, positioned so he can sit up high and peer out of the window down the moorings. Unfortunately he's still deciding whether or not he likes them.

Underneath, I took the opportunity to tidy up some of the accoutrements that come along with cat ownership and give him a little hiding space for when he's not feeling social.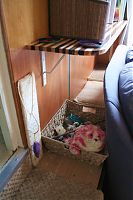 Spoiled? I don't know what you're talking about. In that picture you can also see the rounded corner I put on to save our clumsy thighs as we walk past. And if these shelves look a bit familiar, it might be because there was an even sneakier preview in yesterday's post – the third of the kitty perches became the little shelf above my desk.
I'm really pleased with the way these shelves turned out. It was my first time really going for a fine finish with wood and they look far more expensive than the £100 all told it cost for materials. It also feels like the first thing I've made that we'd be proud to keep using even after we finish redecorating!

I love my desk. It's an Ikea Motiv desk, full of secret compartments and handy storage spaces. I bought it about a year before we moved aboard Hendrik, but when we moved aboard it got stowed away down in the old cargo hold. The plan was to build an office down there for working from home, but like most of our early plans we never followed through on it, so instead it became a dumping ground for all of my business post and anything else I didn't want to throw out but couldn't think of a good place for.
Meanwhile up in the saloon we had the good table and three cheap tables. We donated two of the cheap tables to the Arts Ark and kept the third around as a craft table. Of course with the lack of storage in the saloon that rapidly became a dumping ground too.
Last week we decided to take up arms and do something about the situation. First step was to add a small shelf in the corner to take some of the detritus off the table (we have a PowerMac G5 hiding under there so the keyboard and mouse now have a place to live when it's not in use). At the same time I wall-mounted my beloved Harman-Kardon Soundsticks using – and I'm particularly proud of this moment of lateral thinking – four 22mm Hep20 pipe clips.

Then, on the principle of in for a penny, in for a pound, I went down and spent two hours clearing off my desk ready to bring it up into the light again. Cleaning it off wasn't pleasant. The old cargo hold has been unheated for the last three years and everything in it is now damp, mouldy and covered in sawdust from the chopsaw living down there. But after lots of lots of Flash wipes the desk emerged unscathed and after a bit of lifting – it's very heavy and I might have said some bad words in the process – it was swapped with the craft table. It really makes a difference to the look of this corner of the room, especially because now everything can be cleared away quickly when I finish working.
Meanwhile things weren't over for the craft table. First, I sheared the head off one of the bolts while I was reattaching its leg and ended up having to drill right through the centre of the bolt to crush it down and pull it out of the thread. Fortunately I had some assorted bolts hanging around from an earlier project and one of them fit the thread.
Melissa was delighted to get complete custody of the table and started building a fabric cutting centre around it (this after getting an entire room to turn into her Sewing Cave… I ask you) only to find that now the table was too short to cut comfortably on. Beforehand she'd been able to stand on the stairs down from the saloon, but now she needed the table raised to about elbow height.
Luckily I was in the mood for a quick woodworking project and within a couple of hours I had a couple of simple braced benches knocked up to raise it by about a foot. They're built out of scrap wood and look a bit rough and ready, but they do the job. I have been doing some other, rather better looking woodwork projects recently which I'll post soon. Sorry we've been quiet for so long!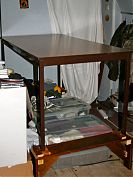 Once again I'm a bit late in documentation, but over the long Easter weekend, we ripped out the old carpet in the Captain's Cabin and installed the new underlay and carpeting.
Here you can see the old carpeting gone, revealing the original painted floorboards beneath:
The boards themselves are in really good condition, but, as we realised over the past two winters, they're also really very drafty. So to minimise heat loss, we splurged and bought super thick, super insulating eco underlay: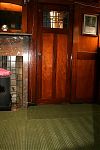 And then added a border of that carpet gripper board stuff with the teeth facing the walls (only now we just need one of those knee-kicker tools to get it really taut on top…):

And the finished product! This new underlay and carpet makes such a difference in here – it's really squishy underfoot and feels wonderful…
It's a shame we have to rent it, really. It's much nicer than our temporary, ex-hotel, building site digs we're living in on the main side of the boat!
For the past four or five weekends straight we've been undertaking a huge DIY push to finally get everything ready in order for us to fully move out of the Captain's Cabin and into the main part of the boat, and also to get the lovely Captain's Cabin itself ready to rent. There's only a few bits that are left to do, but we're having our first viewings this week even though not everything's done…
So, here's a photographic roundup of what we've been up to (click to enlarge any of the thumbnails) –
First up was turning one-and-a-half of the bunkbed rooms on the main side into a small, temporary bedroom for James and myself to move into until our proper bedroom can be built at the very front of the boat. There aren't many bunkbed rooms left, but they're conveniently just wide enough to take the length of a bed, so our heads are uphill when we settle at low tide. (The wall bracket and wide shelf are for the LCD and Freeview Tivo box, fyi)
It's also conveniently located next to my sewing room (one former bunkbed room), and just at the bottom of the stairs to the saloon. Oh, and Bosco has learned that if he stands like a meerkat on the bed, he can jump up and out through the porthole and back in again so he doesn't have to wait for us to open the front door anymore!
Next up was my massive clean, tidy, and rearrange of the wheelhouse and aft deck!
(the last one is my favourite view – feet up on the couch facing Tower Bridge on a sunny afternoon!)
We also ripped out the old (and frankly, disgusting) carpet in the wheelhouse and I laid new, plush underlay and new carpet down on top.

The difference in having thick underlay there is just amazing – it really feels like walking on luxury after all this time… And I discovered I now have a second superpower – carpeting as well as tiling extraordinaire! Who would've thought that my sewing skill of being able to cut a straight line just by eyeballing it would come in so handy!
Then I cleaned and tidied the aft deck, which will come with the Captain's Cabin for whomever rents it –
We moved all my plants over on top of the saloon roof where we keep the last remaining canoes, but that huge broccoli planter is just too heavy to heft without help right now, so on the aft deck it stays!

Here's the door to the Captain's Cabin (its own entrance), catching some sun…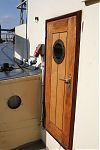 And James's big project has been building the kitchenette in the Captain's Cabin! We kept the fridge on the left, and then James built a set of shelving on the right (where the washer was until recently) for pantry space, and topped it all off with a thick, oak laminate countertop. He was really very ingenious in finding that, as it looks great, was nearly the perfect size, and wipes clean! The combi-grill-microwave got mounted on the wall to increase counter space, a shelf went up, and then finally, as the finishing touch, I sewed new curtains for the porthole, undercounter area, and also for the storage in the toilet!
So now, the only things remaining are:



Fix/replace the shower seal on the main side of the boat (it was accidentally overtightened and leaks into the bilge if switched on!)


Cement down the few remaining loose kitchenette tiles (5min job)


Lay the new underlay and carpet in Captain's Cabin (after Bosco goes there no more!)


Hook the plinth heaters up to the boiler (half day job for the uber-busy Nikolaj)


…and relax.


It doesn't sound like much, but one of the bigger tasks we had to do before moving fully over to the main (saloon-side) of the boat was moving the washing machine, which has been sat happily in the Captain's Cabin kitchenette since 2007.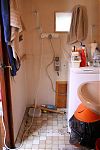 Though now, the above photo is reversed, with the washer gone and the under-counter fridge occupying the space on the left…
First it involved James disconnecting the hoses and turning off the stopcock above the washer, then smiling sweetly to our moorings manager to come help heft it along the side decks and into its new home (is it a pre-requisite of all moorings managers to have the strength of an ox and the agility of a mountain goat, or is it just the ones we get?), in the disused sea toilet: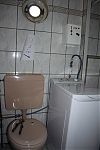 Luckily, having bought a very narrow top-loader in order to get it through the Captain's Cabin's narrow sliding doors meant it fits nicely here into the space between the sea toilet and the (similarly) disused shower! So, having it in place, James then needed to feed it some water, and did this by taking a line off the water that feeds the toilet:

And for the washer's outflow? Well, there's a perfectly good shower drain sitting right there, and it'd be a shame not to use it…

All of this is temporary, of course, as both shower/toilet rooms plus the urinal plus the sink area will get ripped out and replaced with one big luxurious master bathroom, but that's a few years down the road in Phase II (Phase I being the bedrooms and lounge where the hotel rooms once stood, and Phase III being turning the saloon into a new kitchen and dining area).
But for now, having a little laundry room where all the washing can get hung out of the way, by means of a drying rack in the shower tray and hangers on the curtain rail, means we can carry on with a somewhat comfortable life without tripping over airing racks all week long!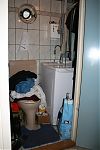 The next task is to lay the new carpet in the wheelhouse and our temporary bedroom (and move the furniture into the latter), and build the shelving unit and countertop in the Captain's Cabin kitchenette. Then we really will be days away from showing potential renters around, with any luck!