We've been hard at work since we got back from our Hungarian holiday, spending nearly all our weekend time down in the hold trying to get it insulated and sealed as quickly as possible with the encroaching winter.
We chose to go the Celotex route, buying 50mm thick boards for the walls and 75mm thick boards for the floors and ceiling. Unfortunately, the sheets didn't fit through the hatch, despite our measuring, thanks to some welded tabs to hold the metal stairs in place making the diagonal measurement smaller than expected. Plus the, err, crazy thickness of the boards. So all the sheets had to be sawed in half (with kitchen knives) in order to get them safely inside.
To get them up and in place, each span between the ribs is measured and a corresponding width of insulation is cut with a kitchen knife, then jammed into place, with any errant bits shaved off with the knife in situ. I've been finding my L-ruler (A "Sew Easy Dressmaker's Square", bought for patternmaking) to be beyond dispensable in making nice, even rectangles! to answer a commonly asked question – no, there's nothing holding the insulation to the walls, other than the tight fit against the ribs and battens. To answer another frequently asked question, no, we didn't want to go the total sprayfoam route because it'd mean hiring the pros and having the mess three or four separate times since we're not renovating the hold all in one go (we do have to live here while we're doing this, remember!)
Then one of us comes along with the spray foam gun to seal up any cracks and irregularities (like the odd spaces around the portholes). You can see James on sprayfoam detail here: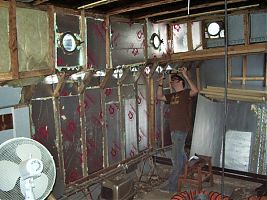 Music makes the job a bit easier, as we found with the wirebrushing and painting!
So far we've managed to insulate both the port and starboard sides, and part of the wall with the focastle:
The ceiling requires two people to get the boards up and into place, and it's a bit tricky considering they're a good 7 feet up and we've only got one stepstool! Our neighbour Lumni has been busy helping us out, too, making quick work grinding off the earlier floor supports (the hotel floor was raised ~18 inches in order to fit the ballast water tanks underneath) so it's easier to walk around down there now.
He's also been busy helping us with our main deck. I'm ashamed to say that he accomplished in one (long) day what we couldn't in 4 years, and gave us a nice, clean surface back. He also rollered on the first two coats of Jotun Vinyguard primer, and then James has put the first green topcoat on over the weekend!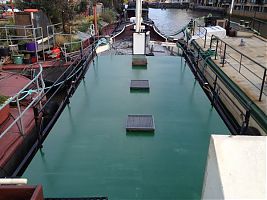 We've still got another layer of topcoat to go, but it's the first time in YEARS we've had a beautiful green deck! Like Serenity, we are definitely members of the Jotun fanclub!
While I was cutting insulation, James has also been working on building the first replacement skylight cover, too, so our new bedroom doesn't get dripped on. He's used sapele wood for the frame and plexiglass surface before reusing the metal grates on top, but we'll have photos of that once it's complete.
The problem with destruction is that eventually you need to get rid of all that stuff, and the downside to clearing such a large space is that you also end up with a large amount of rubble.
So last Saturday we booked a truck from Any Junk for the afternoon, meaning we had to get the entire pile from inside Hendrik up to the road in a matter of hours so as to not uglify the moorings. We did what anyone would, faced with such a task – we begged, pleaded, tricked, and bribed our friends into helping.
We started at 10am with just our neighbours Alan and Liz plus James and I. The four of us moved the pile from inside Hendrik, up through the hatch, and up on deck. We had two of us below deck passing pieces up to the two above deck, and we moved the whole pile pretty quickly.
This also meant we needed a cuppa while we awaited more troops!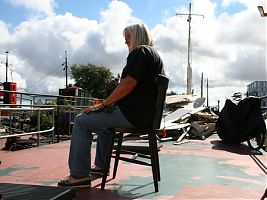 And more troops did arrive, and about ten of us formed a "bucket brigade" of handing off pieces to the next person in the line, until we'd moved the whole pile the several hundred metres up to the road.
Astonishingly, we'd moved the entire pile up to the road by 1pm, and Any Junk came and cleared it all away by 2pm!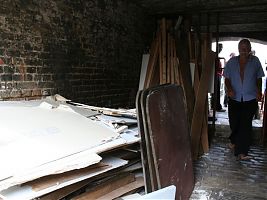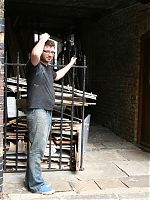 This was our first time using Any Junk, and we will definitely use them again. Our other two choices were to a) use Tidy Thames to lower a skip onto our deck again (putting it mildly, I'd rather get a full body root canal than ever deal with Tidy Thames again. Awful, awful, horrific company!! And that's the nicest way I could possibly put it.) or b) Hire a skip up by the road (but we're on a double-yellow so need special permission, and of course, this means getting everyone's rubbish added to it when your back is turned!).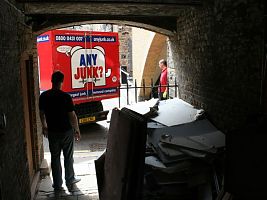 Any Junk worked out rather cheaper than a traditional skip hire, and a fraction of what Tidy Thames surprised us with last time. Plus, the Any Junk guys were super friendly and were happy to load our pile into the truck themselves, and even came around to see the boat afterwards!
Since their entire truck is a giant scale (so they know how much to charge you), we were able to get an accurate reading on exactly how much we'd moved that day – 1.2 tons! OMG! And this was the third time I'd moved it!
One the pile was gone, we rewarded the troops with pizza, beer, and pulled pork to say thank you to our friends and neighbours. We're rewarded by an empty hull, ready to complete wirebrushing then priming…
And a rainbow to remind us to stop and look up every now and then: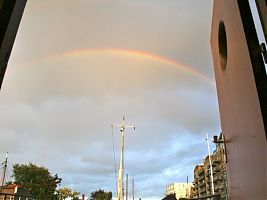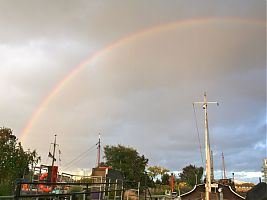 With all the hard work we've been doing over the past four years, the vast majority of it has been of the vital and urgent sort, so to be able to do some purely aesthetic work on the boat felt pretty nice.
We're planning on doing a full topside paint when we go into drydock next year, but the anchor winch area has been bugging me recently with its rust, and I could no longer ignore it.
So last weekend I went at it with a wirebrush and a screwdriver (the latter to get the big bubbles of paint off when the wirebrush couldn't cut it), and at first it looked worse, not better:
Then I got out the white paint and gave everything a good coat, including the two turning wheels next to it, the spiral winch itself, and even as far up the pile as I could reach (though somehow my pile photo has gone missing).
As luck would have it, I did the white paint on one of the hottest days of the year, so the paint dried almost as soon as it touched the hot metal, meaning I could do two coats in about 45 minutes.
Then I managed to borrow a tin of "Post box red" paint from the neighbours, and I touched up the winch spiral and the ends on the port side:
This stuff was great – it looked fantastic after only one coat, and gave a really satisfying, glossy, deep red finish. I must get a photo of the label before the neighbours are off, as I'd buy this over Hammerite any day.
I still want to finish the job with a similar touch-up session of black paint, but I'll need to wait for another sunny weekend for that (so, ooh 2013?).
Ahh the joys of gardening aboard… I may be confined to containers, but we've got full sun and it's amazing what you can grow in tubs, pots, old kitty litter containers (the bright green ones), and some custom-built square boxes!
It's a bit out of character for me, but I asked for garden stuff for my birthday presents this year!
From my inlaws, I got two fantastic blueberry bushes and using some birthday money from my parents, I bought the two bright blue containers, ericaceous compost, and a dwarf peach tree!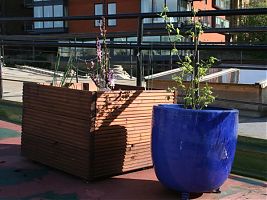 The peach tree has since dropped its flowers in favour of dark red leaves…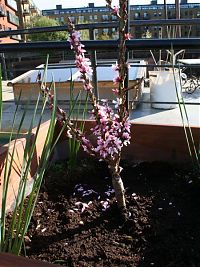 Here's the Blueberry bushes (we got Legacy and Spartan varieties) from the Dorset blueberry company, whom I highly recommend as they were shipped very carefully, arrived in a very healthy state, and the accompanying book is wonderful for blueberry newbs like me!
We also grabbed a Lupin plant (that's the red cone flowers in the picture just behind it) for one of the containres on the main deck: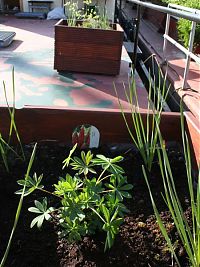 And here's a newly planted geranium and the beginnings of this year's garden (most are still sproutlings in the wheelhouse, though).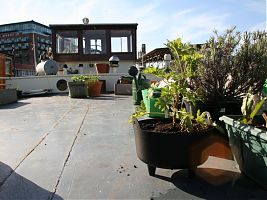 This year I'm growing:



Blueberries


Peaches (though I've been advised to discard any peaches it attempts to grow to encourage it to put the effort into growing big and strong instead!)


Strawberries (I've already got at least 30 berries, just starting to blush pink)


Carrots


Radishes (eaten a bunch already!)


Spinach


Mixed lettuce


Spring onions


Peas


Marrow


Courgettes


Spaghetti squash


Butternut squash


Aubergines (pretty speckled purple and white ones!)


Tomatoes


Tomatillos


And the usual motley crew of herbs: Lavender, rosemary, lemon thyme, sorrel, mint, and basil


Oh, and a fresh crop of cat grass for the most spoiled cat ever!
Since my birthday has passed (in err, late March!), that means we've officially been on Hendrik for four years now! We've got more boat DIY/renovation stuff to report on, too, as the preparations to build the bedroom are coming along swiftly now.
I'm very excited because this is the first opportunity I've had to crosspost anything between my sewing site, and this one!
We've got a total of six skylights on Hendrik – four flat metal ones in the front of the boat where we live, and two peaked, wooden framed ones in the back captains cabin which we rent out to our lovely lodgers. We've largely been able to keep our front skylights from leaking too badly, but the age and design of the ones in the back meant that they really needed some covers both to limit the drips and to protect the woodwork and the original 1930s patterned glass.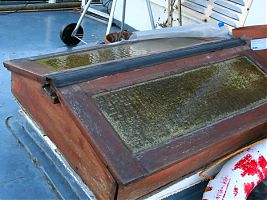 (this is the larger, saloon skylight)
So a few months ago I got some swatches from Pennine Outdoor to have a look at their tent fabrics, and decided that the "UV Treated Window Material" (P49) and "PVC Coated Polyester" (P9) would work best. Importantly, since I had the swatches I also tested to make sure I could sew through these on my regular domestic machine! I bought two metres of the green and one metre of the clear, which came to £23 including shipping (and this gave me plenty enough for these two skylights, and probably enough for at least one of our flat skylights).
I went and had a look at one of the neighbours' skylight covers and saw that theirs didn't have any special stitching or seam tape to prevent drips (and they didn't have any leakage problems), so I made my measurements.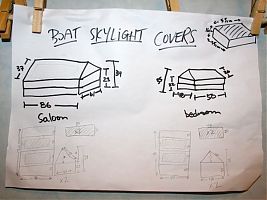 Then I thought about how the pieces would unfold to 2D, and drew out what I'd need to cut (without seam allowances, as that's how my brain works!).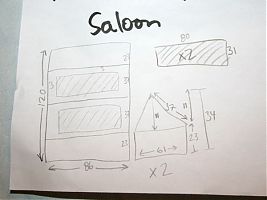 The shaded sections are the clear vinyl "windows". Once the windows were inserted into the rectangular green frame, it was really just a matter of sewing that big rectangle around the triangular ends. And luckily, both skylights have the same overall shape, with the bedroom skylight on a smaller scale.
Since it was the smaller of the two, I decided to sew this one first in case I needed to make any changes for the big saloon one. I probably should've done a muslin for these first, but rectangles and triangles are so boring to sew that I just couldn't bring myself to do it. (Seriously, does anyone actually enjoy home dec sewing??)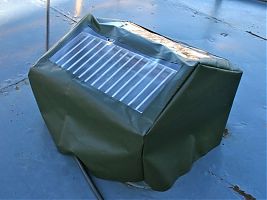 Because the materials themselves are waterproof, I didn't really want to use pins apart from in the seam allowances, so I held the clear vinyl in place with some cellotape (scotch tape) to keep it in place as I sewed. For the windows, I sewed from the back, overlapping the seams. You also absolutely NEED a walking foot attachment for this! The sewing machine needle wasn't really as important, but I used a denim needle here so it'd be a bit stronger, but I'm sure you could use a hefty universal needle and probably be okay, too. But seriously, do not attempt this without a walking foot, or you'll be tearing your hair out.
Anyway, on this smaller scale, the cover fits great! It was (dare I say it) almost enjoyable to sew.
So then I cut out all the larger pieces and sewed together the larger saloon skylight cover.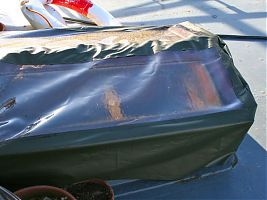 Oh dear. This was an utter nightmare to sew.
First of all, the pieces were bigger than the size of my sewing room (I'm not kidding – my sewing room floorspace is exactly the size of a double bed)! To make matters worse, the clear vinyl sticks to EVERYTHING (including the body of the machine and itself), and is so stiff that it just won't cooperate or fold or roll up the way you need it to in order to get it under the machine's arm, and then once you're sewing a seam, the length of it kept hitting the back wall and physically moving my super heavy, metal body sewing machine all over my desk! At times I was at full stretch of my arms and leg, holding a roll of vinyl in one arm and just letting the machine do the best it could without my hands anywhere near it.
So I'm not really that surprised that this cover isn't quite as accurate as the smaller one. In fact, this cover turned out to be a bit too small (arrrgh) so I had to split one of the corner seams to get it on, but it's Good Enough and doing anything further on this would've had me in tears.
But at least they're finally done, and keeping our tenants dry and our woodwork protected!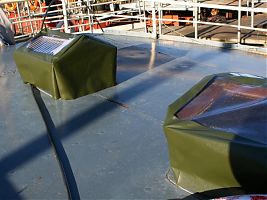 With this project comes a new distinction – velvet has finally been surpassed and I have a new Least Favourite Fabric. Congratulations, clear vinyl!
PS: If you haven't read about the struggles of one of the last operating historic boatyards and their struggles to keep out the developers, you really should.
Hoo, and there goes another 3.5 months without an update, bad us!
But I am happy to report that we've had a wedding and honeymoon in the intervening period (remember way back when James proposed right before Hendrik's 75th birthday party?), so we've not been completely sitting on our hands or anything. We had a beautiful, amazing, and wonderful day at Bletchley Park, full of friends and fun and lots of DIY (I did a huge series of posts on my sewing site, FehrTrade.com about my sewing my gown and all the other DIY stuff!). We even had about 30 people from the moorings at our wedding which just goes to show what a fantastic, close-knit community we've been surrounded by in the past three years of boat life!

(Click the image to see more wedding photos!)
We came back from our honeymoon to discover that one of the baby corn plants had grown out of control, too! Seriously, it's taller than I am, with full tassels and everything! The baby ears it gave up were very tasty.
In other gardening news, the episode of Nigel Slater's Simple Suppers with us in it will be the last of the season, airing 22 December at 20:30 on BBC1, so set your recorders!
We are also ridiculously happy to report that our wedding registry was rather, err, unconventional. We didn't need the normal "couply" kitchen supplies after three years on board Hendrik together (please, no more kitchen supplies!!) and we certainly don't need any linens or furniture, but what we really, really needed was suplies to build our new bedroom in the front of the boat. So we set up a free (and no fees!) Honeyfund registry and listed all the bits we'll need, everything from hull grease to battens to celotex to paint to 24v cabling to ethernet faceplates. Plus a dishwasher.
We're starting the building work when it gets warm in Spring (we're not wasting time – we've got friends working on the CAD drawings and electrical layout already), but we wanted to buy the dishwasher ASAP as the washing up duties were seriously cramping our evenings.
Who knew that Hoover makes a boat-friendly dishwasher? It's got an A energy rating and only uses 16 litres of water(!!) for a full sized, 12-place setting. Perfect.
So the first step was to remove the old hotel dishwasher that never worked in order to make room for our new one to be delivered. Since this was a "load bearing" dishwasher and half the kitchen rested on it, in our demolition, we discovered an ENTIRE TRAY OF CUTLERY we never knew existed. It was just sat behind the enormous tray of cutlery we'd been using for the past three years. We also discovered that the old dishwasher drained uphill. Seriously.
After the initial shock, this setup actually made sense – we're below the waterline in the galley, so we'd assumed the old dishwasher drained into the grey tank, to be pumped overboard. But the dishwasher already has a built-in pump, so making the machine do the work and pump the waste water up to the waterline level (about head height in the galley) where it meets the outflow pipe for the upstairs sink and flow overboard by gravity actually makes a lot of sense.
Here's James installing the new dishwasher. We haven't put the cutlery tray, cabinet, and microwave back into place above the dishwasher yet so you can see the gravity outflow pipe:
And it works beautifully. We only have to run it once or twice a week, but it really does use a minimal amount of water – way less than the washing machine or even our average half-pressure shower. It's a good thing it's tucked away in the galley, though, because she is rather LOUD!
I don't think I posted about it initially (perhaps I was waiting until the job was completed?) but sometime last Spring I took it upon myself to repaint the badly chipped and ugly blue railings on the front deck to a nice, shiny black. But I got as far as prepping and painting the first coat on the starboard side when I got ill and was under strict orders not to be around volatile chemicals, so the railings had been left half done (as my mom painted the second coat on that side) since then.
But the chipped, blue railings on the port side were really bothering me, so during our brief non-quiet hours on a Saturday morning, I got fully suited up in a boilersuit, old shoes, thick rubber gloves, face mask, and goggles, and wire brushed all the surface rust and paint chips off the railings. Then I wiped them down, and got 1 1/2 coats through with black satin finish Hammerite before running out. After a brief break to restock, the port railing now looks as good as its twin!
It feels SO good to finally finish a project I started before I got sick! Triumph!
And you can see how nice it looks next to some of my salad (and baby corn, thanks to Rachael) in the planters James built for me: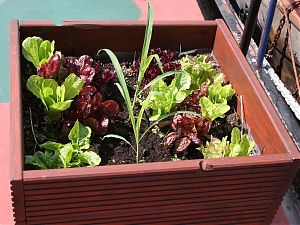 I don't like to admit it, but there was a bit of a deadline I was working towards (I like to think I can get on with things because WE want them done!), because a BBC film crew came out on Wednesday to film Nigel Slater and myself and James picking various herbs and vegetables around the moorings!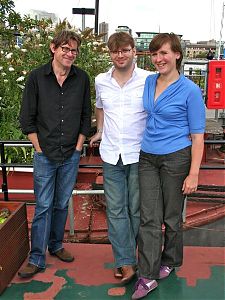 He and the crew were just so lovely and friendly and we had such a brilliant day! It'll be on BBC1 sometime in October or November. I'll of course post the date and links when I know more!
As today is the summer solstice, it also means it's Hendrik's birthday! 77 years ago today, she was launched in Friesland as a little newborn Luxemotor (and at a whopping 31m, what a baby!).
And since I'm posting anyway, I may as well share a few photos of what I've been up to…
A few weeks ago I brought out the black, grippy Hammerite and finally painted the garden steps Lorna welded on last year, then very kindly borrowed some cream paint from the neighbours to touch up the surrounding metalwork. It was THE DRIPPIEST PAINT EVAR so it made a huge mess and flowed underneath the masking tape I so carefully laid out to protect the black steps (grr), but it got the job done and looks almost invisible from a distance.

And while I had the paint out, I lent over the side and finally rid us of the "Boot?" graffiti we picked up in Volendam 3 years ago…

The rest of the photos here are showing off my floating container garden, which has slowly and steadily expanded ever year we've been aboard. Since we moved out of the back cabin to rent it, the garden also moved forward, with the bulk of it now on the saloon roof.

James built me four enormous containers on the main deck (with plans to add benches and a coffee table, too), which now contain a small lavender plant each, with daffodil bulbs in each corner, and for this year, some lettuce surrounding the lavender. Because I can, and it'd be wasted space otherwise.

Moving up to the saloon deck, here's my other lettuce container, and to the right, spaghetti squash and half of my tomatillos (the latter two you can't buy in the UK, hence why I'm growing them).

Along the right hand side of the deck, there's lavender (just seen), french beans, carrots, white marrow (patty pan), potatoes, and at the very end, courgettes and the rest of my tomatillos.

I found the world's biggest strawberry plant, so James built a smaller planter for it to live in. We must've eaten at least 20 strawberries off it already, so it's made its money back!

Here's some closeups of some of my produce-in-training: a courgette, a marrow, and my prized tomatillos!
We have a strange sort of microclimate on deck – tons of direct sun, but a lot of wind so things need to be staked down really well. But no weeds, snails, or slugs, and the birds seem to ignore it. The only real pests are the flies on the squashes, which I attack with a spraybottle full of diluted Ecover washingup liquid…
Thankfully, we've got plenty of the good guys – tons of bumble bees and ladybirds (ladybugs)! Here's a big fat bee on my geranium.

Oh, and also not pictured are more french beans, a rosemary, some mint, tomatoes, hot peppers, beetroot, spring onions, and spinach, plus a ridiculous amount of basil in the wheelhouse!
I hope you've enjoyed this tour of my garden, because we're going to be filmed for an upcoming BBC series in August! More details and, of course, links to the show when we can say more… Fingers crossed it all stays alive for another month!
So once again we find ourselves with lots to update…
First of all, the numbers on board Goode Ship Hendrik have increased somewhat – myself and James have been joined by our lovely Captain's Cabin renter, Geoff, and my mother, Sandy (though the latter is only staying for the summer). All in all, the transition has been very smooth, and the only teething problems we anticipate are figuring out exactly how long the water tanks will last between fillings when there are four daily showers instead of two.
And speaking of showers, the shower off the saloon is finally done. Finally. We thought we started this 9 months ago, but I just checked now, and oh dear, it was actually 13 months ago. Eek. In that time, it's been built, tiled, dismantled, and rebuilt and retiled at least three times, with lots of drips (both in front of and behind the wall) and DIY denial in between. But it's done now, and honestly, a shower has never felt quite so good.
Another development is that we had neighbour Lorna round to create and weld on some steps to make it easier for us and mom to get up to water the garden (which is now on the Saloon roof). With a bit of angle iron she found lying around the engine room, the new steps were up in a morning. She even rounded off the sharp corners!
Now we just need to get someone to mix up some magnolia Hammerite for us and they'll be perfect! I do have a paint chip with me today for matching, but we'll see how long that takes.
Keeping to the exterior, less good news is that an extraordinarily violent wake at the weekend cause one of our bow springs to bend a railing. This had been in place for well over two years now with no problems, and the handrail is several inches in diameter, so you can imagine the force it took to bend this.
I was utterly speechless when I discovered it, and it's going to take some more welding to get it back into shape now. It just goes to show that when one project is completed, another presents itself…
For the past four or five weekends straight we've been undertaking a huge DIY push to finally get everything ready in order for us to fully move out of the Captain's Cabin and into the main part of the boat, and also to get the lovely Captain's Cabin itself ready to rent. There's only a few bits that are left to do, but we're having our first viewings this week even though not everything's done…
So, here's a photographic roundup of what we've been up to (click to enlarge any of the thumbnails) –
First up was turning one-and-a-half of the bunkbed rooms on the main side into a small, temporary bedroom for James and myself to move into until our proper bedroom can be built at the very front of the boat. There aren't many bunkbed rooms left, but they're conveniently just wide enough to take the length of a bed, so our heads are uphill when we settle at low tide. (The wall bracket and wide shelf are for the LCD and Freeview Tivo box, fyi)
It's also conveniently located next to my sewing room (one former bunkbed room), and just at the bottom of the stairs to the saloon. Oh, and Bosco has learned that if he stands like a meerkat on the bed, he can jump up and out through the porthole and back in again so he doesn't have to wait for us to open the front door anymore!
Next up was my massive clean, tidy, and rearrange of the wheelhouse and aft deck!
(the last one is my favourite view – feet up on the couch facing Tower Bridge on a sunny afternoon!)
We also ripped out the old (and frankly, disgusting) carpet in the wheelhouse and I laid new, plush underlay and new carpet down on top.

The difference in having thick underlay there is just amazing – it really feels like walking on luxury after all this time… And I discovered I now have a second superpower – carpeting as well as tiling extraordinaire! Who would've thought that my sewing skill of being able to cut a straight line just by eyeballing it would come in so handy!
Then I cleaned and tidied the aft deck, which will come with the Captain's Cabin for whomever rents it –
We moved all my plants over on top of the saloon roof where we keep the last remaining canoes, but that huge broccoli planter is just too heavy to heft without help right now, so on the aft deck it stays!

Here's the door to the Captain's Cabin (its own entrance), catching some sun…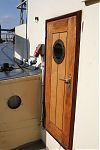 And James's big project has been building the kitchenette in the Captain's Cabin! We kept the fridge on the left, and then James built a set of shelving on the right (where the washer was until recently) for pantry space, and topped it all off with a thick, oak laminate countertop. He was really very ingenious in finding that, as it looks great, was nearly the perfect size, and wipes clean! The combi-grill-microwave got mounted on the wall to increase counter space, a shelf went up, and then finally, as the finishing touch, I sewed new curtains for the porthole, undercounter area, and also for the storage in the toilet!
So now, the only things remaining are:



Fix/replace the shower seal on the main side of the boat (it was accidentally overtightened and leaks into the bilge if switched on!)


Cement down the few remaining loose kitchenette tiles (5min job)


Lay the new underlay and carpet in Captain's Cabin (after Bosco goes there no more!)


Hook the plinth heaters up to the boiler (half day job for the uber-busy Nikolaj)


…and relax.