Usually when boat blogs go quiet, it's one of two things: either the owners are too busy getting on with boat work to document things, or things have gone horribly wrong and they're too depressed to say so.
Happily, we're firmly in the former camp! We've got about 6 months of updates we owe you, like progress on the new bedroom, a freshly painted main deck, a bunch of new garden beds, a leaky wheelhouse roof, new batteries, a serviced engine & working generator, and a brand new flexible water tank, but until then, we've got even bigger news to share…
Hendrik sailed yesterday, for the first time in 5 years! Not because she couldn't, but because of cost, logistics, and life reasons. If you own a boat, you'll know that 5 years means one thing – drydock! And so it was time for our big girl to get pulled up a slipway and checked over. We're also taking the opportunity to get a few odd jobs done and paint the sides (something we can't do on our usual berth), but fingers crossed we won't need much overplating done after the survey results are in.
So, the journey yesterday…! We got up at 3am to start the engine, disconnect our power and telephone lines, and get the nav lights in place, ready to leave our berth at 3:45am on the dot. We can only get in and out of our yard's slipway on the spring tides, so we had to hit the outgoing tide that day, then ride the tide back up the Medway as it turns and floods back in.
The journey down the Thames was in darkness until around Tilbury, so I got some fantastic shots of the city lights on the way. Another big highlight for me was going through the Thames Barrier at Greenwich, which I'm very proud to say that James sailed through! In fact, he was behind the wheel for most of the journey, with our skipper Stefan advising where needed (which wasn't much). I was mostly on tea, breakfast, baked goods, and photography duty. We also went right near the wreck of the Montgomery, which I knew nothing about (hooray for mobile 3G signal and wikipedia!), and James's live charts app on his iPad was also a huge help (so much so that Stefan's talking about buying an iPad now!).
In any case, we're still catching up on our sleep (in a very kind neighbour's boat for the duration!), so I'll leave you with a slideshow:
Or if you'd prefer, you can see the Picasaweb gallery here.
Open Garden Squares Weekend was a grand success! James and I were up baking until midnight on both Friday and Saturday nights, but our little bake sale raised nearly £350 for the RNLI! Not too shabby considering that all the cupcakes, cakes, cookies, and teas and coffees were going for 50p or a pound each… The visitors really seemed to take more notice of the boats this year, too, thanks to the laminated info sheets we each hung up on the walkways near our barges. It was almost like a little self-guided tour for the garden revellers!
Otherwise, we've been doing lots of grinding – James took over the prettification of our saloon window frames. The big windows had to be boarded up for the crossing, and so had four steel tabs welded onto each frame to keep the plywood in. In our haste to get daylight into the saloon when we finally arrived in London, they were grinded off in a less-than-expert way and resulted in some ugly, rusty tabs: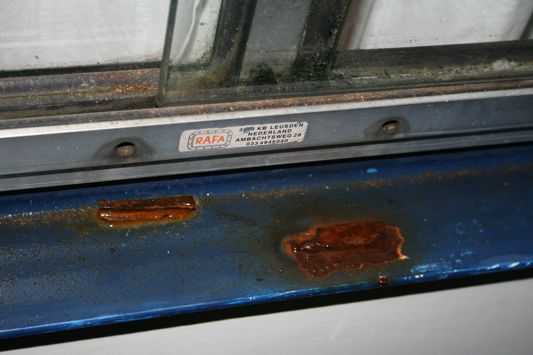 With his new-found grinding skills, James took these off entirely and repainted the frames (and a little bit of the wall, oops!) with some blue Hammerite. Much better!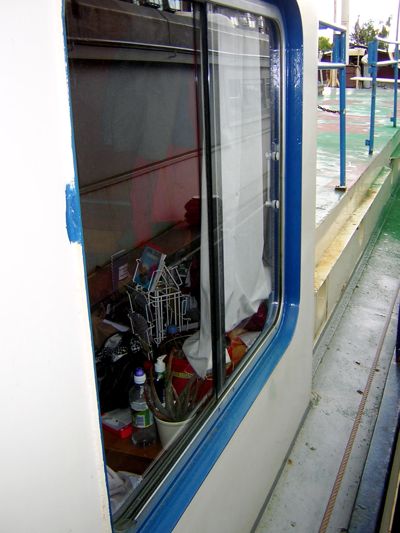 And then Saturday morning we attacked the deck yet again. This time I was wearing our neighbour's gas-mask-type full face mask and air filter, plus earplugs and gloves. Much more enjoyable, especially if you consider the amount of paint dust we're kicking up: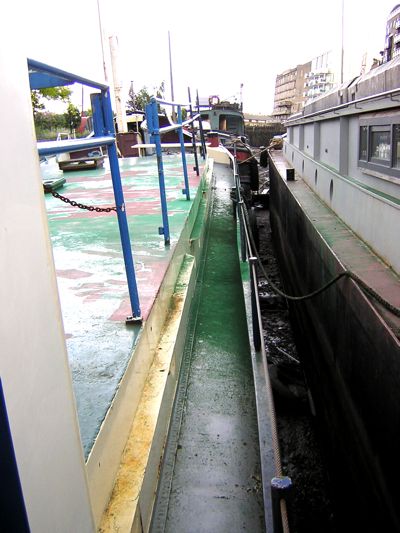 We were hoping to have the deck nicely painted in time for Hendrik's 75th birthday on Saturday*, but with a bunch of wet Saturdays in late May, it just hasn't been realistic to finish in time. Still, we managed to do just the bright red portion (in the upper right-ish) in 3 hours on Saturday…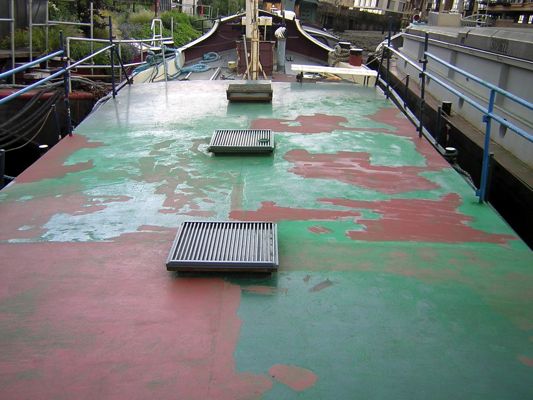 So I reckon one more good Saturday and we'll have finished with the top deck grinding and we can finally roll on the new, green topcoat! (and then start on the side decks, boo!)
*If we know you and you haven't had an invite, don't fret. We've been too busy to send out proper invites and have just been using word-of-mouth. So just swing by around 3pm with some booze and something for the BBQ. And we do have a wet weather plan!
After living on Hendrik for over a year now, I had a "first" yesterday – I fell getting onto the boat. I was carrying a huge and heavy box (a big shipment of whole foods from Goodness Direct as part of our Apocalypse-proofing) which meant both arms were occupied and I couldn't see my feet, and on top of this it was drizzling and we were tilted because it was low tide. I'm not sure whether my foot slipped off the gunnel or just missed it entirely, but I twisted and fell into Hendrik's sidedeck, falling hard on the outside of my left thigh in the process. Luckily a passing workman rushed to my aid (as I was pinned down by the big box and still in a bit of shock that it had actually happened) and I'm absolutely fine, but just left with a very sore and patchily bruised vastus lateralis. Luckily it was after the race and not before, and I seemed to have gotten off a lot easier than James did when he had his fall.
In brighter news, we've got two big events coming up that we're busy prepping for – this weekend is Open Garden Squares Weekend so we're busy baking and making bunting to get everything ready for the public party atmosphere! If you're interested in attending, please leave a comment and I'll email you details of how you can get in to see our mooring.
And then on the 21st we'll be celebrating Hendrik's 75th birthday (on the day itself – we've got the bill of sale that shows the date!) and so are readying the BBQ and put together a photo scrapbook for our friends to look through on the day…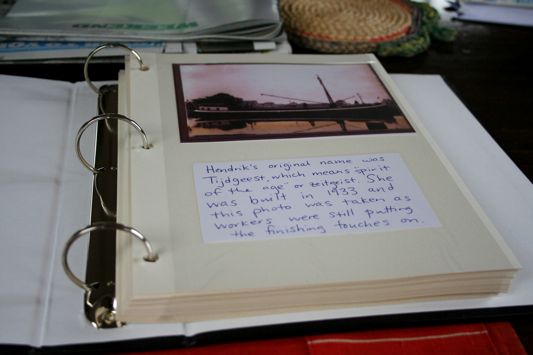 And while we may not be any closer to actually climbing up to the wheelhouse from the Captain's Cabin without going outside (ladder sourcing problems!), I'm happy to report that Bosco is!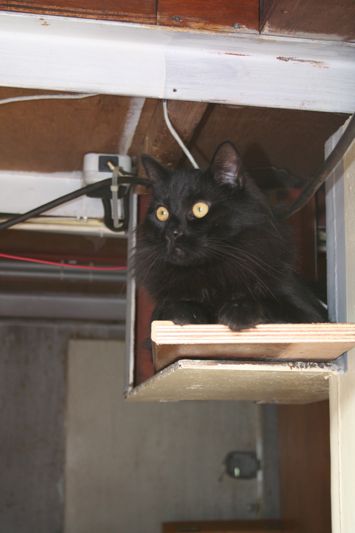 There's always been a random steel shelf just inside the Captain's Cabin door and underneath the wheelhouse floor (which he's happily perched on in the above photo). James extended this with a bit of wood and now our little scaredycat is happy to jump from it up into the wheelhouse through the cabinet door. He's even ventured out onto the back deck when we're up there and open the door for him! Considering that he wouldn't even go near an open door a few months ago, we're very happy with his progress.
Sometimes you just have to take a step back and smell the flowers. Luckily the gardener informed us we have the best view from our bedroom window than anywhere else on the moorings!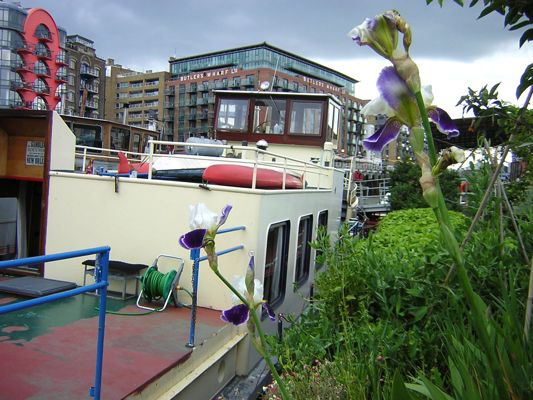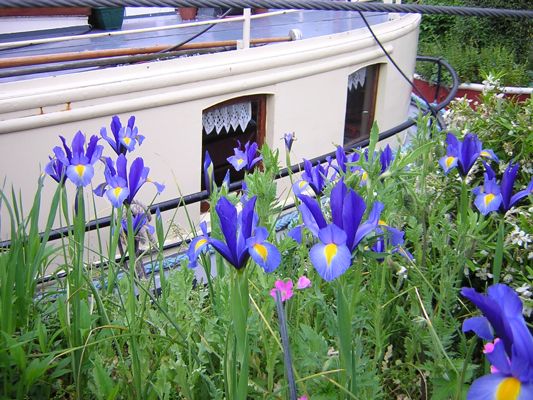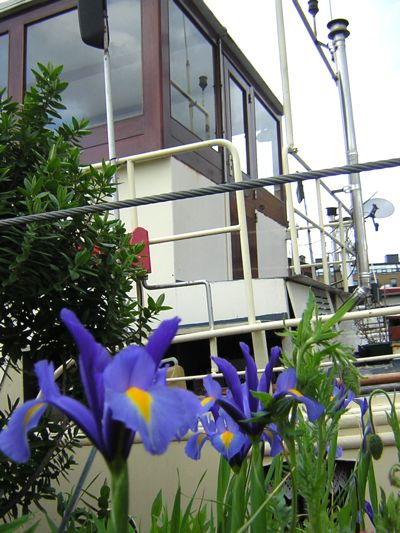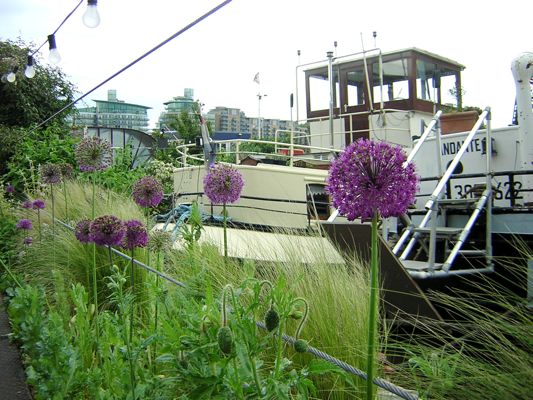 More deck grinding on the cards for the weekend…
For years, science has wondered, what is the harshest environment possible? Is it the merciless Kalahari, whose awe-inspiring vistas hide geology that laughs in the face of mere humanity? Is it the surface of Venus, bombarded with poison and crushed under such pressure that even our most hardy submarine would crumple like a soda can in seconds? Or is it the aft port flank of a Dutch barge in the Thames, where bloody great collar barges can chew up steel-belted radial tyres, pry open steel chain links, sever braided steel cables and crush half-inch shackles like the dreams of a barge owner who just wants his home to stop ringing like a bell when the 7am commuter boat rolls past?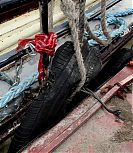 My earlier optimism about chains and cables has been only partly justified. The cables do hold up better than the wimpy ropes we had on hand before, but the weak link is the shackle where the ends are joined. Even the biggest end up bent within a couple of days. If we're lucky that means they can't ever be opened again; if we're unlucky, they pop open and we lose yet another tyre to the river. Along the side of the boat the tyres are generally surviving at least a couple of months, but in the highest-stress locations – the chain a third of the way back from the bow, and the port side at the very back – if they don't get torn off by then, they end up eviscerated.
Imer, the moorings manager with the strength of ten men, has very kindly hauled up a couple of monster tractor tyres for us to put in place. We came home one evening to find a very welcome addition to the big chain.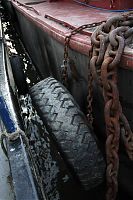 Sadly since then he's busted his arms and can't help us mere mortals heft the aft tyre on for a few more days. In the meantime I've tried to find the most damage-proof method of mounting a standard car tyre: Two cables for redundancy, none of the cables running unguarded through places where both boats can touch, and mounted "sideways" so that there's less distance for it to be pulled up and down by the motion of the boats. Early signs are good, although naturally the shackles were both squashed within 24 hours. C'est la vie…
There's been some problems with the shore power for the whole mooring so we were left with just our internal 24v system (lights, pumps, exhaust fans, etc) after 9 o'clock last night.
Losing our 240v supply, even temporarily, made us really wish we'd:
a) fixed the generator (the impeller blew on the crossing)
b) figured out how to work the inverter/install the new fuse (so we can convert our 24v battery power to run 240v appliances)
c) devoted last weekend to getting the new diesel stove running
The electricity is apparently back on now but we all have to be careful we don't blow the element/fuse/whatever again so we have to watch our electricity consumption for the next few days, and no electric heaters has been mandated. This was our sole temporary source of heat until we got the captain's cabin diesel stove properly plumbed in and/or got the old radiators in the saloon hooked up to the new boiler system, so we're a bit out of luck for the next few days. Hello sweaters and endless cups of tea!
It was like "pioneer days" last night with snuggling under the duvet with a candle (we had lights in the kitchenette and stairs though, and the galley is entirely batteries and LPG so dinner was fine!). All we needed was a roaring fire and it would've been lovely, nay, even romantic!
We have a sheet of paper on the saloon table which was split in two: one side was To Buy, and the other was To Do. Last weekend we took a streetcar and did one of those "four times a year" shops where we filled the boot full of necessities, so this weekend we were left with the To Do side.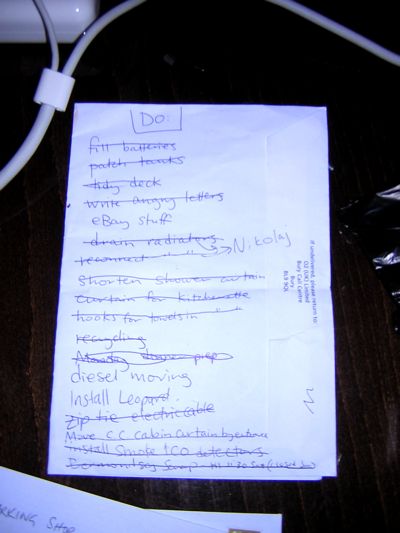 We feel pretty good about the amount we were able to cross off, especially since some of those things (like filling the batteries) we should've really done months ago. We made a good attempt at finally transferring the diesel from the barrels on deck (still there from the crossing) into the main tank in the engine room. Those much cleverer than us suggested we use the engine to do the pumping for us, so on Saturday we cranked up the ol' Scania. The intake was from the barrels on deck, with the overflow going into the main tank, with the knowledge that engines of our age end up spitting out a lot more than they actually consume. It was working well, but after an hour we still hadn't made a dent in our first barrel and a neighbour offered to lend us his 240v fuel pump so we abandoned that until later this week. We must've been stopped by at least ten neighbours during that hour, though, commenting on how quiet and throaty it sounded, and that it was good to hear an engine running on the mooring for once. Bosco was not nearly as thrilled with the whole of his world throbbing and purring like some giant cat, however.
We've still got a couple things left to do, like list our extraneous LPG boiler and diesel heater and old Kabola stove on eBay (though if you're interested in any of the above, leave a comment below and we'll let you jump the eBay queue), but things are feeling pretty good after a productive weekend. And after finally hauling the old copper piping down to the scrap metal yard, we had £50 to go spend on a nice dinner to cap off the weekend, too.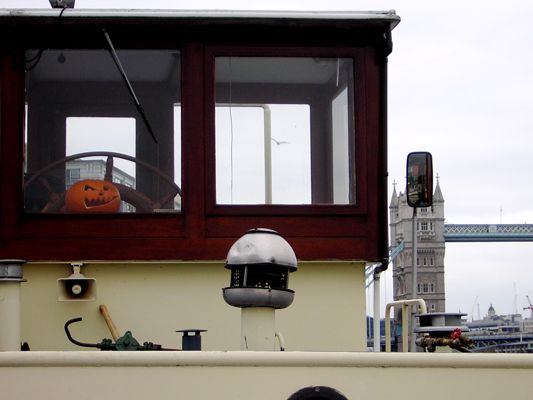 One of the biggest problems we've had so far is that of keeping us and the boats around us apart. The stresses on the mooring lines are such that they tend to stretch, fray and unwind. Meanwhile the movement of Silo next to us is just exactly right, under certain circumstances, to tear the ropes holding on our fenders – no matter how thick the gauge of rope we use.
For weeks we've been saying we'd chain up the aft port fender instead of using a rope, partly because it's the one under the most ferocious assault from Silo but also because it's right by our feet now we're back in the Captain's Cabin and when it's missing we feel it the same way a crash test dummy feels the wall.
Oddly enough what finally got the ball rolling was a blown fuse – one of the huge ceramic jobbies that the inverter uses in its distribution box. I know of an electrical store that can order them, and while I was in there sorting it out, a couple of delicious-looking plastic-sheathed chains caught my eye. The choice of a few quid on a chain now against more mudlarking to replace dropped fenders in the future? I snapped them up, along with the single padlock the shop still had in stock, to join the ends.
But it didn't stop there. Evan's cycles was on the way back to the office and of course I can't resist drooling over the latest carbon fibre impotence causers. But of course they also have security chains for your bike. Lovely thick steel cables swaddled in no-clang rubbber coatings, designed to be left out in the elements… I'm not exaggerating when I tell you choirs of angels sang from the firmament as the realisation hit me. Well I am, but not by a lot.
So a I picked up a couple of small combination locks for the less-critical fenders along the sides, and for the trickier ones, only Kryptonite will do. The latter, unfortunately, didn't get a chance to come into service because I used it briefly while I was locking my bike up and there was no way I was going to go without one again. I went back after a few more days and ended up buying three more for the boat.
Oddly though, no-one seemed able to provide padlocks, but Melissa came up with the answer. Arthur Beale, the oddly-placed chandlery in Covent Garden, had the small steel D-shackles she suggested, and far cheaper than padlocks too. £2.67 for 8mm examples and no need to worry about finding the key when they need moving. Bargain.

On Thursday night we put our new full deployment into place, dropping five new fenders off the starboard side to protect us from the drydock. Meanwhile on the port side the test fender on the original big chain is going strong. The plastic sheath lasted about twenty minutes but the chain is showing no signs of wear. Now, I wonder if Kryptonite can be persuaded to make cables a bit thicker, of exactly the right length to moor a luxemoteur…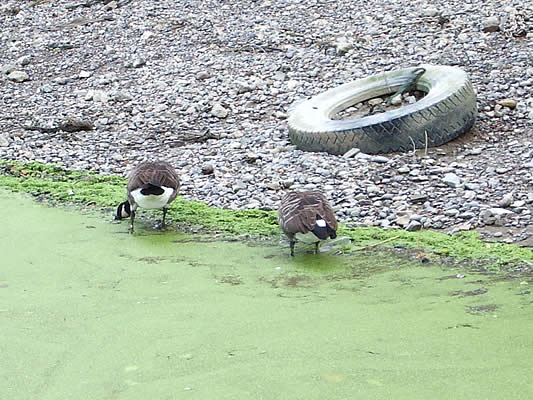 Something strange is occuring. In the last five hours the tide hasn't moved at all. After a bit of research we discovered the Thames Barrier has a maintenance closure today and we'll have no change of tide between 6am and 4pm. Which is fine, the barrier is great and everything, but I do wish they'd left us just a little bit more water before the closure. We're just barely afloat and the wake from passing clippers is slamming the hull down onto the shingle beneath us. The noises are worrying.
Sorry Alex, I should never have doubted you. On Thursday night the water pump failed again and I might have some bad words. Alex had foreseen this, commenting that the cylinder bore was badly worn when we installed the new seal. Indeed it dripped right from the moment we restarted the pump so we knew this was always a race against time. The problem is that this system was never designed to be used on tidal water where the roll angle of the boat can change, and when it runs dry the pump destroys itself in a matter of minutes. We need something better suited to this application.
First of all I looked at marine water pressure systems. I'm sure the Aqua Major AQM6-24 looks great against your solid gold hull and keeps your piped champagne system going for a lifetime. When we do the bathrooms properly we may even splash out on a Twin Max 4+8 not least because it sounds like the most awesome pickup truck you can imagine. Men in the pub would fall to their knees if they heard you talking about the TWIN MAX 4+8 you just bought. But right now the best option is something that can hook up to existing connections and doesn't incur a six-week wait every time a small piece of plastic wears away.
So moorings superman Nikolaj came over and we spent an hour speccing up an interim solution then tearing all over South East London picking up supplies. Then this evening he spent a couple of hours helping me install it. Well, I say helping, what I mean is installing it while he explained to me how to install it.
But anyway we have gone from old and busted: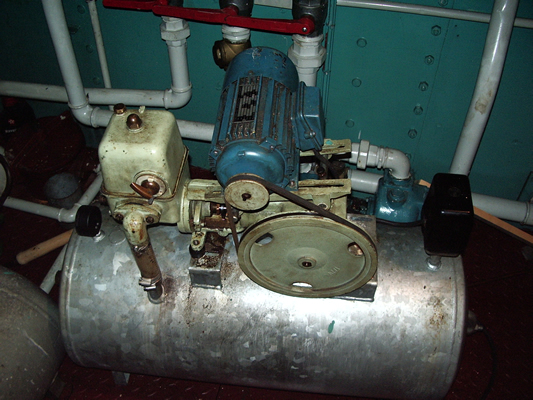 To the new hotness: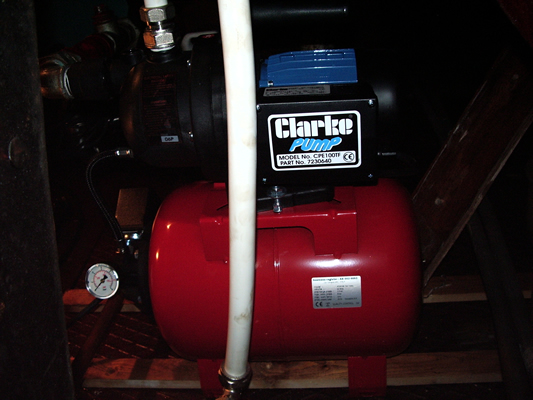 Does it work? I dunno, it was low tide when we finished fitting it, so we can't prime it until we come level again. Although we haven't fitted it, this pump came with a nice clear filter so we can actually see if water is flowing into it. That will go into the pipework shortly, and we'll take a nice long cable into the kitchen so we don't have to traipse up to the wheelhouse every night to switch it on and off. Then hopefully next month Hendrik goes into the yard for more remedial work on the water system (and to have the hot water system installed, bliss!) and we can stop worrying about having to switch it on and off all the time. And maybe even have the occasional shower. I stink.