Usually when boat blogs go quiet, it's one of two things: either the owners are too busy getting on with boat work to document things, or things have gone horribly wrong and they're too depressed to say so.
Happily, we're firmly in the former camp! We've got about 6 months of updates we owe you, like progress on the new bedroom, a freshly painted main deck, a bunch of new garden beds, a leaky wheelhouse roof, new batteries, a serviced engine & working generator, and a brand new flexible water tank, but until then, we've got even bigger news to share…
Hendrik sailed yesterday, for the first time in 5 years! Not because she couldn't, but because of cost, logistics, and life reasons. If you own a boat, you'll know that 5 years means one thing – drydock! And so it was time for our big girl to get pulled up a slipway and checked over. We're also taking the opportunity to get a few odd jobs done and paint the sides (something we can't do on our usual berth), but fingers crossed we won't need much overplating done after the survey results are in.
So, the journey yesterday…! We got up at 3am to start the engine, disconnect our power and telephone lines, and get the nav lights in place, ready to leave our berth at 3:45am on the dot. We can only get in and out of our yard's slipway on the spring tides, so we had to hit the outgoing tide that day, then ride the tide back up the Medway as it turns and floods back in.
The journey down the Thames was in darkness until around Tilbury, so I got some fantastic shots of the city lights on the way. Another big highlight for me was going through the Thames Barrier at Greenwich, which I'm very proud to say that James sailed through! In fact, he was behind the wheel for most of the journey, with our skipper Stefan advising where needed (which wasn't much). I was mostly on tea, breakfast, baked goods, and photography duty. We also went right near the wreck of the Montgomery, which I knew nothing about (hooray for mobile 3G signal and wikipedia!), and James's live charts app on his iPad was also a huge help (so much so that Stefan's talking about buying an iPad now!).
In any case, we're still catching up on our sleep (in a very kind neighbour's boat for the duration!), so I'll leave you with a slideshow:
Or if you'd prefer, you can see the Picasaweb gallery here.
Sometimes we turn up in the most surprising places.
A few weeks ago, a friend of mine was visiting from LA, and she bought this pack of psychological thinking games from the nearby Design Museum. As she was going through it, she pulled out one card from the "The Garden Relationship Test" and held it up to me saying, "Umm, recognize this?"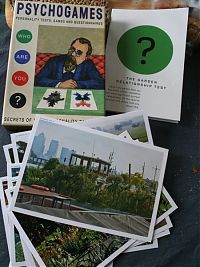 Apparently we're the "Houseboat Garden"!
Houseboat Garden
This is a complex relationship. You know there's a lot to it: it brings pleasure and fun, and it's unusual. That makes it very interesting, with plenty going on, like a work in progress towards a clearer definition of things. That's the central issue, in fact. You both have different requirements in this relationship: one seeking some sort of stability, even permanence, the other looking for some sort of direction to take. It's a serious matter, this divergence! It leads to an unsettled state of affairs, however much you are both enjoying it for the time being. Perhaps you should be prepared to talk more openly about these things; it needn't in any way lead to quick decisions: there's a lot to keep this affair afloat, so take your time.
This describes our relationship with Hendrik rather well, but somehow I don't think that was what the author intended!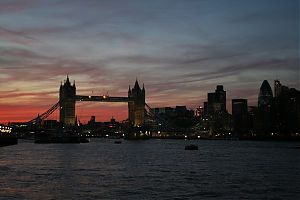 We woke up this morning to find frost on the inside of some of the saloon windows. Granted, it was -10 C overnight last night (though the "feels like" was closer to -15!), but we keep our thermostat up there set to 5C overnight to try and prevent this sort of thing…
So it's good that we'd planned ahead during the first cold snap at the end of November and installed some "ghetto double glazing" to those massive saloon windows. For anyone not familiar with Hendrik – she was operating as a summer-only hotel for canoeing holidays up until we bought her three years ago, so there's scant insulation throughout and only single glazing on all the windows. The saloon is currently the last phase of our (approx 10 year) renovation plans, so the cost of any small improvements made now to the saloon will be divided over a fair number of winters.
The small improvements on heat retention here came in the form of 3mm plexiglass sheets with foam weather stripping stuck around the edges, which were then screwed to the walls around the large saloon windows. We're not stupid – we know there's no seal there so it's not as if this is double-glazing, but at £50 a window (they're 1m by 1.2m each!), there is a noticeable difference of several degrees in the saloon with them installed, and it means we still get the light through and with no distortion to our view outside. There are tons of better window insulators out there, but none that would retain our light and view like this. And this also means we can just unscrew these in summer to regain the opening of those big windows (which give a beautiful breeze throughout when it's hot outside!) with only a few tell-tale screw holes remaining.
Over the course of two nights, James got them up and screwed into the walls (our neighbour Sujith was looking pretty grateful for a few extra degrees!)…
So now the big radiator in the saloon is struggling to keep the temperature at around 15-16C in there rather than 12-13C before the plexiglass was installed. That doesn't sound like much, but it is the difference between being able to sit comfortably with a sweater in there, vs having to wear a coat and gloves and see your breath eating dinner. At least our bedroom, bathroom, and my sewing room are plenty cosy right now!
TV alert!
Remember back in August when Nigel Slater came round for tea? Well,
our episode is finally airing this week
, as the last of the season! So if you're in the UK (or Ireland, or some parts of France and The Netherlands), please tune in to BBC1 on Wednesday 22 December at 20:30 to watch us (In Scotland it's slightly earlier, 19:05 on BBC2)! We'll be a 10 minute segment in the middle of the 30min show, so you can see our beautiful moorings and boat in the summertime sunshine. Which is a bit nicer than our deck looks right now!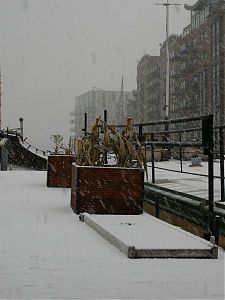 I don't think I posted about it initially (perhaps I was waiting until the job was completed?) but sometime last Spring I took it upon myself to repaint the badly chipped and ugly blue railings on the front deck to a nice, shiny black. But I got as far as prepping and painting the first coat on the starboard side when I got ill and was under strict orders not to be around volatile chemicals, so the railings had been left half done (as my mom painted the second coat on that side) since then.
But the chipped, blue railings on the port side were really bothering me, so during our brief non-quiet hours on a Saturday morning, I got fully suited up in a boilersuit, old shoes, thick rubber gloves, face mask, and goggles, and wire brushed all the surface rust and paint chips off the railings. Then I wiped them down, and got 1 1/2 coats through with black satin finish Hammerite before running out. After a brief break to restock, the port railing now looks as good as its twin!
It feels SO good to finally finish a project I started before I got sick! Triumph!
And you can see how nice it looks next to some of my salad (and baby corn, thanks to Rachael) in the planters James built for me: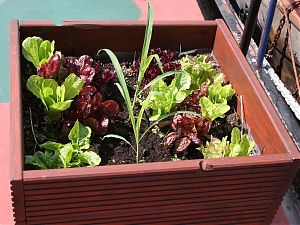 I don't like to admit it, but there was a bit of a deadline I was working towards (I like to think I can get on with things because WE want them done!), because a BBC film crew came out on Wednesday to film Nigel Slater and myself and James picking various herbs and vegetables around the moorings!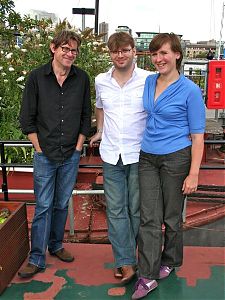 He and the crew were just so lovely and friendly and we had such a brilliant day! It'll be on BBC1 sometime in October or November. I'll of course post the date and links when I know more!
Welcome to any new, intrepid Italian readers who have found us recently!
For the rest of you, we've been featured in the Italian design magazine, IL24. Last month we showed the photographer around Hendrik and the moorings, so there's a bunch of photos, too.
Here's the article in its original Italian, or if you'd rather trust Google's translation, here's the article in quasi-English.
It's easy to miss the photo gallery at the bottom of the page, but for the extremely lazy, here are the Hendrik photos from it!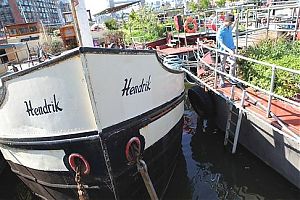 …a great view of the front of Hendrik…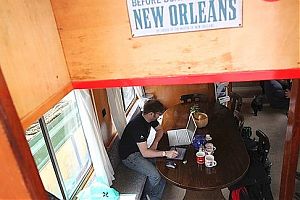 …a view inside the front door…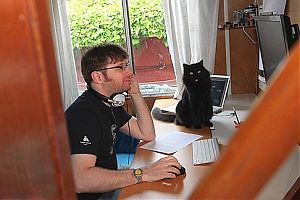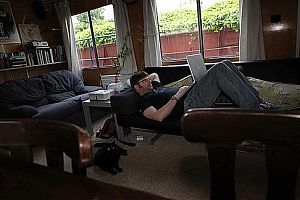 …James and Bosco – working hard!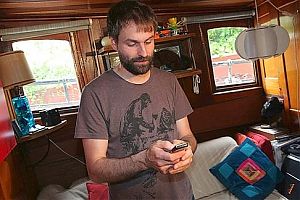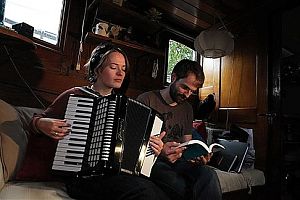 …and Euan and Rachel, our ridiculouusly lovely tenants in the Captain's Cabin (and doing rather more DIY than we are at the moment!)…
But do go and check out the rest of the article, because there's some good quotes from us and photos of a bunch of our fantastic neighbours, too.
Yesterday was my birthday, which means that it's also been exactly two years since Hendrik arrived in London from her perilous journey across the North Sea. Two years sounds like such a short time when you say it aloud, but it feels so much longer when we think about how much it feels like home, both on the boat and the moorings.
We're not anywhere near as far along with the renovations as we hoped to be, but we're taking things at our own paces and doing things right, replacing dying systems with quality that should last us for a very long time. We're still looking at a rough ten year estimate to fully finish everything and rename her back to the original "Tijdgeest" ("zeitgeist" in English), though.
And it also means we're only three years away from paying her off now, which should accelerate matters. :)
An awful lot has been going on around Chez Hendrik in the past few weeks, but we've been terrible bloggers about actually reporting on it.
First up was the snow back on 2 February! We woke up to a FULL FOOT of snow on deck! We're not really prepared for such amounts here, so we had to break out our rambling boots and use our squeegee to clear a path to the door (to actually get the saloon door open, too).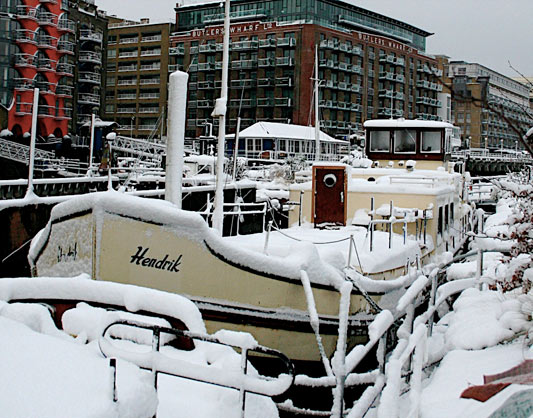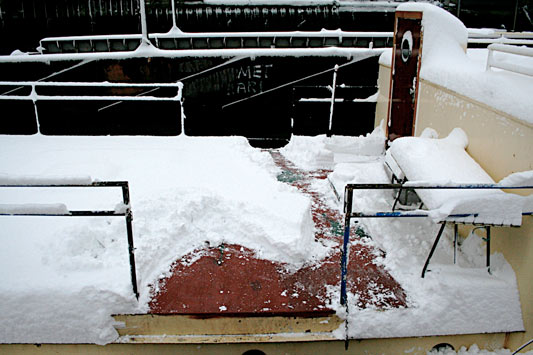 (More of our snowy London photos here)
So the cold and wet have obviously slowed all our exterior work, so we've been pushing hard the past few weekends to finally finish up the Captain's Cabin for rental as well as convert what's now James's temporary wardrobe (1 1/2 hotel rooms) into a temporary bedroom for us. I think we can safely say we've bought all the supplies now (save the worktop for the kitchenette) so what's left is just putting it all together.
James has been putting his new tools to good use (at some point he's going to show them off to you, he says) and has been busy installing the new plinth heaters in the Captain's Cabin. One is going into the base of the sofa in the lounge there:

And the other is going at the foot of the bed in the bedroom, into a plinth being purpose-made for it:

These hook into the boiler (via a new pump that's on order so both sides of the boat will be independently heated) like a normal radiator, but have inverted fans to blow the warm air into the room. Since we were upheaving so much to get these in, we quickly borrowed a sheet of Celotex off Steve and Lorna to put down on the floorboards to minimise heat loss, then a bunch of pegboard on top of that in the sofa base to minimise damage to the Celotex (as the base will still be a useful storage spot). James has also run the Hep20 to all the right spots and drilled the holes, ready to hook everything up…
The other biggie is that we went out and bought new carpet (remnants) for the entire Captain's Cabin, wheelhouse, and probably enough to make our temporary bedroom a bit cozier, too. The carpets were cheap, but we went for the super-insulating, draft-proof underlay after having cold feet all winter, which wasn't. But the more winters you live on a boat, the most you come to value good insulation, so we think it's worth it.
Here's our new additions in the saloon, while we wait for the wheelhouse floor to dry and our hairball-prone cat to stop going back there:
And myself? Well, I've been concentrating mostly on getting the old wardrobe into working order as a bedroom, so I've been hacking away at old radiator and cold water pipes. The latter aren't too bad, but the old radiator pipes are gross – lots of viscous black stuff pouring out of them despite draining the system and there never being any radiators down in the hotel rooms anyway (arrrgh)!
So hopefully with a few more weekends we'll have a few Completed rather than In Progress shots to show off…
It snowed here on Tuesday night. Apparently this is the first October snowfall here in London for over 70 years. Lucky us to get snow in October after two cold, wet "summers" in a row, and a winter that lasted (complete with flurries) through April. Lucky, lucky us.
Anyway, this has given us a long time to contemplate our heating systems and what we'd like to improve for the future. What we've learned is:


The electric blanket is the best money we've ever spent. Yes, this single item has increased our quality of life more than anything else, and it means that we don't need to turn the heating on until way, way after all our friends have. For £20 you, too, can have blissful nights of sleep. Just don't think about emerging in the cold morning, okay? NB: As pointed out to us by our friends who experienced a house fire caused by an electric blanket, these things are very dangerous, and you should treat them with extreme caution as we do – Just like we'd never leave the gas on or an open flame unattended, we also never, ever have the electric blanket on if we're not right in the room with it!


The diesel stove in the captain's cabin absolutely drinks diesel and is therefore, really expensive to run. When we were running it on low last winter (and "low" is hot enough to almost be too hot back there!) we were going through 200 liters of diesel every 4-6 weeks. By point of comparison, the last 200 liters has lasted us 7 months with just the diesel boiler running. So as much as we love the aesthetics of it back there, it's fiddly to light, has problems with excessive rain and high winds, and is expensive to boot. So we're looking for another heating option that won't disturb the woodwork in the back (so no big ugly radiators!) and, since we're looking to rent it soon, something that is easy to operate. Right now the lead contender is these 12v plinth heaters. They're low profile, fit into existing cupboards, plumb into our existing boiler like a radiator would, and because these are designed for high moisture areas, the fans are 12v (with a supplied 240v transformer that we just won't use). The plan now is to put one in the kitchenette area and another in the bedroom, near floor level. Anyone care to poke holes in our plan before we spend £500?


The deck outside gets incredibly slippery when frozen, even when it looks matte. Bosco has already slid sideways down the back deck, we came home Tuesday night to find our

BBQ

table an inch away from being in the river, and I myself slipped and took a high-paced rocket slide down the low tide tilted front deck just last night. What we really need is a week of warmish weather to paint the deck with the grippy stuff, but with the current below-freezing temps, it'd never dry.


Oh yeah – and I need to sew a lot more jumpers and mittens! Gloves and mittens have a tendency to get wet immediately after touching cold railings and need to be swapped out in rotation as they dry…

Oh, and I just realised we never posted about painting our front deck railings – we're making them all black because the many different shades of blue was just gross…

This one's only got the first coat on, but you get the idea.

The garden barges always have a lot of snails out after a rainstorm, and I take great delight in chucking them into the river with that satisfying "plop" sound (far better than the sickening "crunch" under your boots).

Somehow, one intrepid explorer snail managed to not only get onto our boat but actually inside it:

It also appears to be eating fluff of some sort. But that's not the mindblowing part. Have a look at where I found him…

That's right, on the ceiling inside the bathroom off the saloon!! Somehow, this snail managed to crawl off the gardens onto the garden barge's sidedecks, jump a several foot gap onto our boat (or perhaps climbed a mooring rope?) onto our side decks, over to the bathroom, climb up the exterior wall to the porthole (which is at head height!), through the open porthole, then further up the interior wall to the ceiling, and then several feet across the ceiling to where I found him. Even more surprising is that we're still not even using this shower yet, so it's not like the moisture would draw him in – it's still full of plaster and building stuff while we wait for Nikolaj to diagnose our mysterious drip…

On Saturday we celebrated Hendrik's 75th birthday. She rolled out of the yard on 21 June 1933 (as "Tijdgeest" then!) and we wanted to mark the occasion with a big party.

So out came the balloons, crisps & dip, beers, and barbecues and we invited some friends round to celebrate. Hendrik's "This Is Your Life!"-style photobook was a big hit, too, and James and I opted to dress 1930s-style to mark the occasion.

It was really sweet when it was time to bring out the retro birthday cake (chocolate cake with vanilla icing and hundreds & thousands on top!) and sing Happy Birthday – it was quite windy so we had a hard time lighting the candles, but they stayed lit throughout the entire song right up until the part where we started clapping at the end… And then suddenly, with a big gust both candles blew out at once! It was like Hendrik was blowing them out himself. Awww!

As it turned out, Saturday was cause for more celebration than just the birthday… For one, we were celebrating having running water again after our new old hotness water pump died on Tuesday night. I left work for a few hours on Wednesday to run to Machine Mart, load up my credit card with a similar new pump, drag it home on a luggage dolly, and hoof it back to the office. Only to discover that the pumps were not so similar that we could just use the old fitting as-is. Cue a frantic call to Nikolaj, who saved our bacon (pump) yet again by creating a new flexible hookup that will work with either pump. The old one is still under warranty, so we'll get the replacement impeller for it and then have that in reserve for when this new pump fails, and just cycle them out.

But it was touch and go on Saturday morning, knowing we had people coming at 3 and we needed water to flush the toilets for them and we really needed showers before everyone arrived… And voila, the pump started making pressure at 2:30!! And in retrospect, this new model is actually MUCH quieter and quicker to make pressure than the old one, so it's not really such a bad thing.

And finally, our other cause for celebration is that James proposed on Thursday night!

We'd picked out the ring in February when we were in Dublin, but Thursday night was definitely a surprise after all that waiting! We're looking to get married next fall at Bletchley Park, with a smaller reception in Pennsylvania shortly afterwards.