In amongst all our DIY (which we've been too busy to document in any timely fashion, sorry!), I'm very happy to report that my broccoli experiment has been a success! They've survived shallow soil (via a box on deck), caterpillar attacks, and an awfully cold winter to now sport wonderful "broccoli-looking things" on top! Yum!
Even the very small plants have now got tasty purple sprouting broccoli at their tips, so we'll have a fine feast at some point this week! As you can tell by my deplorable lack of vocabulary, I am not a seasoned gardener of any sort. I tend to go by the "stick it in the ground and see what happens" school of thought, and it wasn't until midway through last year that I searched the internet and discovered you have to let broccoli live an entire year before you can eat it…
So round about December I finally planted some daffodil bulbs I found at What!!! for £1 (no, really, the shop really is called that, with three exclamation points), which have now blossomed into my all-time favourite flower, just in time for my birthday next week!

More on last weekend's crazy DIY-a-thon once we get some photos…
There's always been a bit of a leak in the wheelhouse roof, but it's been steadily growing from a drip to a stream over the past year so it was time to get a stepladder out an investigate the wheelhouse roof for the first time…
All in all, it's actually not looking too terrible up there. It just needs a good sanding and a dose of some exterior paint and hopefully the leak should be okay, as it appears to just be seeping in through the bare wood (the dark area just to the left of the beam, just in front of the solar panels).
And speaking of solar panels, take a fine look at our pride and joy – we've often said it's just about the only thing the previous owners did right! We've never cleaned or cleared or even looked at them before now, and they've been cranking out enough power to charge our battery bank for our entire 24v system. Last summer the bit of our inverter that charges the batteries from the mains broke and we didn't notice it for several months, until Nikolaj discovered it when he was investigating something else back in there (I swear we posted about this before, but I'll be damned if I can find anything now). We didn't notice anything was amiss because the solar panels were happily charging the batteries enough without any mains intervention. So most of the pumps (fresh water as the exception), the toilets, and most of the lighting is essentially free for us, and we're definitely planning on exploiting this when we build our bedrooms, en suites, and lounge!
The mains charging was quickly fixed, but that little experiment has shown us exactly how efficient these panels are, and there's not even that many of them, in (not so sunny) London, under a cover of dirt and grime…
We've got a combination fridge/freezer in the Captain's Cabin kitchenette. It's our only freezer, but the form factor is awkward as the top of it is too high to use as a worktop, so when the neighbours were complaining about wanting a bigger fridge for the five of them, we jumped on the chance for a trade. We're getting their little under-counter fridge for the the kitchenette, and they're getting our fridge-freezer. Everyone wins!
We bought a big upright freezer for the galley, and we're only just now getting used to having ice on the same side of the boat as the bar. Oh, the luxury! Then we went to move the fridge-freezer over to theirs on Sunday, and realised that we've added a lot more crap to the entryway walls since it was last brought in (a gift from our other neighbours a year ago!) and there was now no physical way it would fit up the stairs and out either the door or the half-height hatch without somehow turning into Gumby. So we wiped the sweat from our brows and went about lifting it out through the skylight…
And it was easy. Really, really easy. Honestly, that's the way we're moving everything in from here on out – we'd never attempted it before because we thought the frame was way more complicated to remove from that.
So on Sunday we were left with a fridge-sized hole in the kitchenette: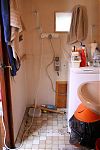 (We did clean up eventually) The fridge will go on the left, the washer will come over to the other side with us once our bedroom is built over there, to be replaced with shelving, and a nice worktop will go over both. Add some small appliances and it's an instant kitchenette!
While we had the skylight off, we realised we should plug the gaps with rockwool, seal up the drafts, and reattach boards that were coming off in preparation for winter…
And in beginning to clear the hotel part of the boat in preparation for building the bedrooms and lounge, we moved the spare bed mattress to the best place we know for keeping mattresses safe, clean and out of the way…

It's a pretty sweet throne-bed now, with triple the bounce!
This is our second summer on the boat, and therefore, my second summer to try to grow anything that isn't a beginner-level herb on our back deck (though you'll notice I still can't say no to lavender, mint, rosemary, and basil!).
I was feeling a bit limited by our pots, however, so I spied an alternate use for an old drawer that used to be beneath the captains cabin bunkbeds. After drilling a bunch of drainage holes along the downhill edge and coating the whole thing in a layer of varnish, I filled it up with some compost and planted in a bunch of french bean and broccoli sproutlings I'd grown from seed in the wheelhouse (which doubles nicely as a greenhouse with all those windows!).
Here's some shots of the garden as it is now, mid-summerish:
Now, you may be confused about the title, but I'd noticed a week or so ago that my broccoli was starting to look decidedly Emmentalish, and I found the cause to be an awful lot of very hungry caterpillars. Some are of the big black variety, and others are still only at the tiny green stage, but all have to be picked off every night and sent overboard to their watery graves so my poor plants have at least some hope of feeding us come Spring!

I'm hoping I've got the bulk of the critters and eggs now, so hopefully my tedious evening ritual of checking the underside of every single leaf won't continue much longer… I've suddenly got a new respect for organic broccoli farmers!
Thankfully, they seem to not like the taste of beans at all, because the leaves are fine and I'm able to pick an extraordinary amount of them every single night. Here's just one night's picking, and I get this many about every night….

I've been told to pick the big ones regularly to make sure the plant keeps producing, so it means we've pretty much got a constant supply of really tasty green beans in the fridge at all times.
You wouldn't think it'd take that long to grind down the main deck, but with our noise restrictions meaning we can only work on Saturday mornings (since we're at work during the week and arrive home during quiet hours), the weather being generally uncooperative, and social plans getting in the way, we've only just completed the last of the deck grinding this weekend!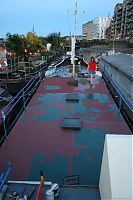 The red areas are everywhere we've taken off the existing layers of uneven paint and rust down to the bare steel, and then temporarily protected these areas from the elements with red oxide. The next step is to rough up everything with a wire brush and then (finally!) we can roller on our green Hammerite.
...and then start on the side decks. We didn't realise we'd bought the Forth Bridge...
The other progress on our big list is that James was finally able to locate the inverted electrical socket last night. The power for the moorings (and half the street) went out last night and it seemed as good a time as any to switch on the inverter and start plugging our work light into mystery sockets. We figured it must be in the engine room, but none of those lit the test bulb, and neither did the socket directly next to the inverter… But one of the sockets in the wheelhouse did, so through a bit of an extension cable, we were able to plug our water pump in up there so we can still wash up and flush the toilets. The next step is to determine if the inverter can handle the cold and hot water pumps at the same time, meaning we could theoretically have hot showers while unplugged or on the move!
And in other electrical news, our galvanic isolator has arrived! James reckons it should be pretty straightforward to install, so fingers crossed he doesn't end up with an Einstein 'do!
Open Garden Squares Weekend was a grand success! James and I were up baking until midnight on both Friday and Saturday nights, but our little bake sale raised nearly £350 for the RNLI! Not too shabby considering that all the cupcakes, cakes, cookies, and teas and coffees were going for 50p or a pound each… The visitors really seemed to take more notice of the boats this year, too, thanks to the laminated info sheets we each hung up on the walkways near our barges. It was almost like a little self-guided tour for the garden revellers!
Otherwise, we've been doing lots of grinding – James took over the prettification of our saloon window frames. The big windows had to be boarded up for the crossing, and so had four steel tabs welded onto each frame to keep the plywood in. In our haste to get daylight into the saloon when we finally arrived in London, they were grinded off in a less-than-expert way and resulted in some ugly, rusty tabs: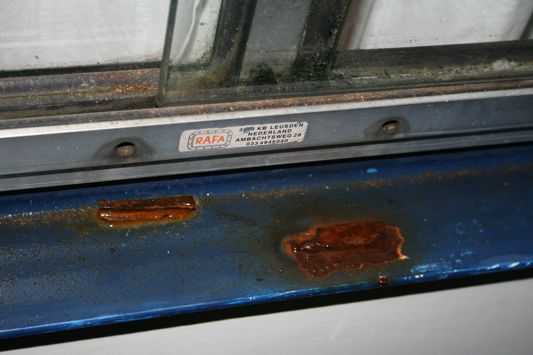 With his new-found grinding skills, James took these off entirely and repainted the frames (and a little bit of the wall, oops!) with some blue Hammerite. Much better!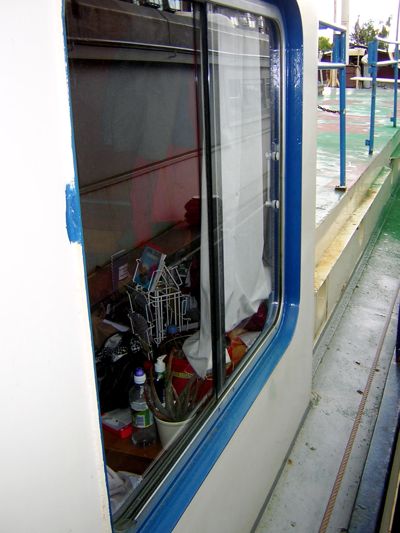 And then Saturday morning we attacked the deck yet again. This time I was wearing our neighbour's gas-mask-type full face mask and air filter, plus earplugs and gloves. Much more enjoyable, especially if you consider the amount of paint dust we're kicking up: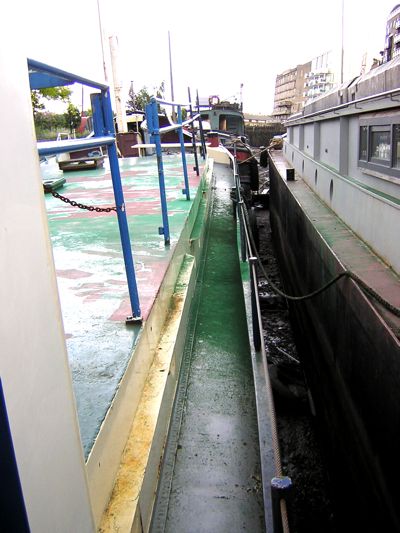 We were hoping to have the deck nicely painted in time for Hendrik's 75th birthday on Saturday*, but with a bunch of wet Saturdays in late May, it just hasn't been realistic to finish in time. Still, we managed to do just the bright red portion (in the upper right-ish) in 3 hours on Saturday…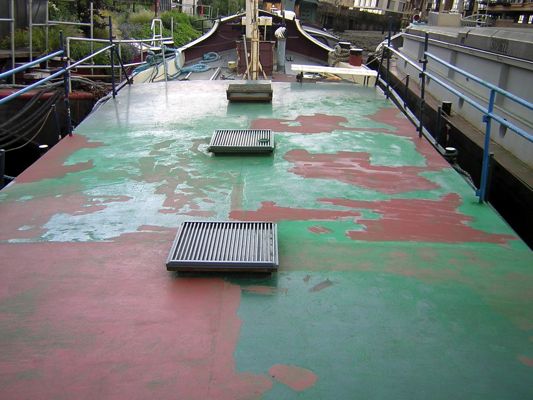 So I reckon one more good Saturday and we'll have finished with the top deck grinding and we can finally roll on the new, green topcoat! (and then start on the side decks, boo!)
*If we know you and you haven't had an invite, don't fret. We've been too busy to send out proper invites and have just been using word-of-mouth. So just swing by around 3pm with some booze and something for the BBQ. And we do have a wet weather plan!
We both took the day off work yesterday to continue grinding the deck. The green paint dust was proving to be a bit of a nuisance, as you can see.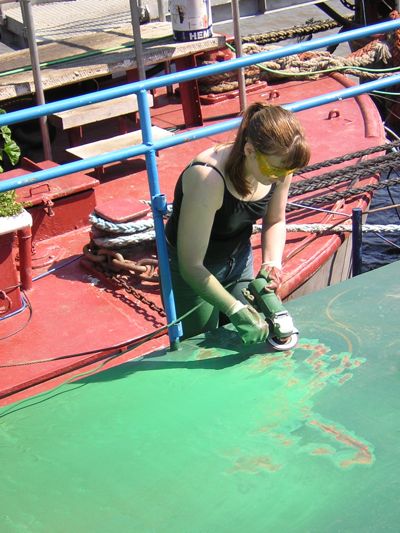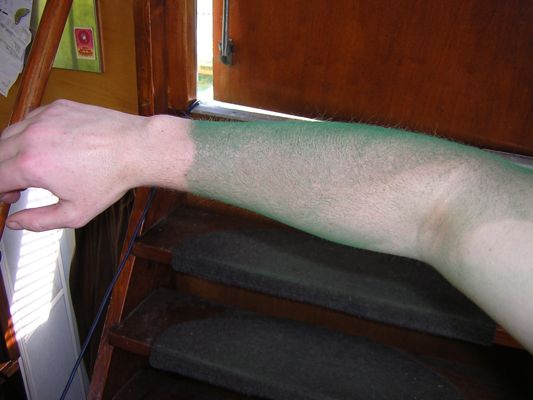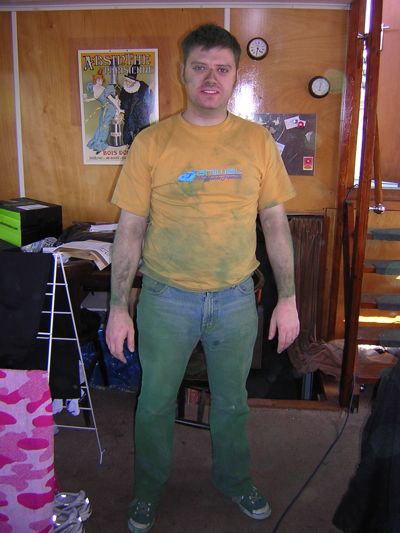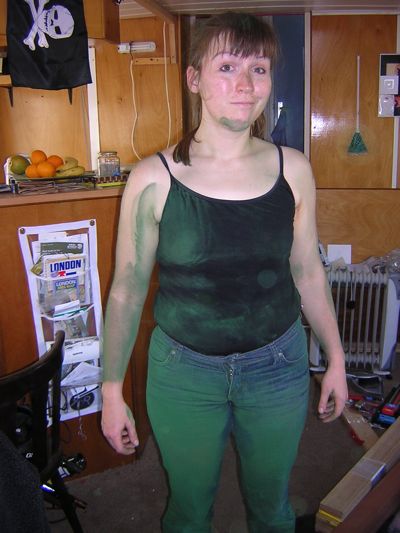 We ended the day thoroughly exhausted (James was very nearly falling asleep in his supper) with still a good half of the deck remaining. Good thing we've got a fresh recruit coming to help on Saturday…
Edit: ok, I'm getting sick of being asked "why aren't you wearing masks?" so I'm just going to address this right now – we have masks, those white ones with elastic that look like hospital masks. But if you've ever worn one with any sort of goggles, you'll also know that mask + goggles = fogging. And frankly, we'd both rather inhale a bit of paint dust and blow green tissues for the next few days than grind off a thumb.
A warm and sunny long weekend gave us lots of opportunities to get work done around the boat!
Saturday involved lots more angle grinding on the deck (and the realisation that we could get twice as much done with a second angle grinder), a trip to the wood merchants to collect the beautiful oak and mahogany-a-like tongue and groove for the back wall of our captain's cabin bedroom, the purchase of a second angle grinder at B&Q, and finally a bunch of patch painting on the deck and our first coat of grippy paint onto the gunnel where we regularly step aboard.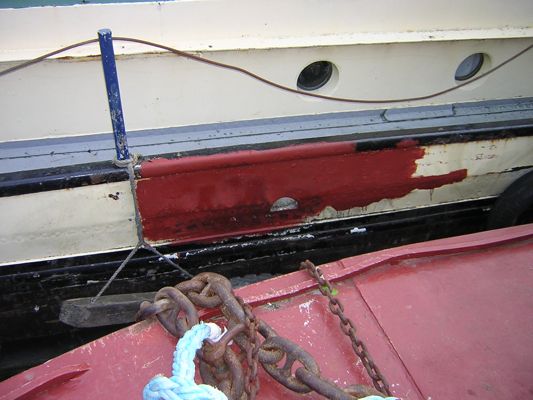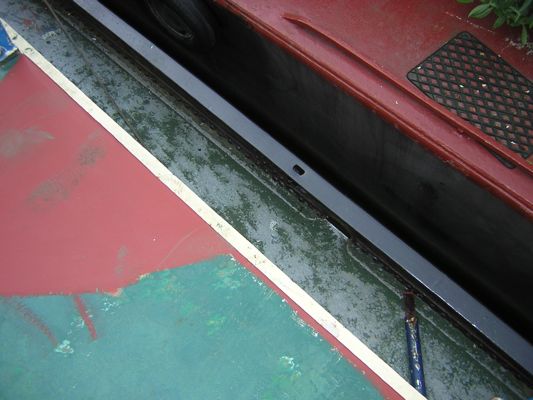 Then Sunday and Monday we attacked the shower off the saloon. Nikolaj had to rip off a portion of the wall when he was connecting the new hot water supply, and rebuilding it wasn't very high on our priority list while we had the captain's cabin shower to get clean in. But not being able to shower at low tide (due to the angle of the outflow from that shower being ever-so-slightly uphill when we're settled) is getting very tedious when it coincides with that time between waking up and leaving for work, so we're pushing ahead to make this other shower watertight…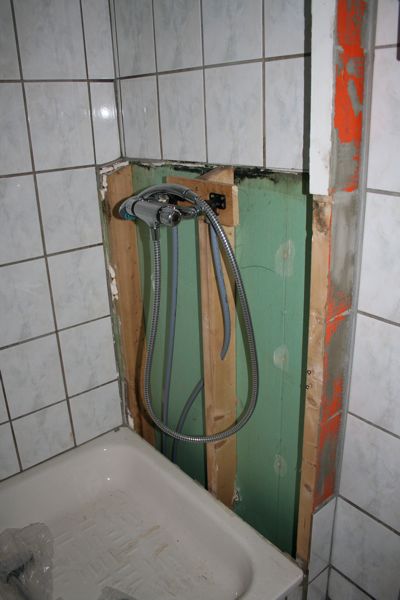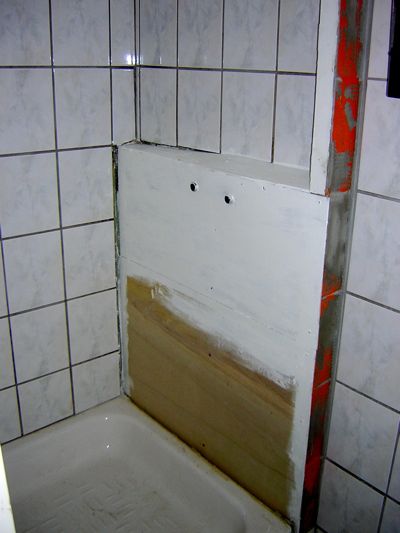 We ran out of primer to finish that up and start tiling, but hopefully that will be done awfully soon. We very luckily discovered a spare pack of tiles in the hold, so at least it'll match, but beyond that we're not too fussed how it looks as this will all get ripped out in 5-10 years' time when we rip out all the tiny toilet cubicles and make one big über bathroom for ourselves…
There should be more progress reports soon, since both of us are taking the day off tomorrow to grind down more spots on the deck while the weather's so nice. We have to take advantage of the nice weather while we have it!
Finally, a nice warm, sunny Saturday! We checked the forecast and got up early to start attacking the deck before quiet hours came into force at 1pm on Saturdays (no noise allowed at all on Sundays!).
Our initial treatment of the deck involves three steps:



Using an angle grinder to take any rust spots back to the bare metal

Using a wire brush attachment on a drill to exfoliate off any loose paint chips, and

Painting over the bare metal spots with red oxide to prevent rust until the big paint job

I'm happy to say that, since he was a guest, Alex took the most fun angle grinding job, I got the wire brushing, and James was left to sweep away the considerable green dust and paint after us.
It was all going well until we smelt electrons… and realised we'd completely killed the angle grinder! So the boys went off to Machine Mart to buy a new one for next time, and I used the last hour of "noisy hours" to sand down the window frames on the Captain's Cabin and stain/varnish them back into some semblance of health.

But neither the day nor the sunshine was over by the time they got back, so James went about dismantling the copper pipes from the old LPG installation (Calor Force are very happy to work on boats, fyi! They even have guys trained up on BSS regulations, which floored me…) in order to sell them for scrap. Our last lot of copper pipes from the old hot water system earned us a cool £50 so we hold onto every scrap now. You can also see James's red oxide deck patching in the foreground, so the areas that were just wire brushed aren't nearly as obvious.

James and Alex also thought ahead and bought supplies for next weekend's project, realising that the only environment more hostile than our fenders is B&Q on a bank holiday Saturday… When Nikolaj was piping in our hot water supply, he had to remove a portion of the starboard toilet's shower wall, so we've got the supplies to rebuild the wall and tile it over again.
A shower at low tide? What a luxury…