Just in case you were in any doubt that boat people are crazy… Melissa ran 10k today for the RNLI. In the pouring rain, wind, and cold!
Really, as it turned out, the rain wasn't as big a hindrance as the sight of thousands of runners overtaking you even when you know you're running way faster than usual! 54 minutes was the target time – but Melissa ended up finishing in 51:13, a whopping 2 minutes faster than her previous personal best!!
The Lifeboats cheering crew were great support out in front of their central London station, and James braved the wet weather to get some nice photos, too.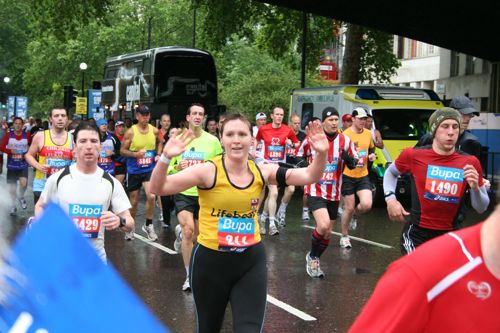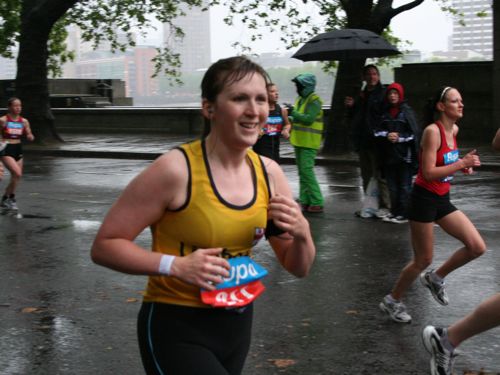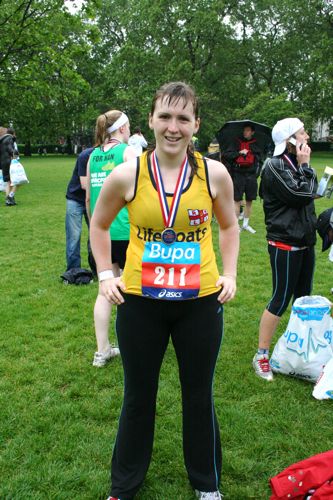 If you haven't had a chance to donate to the RNLI yet, you've still got a few more days! Thanks very much to everyone who's already given!
On Saturday evening we hosted the first charity dinner aboard Hendrik in aid of the RNLI (Royal Lifeboats). Luckily we had an easy start as it was only a seating for one, Alex, who was helping us out all weekend anyway, and didn't mind sharing the table with the hired help!

The dinner consisted of three courses and drinks, and he was very pleased with the standards of cuisine (the plates were literally licked clean!).
The Menu!
Bistro Hendrik in support of RNLI
Dinner seating
Saturday 26 April 2008
Starter
Salad of freshly smoked halloumi cheese, wild Thames rocket, and organic Sicillian blood oranges
Main
Alphonso mango chicken
Canadian wild rice
Pan fried organic bok choi
Drinks
Casillero de Diablo cabernet sauvignon
Australian Pino Grigio
San Miguel, Staropramen, Ales
Bottled cider
Still or sparkling water
A selection of juices and soft drinks
Dessert
Geleé of fresh lemon and Thames lavender
English breakfast or Lady Grey tea
A selection of herbal teas
Coffee
A selection of liqeurs
Pedro Ximinez dessert wine
We'll be open for seatings until May 26, so there's still time to book (via the comments) or just donate using the widget on the right. All the donations go directly to volunteer training at our local centre, which is the one on the Embankment in central London.
The first indication that anything was out of the ordinary was when we woke up on Sunday morning to see the skylight above our bed was covered in snow. For the first time in several years, central London had snow that actually stuck, even though it was under an inch in our area. Bad luck it had to happen in April, though, after the coldest, wettest summer on record and a very long, cold winter.
This wasn't the first time we've seen snow settle on Hendrik, though – last January we had to drive a carload of navigational gear to Hendrik's old mooring in Holland in advance of the crossing, and our one night spent on the saloon floor coincided with a near blizzard in eastern Holland!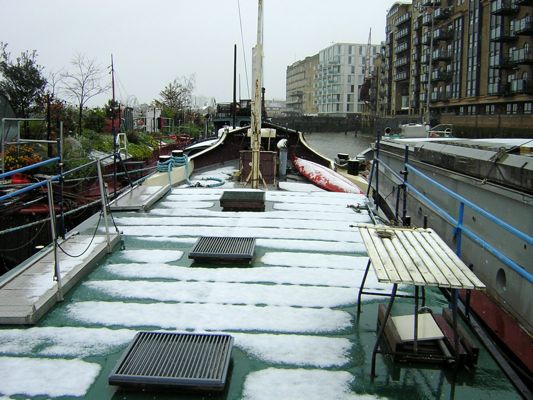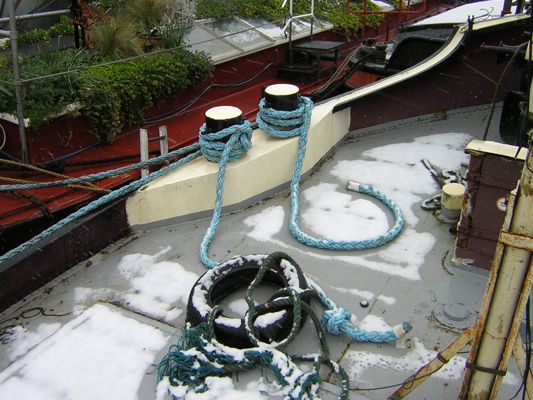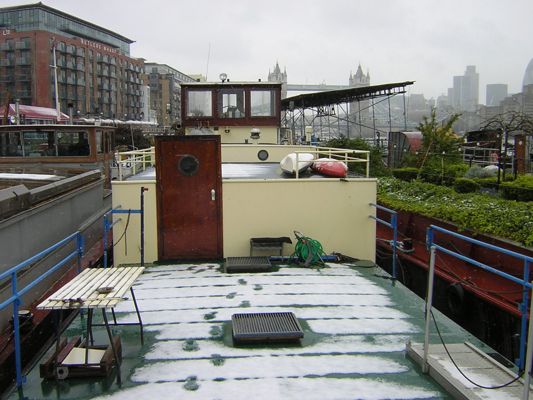 It may be snow in April but still, at least it covers up the rust spots! (No, really, the exterior paint job is one of the big reasons we really want it to warm up soon!)
Exactly one year ago today, Hendrik arrived in London after a 36 hour journey from The Netherlands over the North Sea. This was after a month and a half of watching the shipping forecast every day, living out of suitcases in James's parents' house, and hoping against hope that we'd be in our boat in time for Melissa's birthday.
It arrived in time, on the evening of her 28th birthday.
I'd love to say we celebrated the anniversary this weekend, but we were treated to the worst, coldest weather possible. On Friday we had a massive hail storm: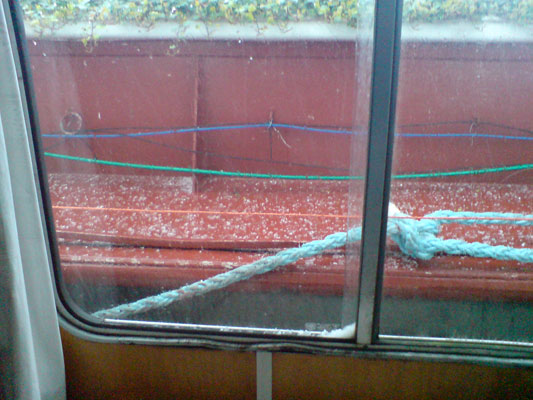 Then throughout Saturday, Sunday, and Monday we had snow flurries: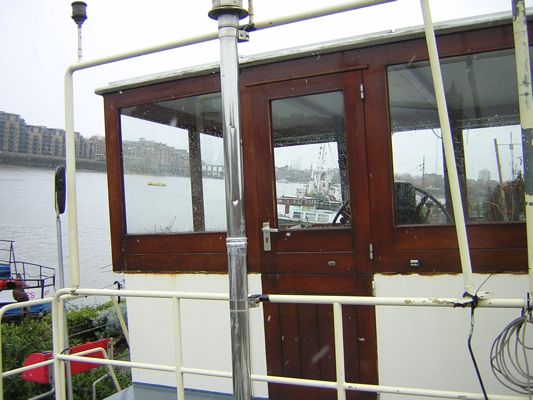 (it was much more impressive in person!) So with the freezing cold, we pretty much took it easy and stayed snuggled up in the captain's cabin, hoping for warmth and sunshine this summer. The funny thing is, what with the date of Easter moving around, the anniversary of our moving in actually happened before the anniversary of the boat arriving!
You may have noticed a new addition to our sidebar on the right, flashing and moving and generally getting your attention in a (hopefully) not too obtrusive way. I'm running the Bupa London 10,000 10k race in May, and I'm putting myself through all the training, sweat, and aches and pains in aid of the Royal Lifeboats (RNLI).
For obvious reasons, this is a charity very close to our daily lives, as they're the search and rescue team that would come to our aid if anything should happen to us on the tidal Thames or in UK coastal waters. They're entirely staffed by volunteers and don't chug or bother you on the streets and are in general just a very nice charity. The funds I raise will go directly to training the volunteers at our local base, as they've got to have very specialised (and expensive) training to carry out their duties.
So if you have any spare cash you'd like to send the RNLI's way, please use the shiny widget on the right, or this-here donation button:
We're also contemplating opening up Hendrik for some charity dinners for a few very limited seatings in April to help raise funds for the RNLI. We're both very keen cooks and can cook to a multitude of dietary restrictions, so if you're interesting in dining on deck (weather permitting, otherwise in the saloon) for a minimum donation to the RNLI, please leave a comment below so we can judge interest and arrange a date for you to come dine on the Thames.
Back in January Hendrik played host to a full team of models, hair and makeup artists, a photographer, and one very proud designer. We were the location for Georgie W Couture's Fall/Winter 08/09 Collection photoshoot on a very cold Saturday (the female model was a true pro and could turn off the shivering on command!). You can see the full collection of photos from the shoot if you select Collections and choose Fall/Winter 08/09 on the above site, but here's a selection to help glamorise your mental images of our boat…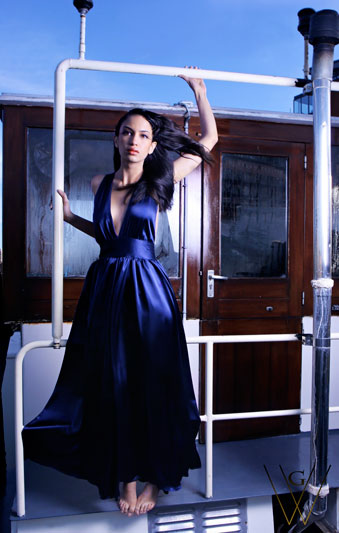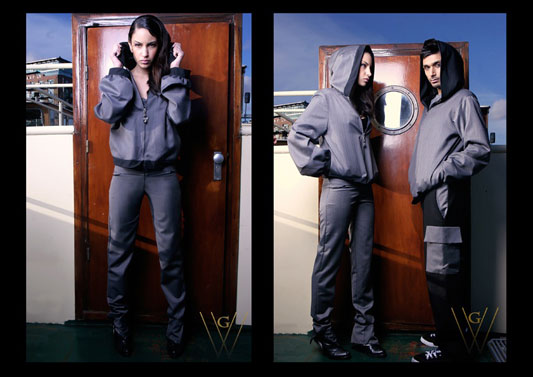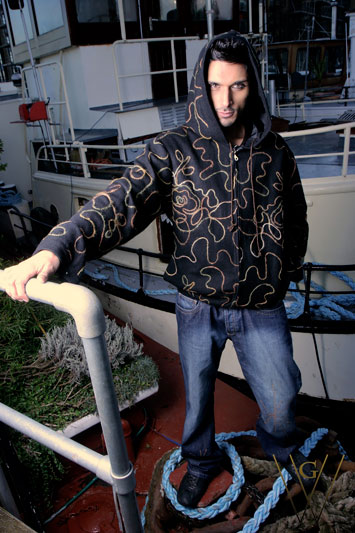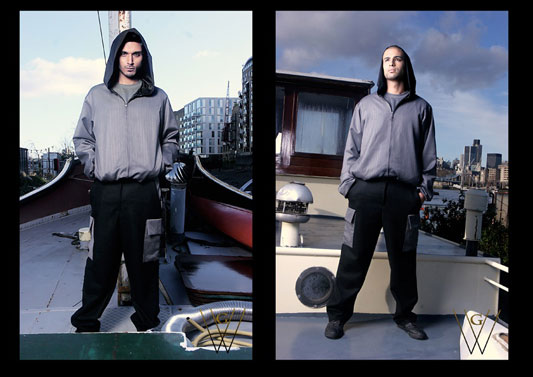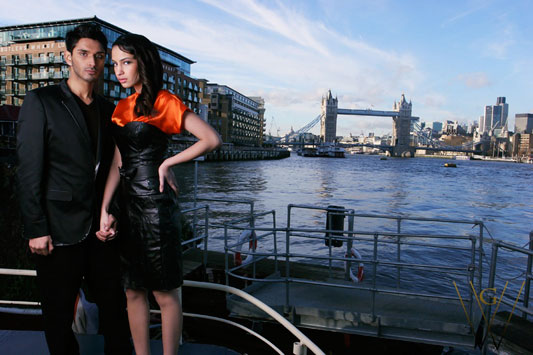 Georgie W Couture should be heading down the catwalk at Nolcha Fashion Week as I type this, which is pretty exciting!
Saturday was quite the busy day – after a very late night seeing Eddie Izzard at a secret work-in-progress show, we got up early and painted the wheelhouse ceiling to protect against further mould and mildew. Keeping one window open a crack wasn't quite enough to stave of condensation, though, and I had to brush some new growth off the ceiling beams before starting, but opening two windows seems to be doing the trick. I first coated the wooden beams and the portions of the wheel where the varnish had worn away over time with a new coat of outdoor clear varnish and then painted the B-I-N onto the white ceiling portions. I must remember to stir paint instead of just shaking it next time in order to avoid the first coat being thin and the last being the consistency of peanut butter.
We finished that in time to get to the West End for some birthday drinks, then finally went rather far upstream on the Thames to visit friends of ours who purchased their Luxemotor a few months ago. Theirs is of similar age (1931) and size (30m x 4.5m) to ours so it was really nice to see all the similarities and differences in layout. The captain's cabin on theirs had the most similarities, right down to having the same design of door handle as Hendrik! It was also nice to share tips and techniques that only other boat owners would care about and to get out to see how a different mooring operates.
We picked up a grand tip in the use of Celotex insulation, but now we're starting to have TOO many insulation choices for remodelling the hotel room space and we're not quite sure which is best. Alongside the Celotex, there's also Thinsulate (easy and mess-free to install, but doesn't form a moisture barrier apparently), spray foam (which creates a chemical bond to the hull, stopping moisture, but is very messy and requires professional installation and all the conduits laid out in advance), and then there's this Thermalite insulating paint which I just found out about which almost seems too good to be true (two coats of paint and it's insulated with a moisture barrier). What we'd love to do is get samples of all four and try them out for ourselves, but I'm guessing it's going to be difficult and expensive so we'll have to rely on others' recommendations, like most of our other boat supplies thus far.
Or "What we've been up to since we last posted but not including anything diesel stove related because James is preparing to write a novel on that". Anyway, sorry to be terribly quiet but we've been out doing things and have been awful about actually documenting them.
First up was our Christmas activities. Our mooring has an advent tradition where each boat takes a different night in December to have a party and officially turn on their outdoor lights. So for nearly every night, we had a party to go to with hardly a stumble home! For ours we served Pimm's Winterand homemade christmas cookies and everyone helped to make popcorn garlands and snowflakes cut from the thousands of white circular coffee filters leftover from the hotel.
Then after a delightful Christmas Day itself spent gorging ourselves on duck and playing our new Wii, we buckled down and resolved to clear the deck before New Year's. So we rented a van and carted away the 5 diesel barrels and 7 LPG bottles off to the council's recycling site.

Then we realised we had an empty van so we used the opportunity to go round B&Q to get a new radiator for the saloon (as the 30 year old current one exploded into geysers once hooked up to our bitchin' new boiler), various bits from Ikea, and beer replenishing at Costco.
The Ikea purchases included a beautiful tin bathroom cabinet that must've been designed precisely for boats (strong magnetic catches and tall lips on every shelf!):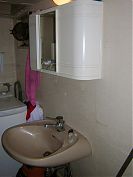 ...a big shaggy black wool rug (which Bosco loves to lie on to become The Incredible Invisible Cat!) and a small bucket armchair more in keeping with the scale of the captain's cabin:

Whilst visiting with our neighbour, we obtained a big plank of thick pine which was exactly the kind we were looking for to replace the galley steps, some of which had rotted away, making things very treacherous. So James went ahead and chiselled and unbolted the old stairs to reveal the metal framework underneath, and we cut the board to the right widths.
That's as far as we got, though, but even just having the bare metal has made it much easier to use the stairs that having a few missing ones as before. The other project in mid-completion is a passageway between the captain's cabin and the wheelhouse. We were able to punch through the bottom of a cabinet, but we'll need some steps welded on before we can actually use it. It'll be so nice to be able to use the wheelhouse without having to put on a coat or shoes and go out into the cold or rain!
Whilst dismantling the bunkbeds, we discovered lots of fun stuff under the bottom bunks – lots of pfennigs and guilders, some stencils used to mark the canoes, four glass light covers, and several plastic menu holders like the kind you see in cafes. In one such holder there was a price list for souvenirs, including Hendrik teeshirts! Alas, we kept hoping we'd come across a secret stash of old shirts but none ever surfaced.
So through the magic of the internet and a bit of Photoshop, I recreated a suitably retro Kanotel Hendrik design using some photos of her when she was slipped, some wording from other Hendrik brochures, and the lovely, lovely people at Bountee.com.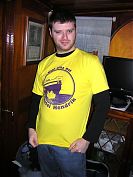 James's birthday is tomorrow, but I gave him his shirt early so he could wear it out to the pub celebrations. The nice thing about Bountee is that there's no minimum print run and you don't need to win a popularity contest like Threadless. And the print quality is sooooooo much better than CafePress – they print directly on the shirts instead of on some transfer that yellows the first time you wash it, ugh.
Anyway, before I gush on too much, I wanted to let you know that you too can have your own Kanotel Hendrik shirt if you so desire. They're available in a regular, guy's fit teeshirt or a girly shirt, and I've set them at the lowest possible price so I'm not making any commission on the deal or anything.
In other news – I'd update you on the heating situation but that'd just be depressing so I'll leave it until we've got some progress to report.
We have a sheet of paper on the saloon table which was split in two: one side was To Buy, and the other was To Do. Last weekend we took a streetcar and did one of those "four times a year" shops where we filled the boot full of necessities, so this weekend we were left with the To Do side.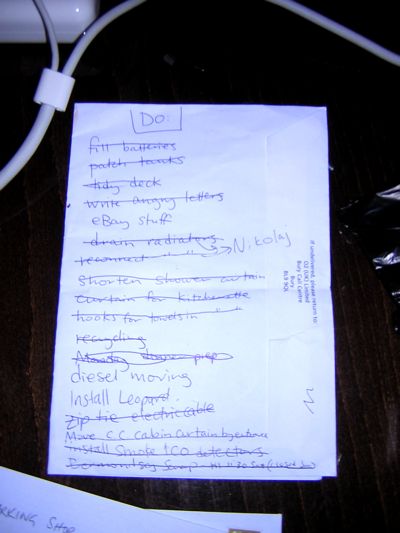 We feel pretty good about the amount we were able to cross off, especially since some of those things (like filling the batteries) we should've really done months ago. We made a good attempt at finally transferring the diesel from the barrels on deck (still there from the crossing) into the main tank in the engine room. Those much cleverer than us suggested we use the engine to do the pumping for us, so on Saturday we cranked up the ol' Scania. The intake was from the barrels on deck, with the overflow going into the main tank, with the knowledge that engines of our age end up spitting out a lot more than they actually consume. It was working well, but after an hour we still hadn't made a dent in our first barrel and a neighbour offered to lend us his 240v fuel pump so we abandoned that until later this week. We must've been stopped by at least ten neighbours during that hour, though, commenting on how quiet and throaty it sounded, and that it was good to hear an engine running on the mooring for once. Bosco was not nearly as thrilled with the whole of his world throbbing and purring like some giant cat, however.
We've still got a couple things left to do, like list our extraneous LPG boiler and diesel heater and old Kabola stove on eBay (though if you're interested in any of the above, leave a comment below and we'll let you jump the eBay queue), but things are feeling pretty good after a productive weekend. And after finally hauling the old copper piping down to the scrap metal yard, we had £50 to go spend on a nice dinner to cap off the weekend, too.